Abkhazia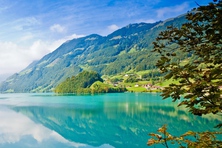 The Republic of Abkhazia is a sovereign, partially recognised state. According to the Resolution of the United Nations General Assembly, it is considered the Autonomous Republic of Abkhazia, part of Georgia. It is situated on the south-western flank of the Greater Caucasus Mountain Range, on the coast of the Black Sea. It borders on the Russian Federation. The capital is Sukhumi.
The coastal areas of Abkhazia are influenced by a humid subtropical climate; the mountainous areas are strongly marked by the altitudinal zonation. The period from May to October is great for spending beach holidays in this country. Extreme tourism enthusiasts should visit Abkhazia's ski resorts in the wintertime.
The official languages of the country are Abkhaz and Russian. Most of the believers are Christian. Some locals are adherents of Islam, Abkhaz Monotheism and Paganism.
Most visitors come to the country to spend vacations on the gravel beaches of Gagra which is the warmest-weather resort of the Caucasus. Popular with tourists are Pitsunda, New Athos, Gudauta and Sukhumi.
Abkhazia attracts wellness tourism lovers by a great number of spas and local healing springs. Those looking for how to improve their health should have stopover at the spas of Tskuara and Merheul, and drop into the spa resort of Avadkhara.
The best conditions for shopping in Abkhazia can be found at shopping malls in Sukhumi.
The national event tourism is still being developed. Popular is the Solnechny Krug International Arts Festival (Eng: Circle of the Sun).
Picturesque canyons and gorges, mountain rivers and clear lakes along with the famous Azanta Dolmen will linger on in memory of ecotourism enthusiasts and their travel companions.
Pilgrims will be attracted by the temples of Ochamchira and holy places of Tkuarchal. We'd recommend excursion tourism lovers to have a look at major historical and architectural sites, most of which are located in Sukhumi, Gagra and New Athos.
Get in
By plane
There are currently no regular flights to Abkhazia as Sukhumi Babushara Airport is not recognised by ICAO. The airport only serves irregular flights to the mountain village of Pskhu and flights carried out by Russian Air Force.
Russian travellers can fly to Sochi's International Airport and then take a bus to Sukhumi that runs daily.
Tourists from a CIS country can fly to Sochi with their national airlines (Belavia, Air Astana, Air Moldova, etc.). As from October 2015, direct air connections between Russia and Ukraine have been suspended.
There are also no direct flights to Sochi from EU countries. It's possible to take a transfer flight via Istanbul, Saint-Petersburg and Moscow carried out by Air France, Aeroflot and Turkish Airlines.
By train
Suburban trains run daily from Adler, Russia to Gagra. In addition, there is a year-round train from Moscow to Sukhumi running daily in summer.
By boat
A high-speed daily boat service running between June and October connects Adler with Gagra.
By bus / car
There are daily buses that run from Sochi and Rostov-on-Don, Russia to Sukhumi. Tourists also can go to Abkhazia by taxi or by bus through the Enguri checkpoint near the Georgian border.
Visa
Residents of a CIS country don't need a visa to enter Abkhazia.
EU persons travelling to Abkhazia across Russia's border have to obtain a transit, double entry or multiple entry Russian visa. Visitors can apply for a visa at a consulate of the Russian Federation. The time period for issuing the visa is 4 to 20 working days. Russian regulations provide for a fast-track visa service that will take 1 to 3 days.
Tourists and their travel companions going to Abkhazia via Russia should keep in mind that an Abkhazian border crossing stamp can turn into a penalty for violation of Georgia's border crossing regulations or a refusal of entry into Georgia.
When entering Abkhazia from Georgian territory, you have to present an Abkhazian visa that can be obtained within 7 to 10 working days after applying online at the Ministry of Foreign Affairs of Abkhazia. CIS and EU nationals are not required to obtain a Georgian visa.
Customs
When entering Abkhazia, Russian tourists are allowed to bring in a sum of money that doesn't exceed USD 10,000 (equivalent). Sums exceeding USD 3,000 (equivalent) should be declared.
The following are allowed for duty-free importation:
small quantities of alcoholic and tobacco products;
goods for personal use, cloths and jewellery;
reasonable number of photo/video equipment and accessories;
personal computer with licensed software installed, radio receivers and AV players;
personal sports equipment.
The total value of goods to bring in for holidays shall not exceed RUB 65,000 and the weight thereof shall be up to 200 kg.
Prohibited from importation are:
pPsychotropic medications;
official uniform and national orders, decorations and medals;
equipment with erased serial numbers.
Tourists are prohibited from exporting:
boxwood, eucalyptus and propolis;
more than 3 litres of honey per 1 passenger.
Cuisine
Abkhazian cuisine which is rich in cereal, vegetable, fruit dishes and dairy products is popular with both visitors preferring culinary tourism and those seeking health benefits.
During their trip, gourmets will try the two main types of Abkhazian meals: starchy agukhu products and everything that is eaten with it, atsyfa products.
One of the main national dishes is Mamalyga which is made out of maize flour. It is the base for Churek, crisp breads with various fillings. No Abkhazian feast takes place without the Adjarian Khachapuri (cheese-filled, egg-topped bread).
Cheese, especially such as Sulguni, Ashvlaguan and Ashvadza hold a specific place in the cuisine of Abkhazia. As a side dish, tourists and their travel companions will be offered fresh vegetables or boiled beans.
Spit-roasted goat, lamb, beef or pork is a common meat food. Popular are poultry meat dishes, chicken for the most part. We recommend trying Akuty Eitsarshy, chicken cooked in peanut sauce.
Practically, fish is not used in Abkhazian cuisine. Hot spoon foods are not typical for the local cooking.
During their travel, visitors to Abkhazia will have a chance to enjoy various sauces that take pride of place in the national cuisine. Worth attention are Asyzbal made of cherry plums; Akatsahur Syzbal made of barberries; and Arashykh Syzbal, a walnut sauce with adjika.
The final chord of a meal is usually sweets such as Abykmaz based on pumpkin and freshly pressed grape juice; honey-baked figs; fruit jams and purees.
While on holidays, tourists will try the famous Abkhazian wines of Apsny, Psou, Ashta and Buket Abkhazii (Eng: Flavor of Abkhazia). Alcohol enthusiasts should taste Abkhazia and Ainar brandies.
The most common non-alcoholic drinks are compotes and juices.
Money
The official currency of Abkhazia is the Russian ruble (RUB) subdivided into 100 kopeks. Coins come in denominations of 1 kopek to 10 rubles; banknotes come in denominations of 50 to 5,000 rubles.
US dollars and Euros can be exchanged at official exchange offices which are widespread in most tourist areas. Sometimes, dollars and Euros are accepted for payment directly.
Most ATMs accepting Visa and MasterCard are located in Sukhumi, Gagra and Gudauta. There is a per transaction limit of RUB 3,000 for ATM cash withdrawals. You can withdraw cash in any amount you want at a bank.
Exchanging traveler's cheques can be a problem there.
Plastic cards are accepted at some restaurants and stores in big cities. Ask whether a portable SST is available beforehand.
Because pocket-picking is frequent, don't carry large amounts of cash with you in crowded places.
Details of interest
Sightseeing in Abkhazia
While Abkhazia has no UNESCO World Heritage sites in its territory, the country offers a wide variety of sightseeing and activities such as mountain hiking, extreme sports, culinary and religious tourism.
The ruins of the Bagrat castle which was a fortress of a medieval town are situated on the top of a hill in the suburban part of Sukhumi. The castle was built in the 11th century and its stone walls are still well-preserved.
Another suburban landmark, the Beslet Bridge also known as the Queen Tamar Bridge is located over the river of Besletka 6 km from the capital. This medieval arched stone bridge dates back to the 12th century. The sides of the bridge still bear partially survived inscriptions in ancient Georgian language.
The highest point of the capital, Sukhumi Mountain is to the northeast of the city. There is the Pantheon of Abkhazian writers and public figures on the slope. A trip to the mountain offers the magnificent views of Sukhumi.
Stalin's Dacha (summerhouse) located by the Ritsa Lake is the favourite vacation spot offering some visual sense of the Stalin period. Today the dacha is a national property. The lake and its surrounding land form the part of the Ritsa Nature Reserve established in 1930 to protect the natural state of the area.
The highway to Ritsa runs by the Gagra Range, a mountain range of the Greater Caucasus. This natural site is characterized by many deep canyons, one of which, the Krubera Cave (sometimes spelled as Voronya Cave is the deepest known cave in the world.
The New Athos Monastery founded in the 19th century by Russian monks is the largest cult complex of Abkhazia and a popular destination with pilgrims and tourists from all over the world.
The 100 km long Great Abkhazian Wall is the biggest defence structure extending to the Georgian border along the Engur River. This is not a single structure, but a complex of walls, towers and fortifications, which remains can be found all over the country.
Guided tours to the Sukhumi Botanical Garden are very popular with tourists. By the war in Abkhazia from 1992 to 1993 the garden collection had over 5000 species of plants from all the continents. Unfortunately, the collection was partially destroyed during the armed hostilities.
Souvenirs in Abkhazia
As Abkhazian souvenirs tourists willingly buy:
craftwork (Tea and coffee pots, bowls, trays and vases);
abkhazian wines (Apsny, Lykhny, etc.);
sauces and spicery;
handmade jewellery;
farmer cheese;
decorative cold weaponry;
medicinal herbs combinations.