Andorra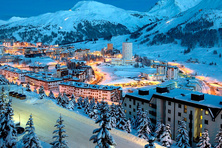 Andorra or officially the Principality of Andorra is a microstate in the Pyrenees. It borders France, Spain and is usually associated with these countries. The capital of the country is Andorra la Vella.
Andorra has a soft continental climate. The average day temperature in summer is +20°C and in winter is +8°C. Ski-lovers prefer coming to Andorra in winter.
The official language is Catalan, though Spanish and French are also commonly spoken. The majority of the population are Catholics.
If shopping is important for you on your holidays, then go to Andorra la Vella. The tourists like to go shopping in Andorra because there is no VAT and all the products are cheaper than in other EU countries. The tourists can also go to the SPA-center located in the hot springs.
Sant Julià de Lòria is the place where you can combine both shopping and skiing.
Ski resort Vallnord offers a lot of sports activities. After skiing, the tourists can plunge into the nightlife of Vallnord.
Grandvalira is famous for its ski trails approved by the International Ski Federation. The trails are of such a good quality that international competitions can be held here. 
Get in
By Plane
Andorra does not have its own airport and the nearest air hubs are in Barcelona and Toulouse.
There are regular and charter flights from CIS countries to Barcelona. It will take you 3.5-4 hours to get from Barcelona to Andorra. It is more convenient to get to Andorra from France  with a stop in Paris.
By Land
The region where Andorra is situated has a well-developed road system. Even pass roads in the Pyrenees are of a very good quality. That is why traveling to Andorra by car is not a problem.
There are also trains running between Andorra and Toulouse and Barcelona. 
Visa
Andorra does not issue tourist visas. Although this country is not a part of the Schengen Agreement, an available Schengen visa is required. The citizens of the European Union are exempt from visa obligations.
The citizens of CIS countries can apply for a Spanish or French visa.
As the most popular tourist route lies through Spain, it is recommended to apply for a double entry visa. 
Customs
Coming to Andorra, the tourists have to observe French and Spanish rules.
You can bring to Andorra free of duty:
a small amount of alcohol and tobacco;
a small amount of tea and coffee;
perfume for personal use;
some products of animal origin;
personal belongings;
personal jewelry in a small amount.
Import of the following things is banned:
horror comics;
radio transmitters;
souvenirs and goods made of rare animals and plants.
The tourists who want to get a historical or artistic values as a gift from Andorra, will have to obtain a special permission. 
Cuisine
In Catalan cuisine, there are mainly Spanish, French and Italian dishes with a local twist. The basic ingredients are meat and vegetables. So while you are in Andorra take the advantage of Parilladu (dish with various types of meat and Catalan sausage Botifarra with white beans) or Hai (roasted lamb). A popular dish among the tourists is Trinsad which is fried bacon with potatoes and cabbage.
In Andorra, you can try chicken wings roasted with garlic and Parmesan or French fried chicken fillet.
The local chefs are proud of Eskyudella, a thick soup with beef, chicken and vegetables and fish soup Porusaldo.  
While you are in Andorra, do not miss a chance to try seafood dish Mariskada and Gascony trout.
Traditionally, desserts in Andorra include various creams and mousses.
Coffee is the most popular non-alcoholic drink in Andorra.
There are many French and Spanish wines in this country. 
Money
The official currency is Euro (EUR). One Euro is equal to 100 cents. Banknotes of denomination from 5 to 500 Euros and coins from 1 to 50 cents are in circulation. Many small restaurants and shops accept US dollars. 
The tourists can exchange foreign currency at banks and exchange offices. In hotels, they usually do not exchange currency.
You do not need to have cash because credit cards are accepted almost in every place in Andorra. 
Traveler's checks are accepted in the majority of the resorts and in large hotels. You can cash the check in banks.
ATMs are located everywhere in the country.  
Details of interest
Sightseeing in Andorra
La vall del Madriu-Perafita-Claror is a glacial valley which occupies 9% of the total territory of the country and this is the UNESCO site. If you like hiking, you will enjoy your trip to the valley which is known by its amazing nature and various flora and fauna.
Andorra is filled with sights created by a man. Being in this country, take advantage of visiting the following unique buildings and monuments:
Casa de La Vall is a historical house of the 16th century built of rough stone. This is an example of classical Catalan manor. Since 1702, this is the place for Parliament seatings. 
La Margineda Bridge is an interesting touristic sight. It remained virtually in its original state since the 12th century.
Casa Rull Museum is devoted to the life of a family of peasant landowners in the 19th century. The museum is situated in the village of Sispony.
Sala del Consell is an example of classical architecture of the Pyrenees built in the 9th century.
Salvador Dali sculpture The Nobility of Time which a copy of one of the most famous works of the master.
The Church of St. Christopher built in the 12th century.
The Church of Saint Cornelius and Saint Cyprian is a Medieval church in the Gothic style.
The Casamanya Peak is an ideal place for hiking. If you manage to climb the peak, you will have a marvelous view of the mountains and valleys. 
Casa d'Areny-Plandolit is a historical mansion and one of the most famous museums in Andorra. It is devoted to the history of the Principality, the everyday life of its people, and traditions of aristocracy.
We also recommend seeing the Santa Coloma Church which is the oldest building in Andorra mentioned in the 10th century.
If you like cars, then do not miss a chance to visit the National Automobile Museum. It has a collection that you will not find in any other European museum. There are over 100 cars, motorcycles, bicycles and other means of transport.
Andorra Souvenirs
The tourists usually buy in Andorra
food (cheese, olive oil, Spanish wines, stuffed olives and Catalan sausage);
Spanish style gold and silver jewelry;
traditional Spanish fans;
Spanish knives and swords made of Toledo steel;
Spanish hand-made lace, shawls and scarves;
tobacco and cigars.