Austria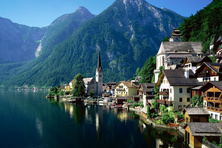 The Republic of Austria or Austria is a state in the centre of Europe. It borders on the Czech Republic, Slovakia, Hungary, Slovenia, Italy, Switzerland, Liechtenstein and Germany. A land-locked country. The capital is Vienna.
In the lowlands of the country the climate is moderate continental, in the mountains the alpine type of climate predominates. The ski resorts of Austria are open from December to March; the late spring is considered to be the best season for visiting historical attractions.
The official language is Austrian German. In the field of religion the Catholic church prevails.
There is a large variety of vacation activities in Austria: visiting historical and architectural monuments, skiing, mountaineering or hiking on mountain paths.
A number of places of interest from different historical eras still remain in the country. The tourists go to Vienna, Gmund, Graz, Grieskirchen, Salzburg, Innsbruck, Sankt Polten, Voecklabruck, Hallstatt and Steyr to touch the legacy of the past.
Many foreigners go to Austria to see the lofty Austrian Alps and to enjoy the beauties of nature of this country. Rafting is popular on the rivers of Tirol, Styria and Upper Austria. Yachting and sailing sports are widely practiced on large lakes, especially in Weyregg am Attersee.
Austria is unrivalled for its spa resorts with thermal waters: Baden, Geinberg, Laa an der Thaya, Loipersdorf and Erlach.
In winter most tourists and their travel companions go to Austrian ski resorts Bad Leonfelden, Innsbruck, Linz as also to numerous resorts in the federated state of Vorarlberg.
Get in
Airplane
Vienna is one of the largest transportation hubs in Europe. Some fifty smaller airports, including international ones, function in the country. Thus, the country is connected by scheduled flights to all countries of the European Union and to the majority of the CIS states.
Overland transport
One can also travel to Austria by land from the territory of all neighboring countries, by car or by bus. The country has a well-developed rail network that connects it to all neighbors. All countries of the region are Schengen members, so there is no customs control on the land borders, and travelling between the countries by rail or by bus is commonly more convenient than by plane.
Inland transport
High-speed passenger cruisers shuttle every day on the Danube between Vienna and Slovak Bratislava, enabling to spend a vacation both in the two closest capital cities in Europe.
Visa
Austria is the part of the Schengen visa zone, so the EU nationals wishing to spend vacation in this country may enter its territory without any visas and for an indefinite term. Citizens of the CIS countries are required to obtain a Schengen visa to their Austrian Embassy or Visa Centre. The exception is Moldova which citizens may, provided that they are issued a biometric passport, travel to Austria for 90 days without visas.
The documents required to obtain the visa should be submitted in person, via a near relative or a courier accredited to the Embassy. It is impossible to apply through a travel agency or a representative which is not nearly related to the applicant.
It takes from five to ten working days to issue the visa. In some cases the documents may be processed within three days using an expedited procedure. 
Customs
No limitations exist concerning the cross-border transportation of foreign or national currency in Austria. However, when leaving a non-EU country, the cash money in the amount of at least EUR 10,000.00 is subject to declaration. Valuables with a total weight of over 0.5 kg also should be declared.
Tourists and their travel companions may bring duty free into Austria:
small amounts of alcohol and tobacco;
some coffee and tea;
perfumery products for personal use;
personal effects (for the value of up to EUR 430).
It is prohibited to bring:
medical supplies without express permission;
plants and animals;
any products made from endangered animals or plants;
fresh dairy products without vacuum package;
meat and dairy products (except for baby foods).
Travelers are prohibited to bring outside Austria historical and artistic values.
Cuisine
Austrian cuisine is marked by a wide regional variety and stands, first of all, for long traditions before modern culinary tendencies. Outside the country Austrian cuisine is usually associated with Viennese cuisine.
The famous meat dishes are a must for the tourists coming to Austria for holidays: Wiener Schnitzel (pan fried veal cutlet), Tafelspitz (boiled beef with apple and horseradish sauces), Zwiebelrostbraten (roast beef and onion) and Beuschel (ragout containing veal lungs or heart).
Poultry meat is used for cooking Backhendl (pan fried chicken), Backhuhn (roast chicken) and Gans mit semmelknodelfullung (roast stuffed goose).
Among Austrian soups, noteworthy are Frittatensuppe (soup with strips of sliced pancakes), Griebklobchen (semolina dumpling soup), Speckknodel (Tyrolean bacon dumpling soup) and Kurbissuppe (pumpkin cream-soup).
Austria is Europe's leader in per-capita consumption of river and lake fish. Foreign visitors are recommended to taste Neusiedler Fisch (fried perch with green herbs) and Weihnachtskarpfen (braised carp).
Austrian cuisine is famous for its pastries. Among a wide variety of those, the most prominent are Strudel (dinner roll with different fillers), Kaiserschmarrn (thick pancakes with fruit compote or jam), Reindling (pie), Mohnzelten (poppy seed patty) and Kipferl (croissant). It is difficult to imagine a travel to Austria without tasting local Sachertorte (chocolate cake), Linzer Torte (Linzer torte topped with jam) and Esterhazy-Torte (chocolate almond torte).
Coffee is one of the classic beverages in Australian cuisine. Wiener Melange (Viennese blend) is especially famous. Tea and cacao are also popular.
Beer is considered the main alcoholic drink and is available in dozens of varieties. Austria produces rather good beers which are wrongly overlooked by the tourists and their travel companions. Schnapps, the traditional alcoholic beverage for the Austrians, is popular around the world.
Money
Austria uses the common European currency, the Euro (EUR), which is made up of 100 eurocents. There are banknotes in denominations of 5 to 500 Euro and coins ranged from 1 cent to 2 Euro.
The European money may be bought before commencing the trip because it is included to the list of major world currencies. Upon arrival at Austria, dollars or other currency may be exchanged at banks, exchange bureaus, post offices, hotels, airports or stations. Automatic money changing machines are also available everywhere in big cities. Banks offer the most profitable rate of exchange.
Credit cards of major payments systems are accepted throughout the country, except smaller provincial villages where may be problems in using the 'plastic'.
Traveler's cheques are accepted in most supermarkets, restaurants and hotels. It is better to use the cheques in Euro.
The ATMs can be found easily, they are located in banks, shops, hotels and restaurants.
Austria is the member of the Tax Free system. When returning home, the tourists may refund a part of VAT (10-13%) charged upon buying local goods which value exceeds EUR 75, by applying to a VAT refund official at the Customs.
Details of interest
Places of interest in Austria
In Austria there are nine UNESCO World Heritage Sites which can be seen during the vacation travel to this country.
Salzburg's Old Town, a rare example of well-preserved European urban fabric developed in the period from the Middle Ages to the XIX century.
Schoenbrunn Palace with its Schonbrunner Gardens in Vienna, a remarkable architectural ensemble in baroque.
Hallstatt-Dachstein/ Salzkammergut Cultural Landscape, a picturesque mountainous terrain in Central Austria populated since prehistoric times.
Semmering Railway, the 40-km long mountain railway built in the middle of the XIX century. An outstanding example of engineering thought of its time. It is extremely popular among tourists visiting the mountainous Austria.
Altstadt von Graz and Schloss Eggenberg, another example of well-preserved urban settlement from the time of the Habsburg monarchy.
Wachau Valley, a cultural landscape in the Danube valley between the towns of Melk and Krems an der Donau with great historical and aesthetic value.
Historic Center of Vienna, rich in architectural monuments of outstanding value attracting tourists and their travel companions.
Fertö/ Neusiedlersee Cultural Landscape, a lake area in the province of Burgenland. It is of interest as an example of landscape formed under the influence of natural and anthropogenic factors.
Prehistoric Pile dwellings around the Alps, the traces of prehistoric settlements and an important source of information on the birth of the agrarian society.
The eleven sites which are nominated for inscription to the UNESCO World Heritage List are worth visiting during the travel to Austria. The most popular are:
Erzberg and Altstadt Steyr;
Hochosterwitz Castle in Carinthia;
Nationalpark Hohe Tauern in the provinces of Salzburg Region;
Muenze Hall in the town of Hall in Tirol.
The important excursion tourism centers are Wels, Wiener Neustadt, Gars am Kamp, Gmund, Grieskirchen and Kirchdorf an der Krems. Travellers would be also attracted by Bezirk Krems-Land, Obertraun, Salzburgerland, Rohrbach, Tullnerbach, Zwettl, Stockerau and Emmersdorf.
Austrian Souvenirs
Returning from their vacation in Austria, the tourists bring with them:
cut glass and chinaware;
models and photographs of steam locomotives;
Tyrolean hats;
chocolate;
Schnapps.