Belgium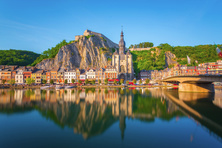 The Kingdom of Belgium is a state in the west of Europe. It is bordered by Germany, the Netherlands, France and Luxemburg. The capital is Brussels.
The climate is maritime temperate. The warm summer months are considered to be the best season for vacations in Belgium.
The official languages are Dutch (common in the northern regions), French (spoken by the people in the south of the country) and German (used by the people of the eastern territories bordering on Germany). Most religious are Catholics, but there are considerable Muslim and Protestant communities.
Belgium's touristic attraction is based mainly on the abundant monuments of civilization. However, many tourists also spend holidays in this country visiting local beaches, discovering Belgian cuisine and enjoying beauties of nature.
Besides Brussels, Antwerp, Charleroi and other large cities, Aalst, Aalter, Arlon and Ath are also centers of excursion tourism. Vacationers will be offered fascinating tours to Bastogne, Wavre, Dinant, Gembloux, Genval, Ypres, Casteau, Kortenberg and Kortrijk. An excellent educational program will be available to travelers in Lanaken, Libramont-Chevigny, Limelette, Marche-en-Famenne, Menen, Mechelen, Noirefontaine, Pepinster; also in Roeselare, Sint-Niklaas, Tongeren and Hasselt.
For many foreigners, a travel to Belgium is an opportunity for improving health at local spa resorts. The most popular mineral springs are located in Spa.
While Belgium is located at a significant distance from the tropics, there are several tourists and their travel companions who prefer Belgian beaches to Spanish or Greek ones. The towns of Blankenberge, Knokke-Heist, Ostend and De Haan are the main centers of beach tourism.
Get in
Airplane
As Belgium is an important European transport hub, travelers are spoilt for choice when it comes to deciding how to get there. Belgium's main airport (Brussels Airport) is readily reached from the EU and CIS countries.
Overland transport
Additionally, you can get to Belgium from all over Europe by bus or by car. Major European highways pass through Belgium. International busses have stopovers in Antwerp, Brussels north-station, Leuven and Liege. There are also direct trains between Brussels and Luxembourg, Rotterdam, Paris, Lyon, Bordeaux, Amsterdam, Frankfurt and other European cities.
By boat
There is an overnight ferry to/from Zeebrugge from Hull in the United Kingdom, but it is not cheap.
Cuisine
Belgium's national cuisine is popular among culinary tourists. It was shaped by German and French cooking influences: daily home-cooked dishes feature more German traditions, and restaurant foods have much in common with French cuisine.
While on holidays, tourists should definitely taste Konijn gestoofd in bier (beer rabbit stew), Rognons de veaux a la Liegoise (veal kidneys with berries) and Kalfsvleeskroketten (croquette beef).
Poultry is used for cooking Waterzooi (a reach stew of chicken), Koninginnehapjes (minced chicken, battered), Fazant op Brabantse wijze (Brabant-style pheasant with chicory).
As to the soup menu, foreigners are suggested a mussel soup, Walloon onion soup and soup with dried mushrooms.
During your holidays in Belgium, you shouldn't miss such dished as Moules frites (fresh mussels with French fries) and Paling in het groen (Eel meat with a special green sauce). Gourmets will be agreeably surprised by Filets de sole a l'Ostendaise (common sole in prawn sauce), Garnaalkroketten (croquette prawns) and Tomates crevettes frites (tomatoes stuffed with prawns, served with French fries).
Potatoes are the Belgians' favorite vegetables. The worldwide famous French fries were originated just by this people. Foreign visitors should pay attention to Salade liegeoise (a warm potato salad with green beans and ham) and Stoemp (mashed potatoes with onion sauce and sausage).
During the trip, you should necessarily buy the famous Belgian waffles and chocolate that is widely varied. Those who have a sweet tooth shouldn't ignore Tarte au riz (a wonderful rice pie), Liers Vlaaike (fluffy cakes) and Peperkoek (honey cake).
Coffee is considered to be the Belgians' most popular beverage; in contrast, cocoa and tea are much less common through the Kingdom.
Between alcoholic beverages, beer is an absolute leader represented by hundreds of brands and dozens of styles. Furthermore, a good recommendation to tourists and their travel companions is Jenever (a variation of gin produced only in Belgium and the Netherlands).
Details of interest
Places of interest in Belgium
Belgium is home to 11 UNESCO World Heritage sites, with a further 16 on the tentative list, that travelers can visit during their stay in the Kingdom:
Flemish Beguinages, collections of small buildings used by Beguines, religious orders that were active in Northern Europe.
The Four Lifts on the Canal du Centre, a series of four hydraulic boat lifts near the town of La Louvière in the Sillon industriel of Wallonia, classified both as Wallonia's Major Heritage.
La Grand-Place (Brussels), the central square of the capital. The square is the most important tourist destination and most memorable landmark in Brussels.
Belfries of Belgium and France, built in Gothic, Romanesque, Baroque and Renaissance styles.
Historic Centre of Brugge (capital and the largest city of the province of West Flanders), sometimes referred to as "The Venice of the North".
Major Town Houses of the architect Victor Horta, who was well known for creating buildings in the Art Nouveau style fashionable at the time.
Neolithic Flint Mines at Spiennes, Europe's largest and earliest Neolithic mines.
Notre Dame Cathedral in Tournai, a Roman Catholic church combining the work of three design periods.
Plantin-Moretus House-Workshops-Museum Complex, a museum in Antwerp about early-modern printing.
Stoclet House, a private mansion built between 1905 and 1911 in Brussels; it was one of the most refined and luxurious private houses of the 20th century.
Major Mining Sites of Wallonia, situated in or near the area of the Sillon industriel (French for "industrial valley"). No longer operational; nowadays the mines are open to visitors as museums.
There are also 16 tentative sites in Belgium considered for nomination for the World Heritage list, among which the most attractive are:
Ghent historic town centre;
Antwerp historic town centre;
Historic buildings of the University of Leuven;
Parc Naturel des Hautes Fagnes in the province of Liege;
Waterloo Battlefield;
Hoge Kempen National Park near the town of Genk, Limburg province.
Belgium is renowned for its handmade chocolates, lace craftsmanship and array of cult fashion brands. Shopping in Belgium can be a real pleasure, with many affluent cities – such as Brussels and Antwerp – filled with shops selling everything from luxury designer wear to no-nonsense (yet stylish) household goods.
Souvenirs from Belgium
Tourists can take home great souvenirs from this country: the famous Brussells lace, tapestries and souvenirs of the famous Mannekin Pis… And certainly, a trip to Belgium wouldn't be complete without a taste of some of its world-famous chocolates.