Bulgaria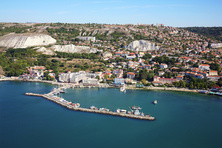 The Republic of Bulgaria is a state in the South-East of Europe. It borders on Greece, Romania, Turkey, Serbia and the Republic of Macedonia. It is bordered to the east by the Black Sea. The capital is Sofia.
The north belongs to the temperate continental climate zone; to the south, the climate is transitional to Mediterranean. Summer months are the best season for beach holidays, and January is the best for skiing.
The official language is Bulgarian. Most people are Orthodox; Muslims constitute 10%.
The resorts of Albena, Arkutino, Aheloy, Ahtopol, White Lagoon, Burgas and Byala are usually visited for beach vacations. Tourists will find beautiful beaches in Dyuni, Elenite, Golden Sands, Kavarna, Kiten and Kranevo. Outstanding beach resorts are available to vacationers in Lozenets, Obzor, Primorsko, Riviera, Rusalka, Sarafovo, Sveti Vlas; also in Sinemoretz, Sunny Beach, Sunny Day, Tsarevo, Chernomorets and Shkorpilovtsi.
The major spa resorts are Bankya, Banya, Blagoevgrad, Velingrad, Varshets and Devin. Tourists can enjoy a full range of spa services in Kostenets, Kyustendil, Narechen, Pavel Banya, Pomorie, Sandanski, Saints Constantine and Helena; also in Strelcha, Targovishte, Hissarya and Chiflik.
A winter trip to Bulgaria will take tourists to the excellent ski resorts of Ski Bansko, Borovets Ski Resort, Vitosha Mountain, Pamporovo, Panichishte and Chepelare Ski Center.
The town of Batak is considered to be a renowned center of Bulgarian kayaking, and the town of Sopot to be the capital of paragliding.
There are many extant historical monuments in Bulgaria that are attractive to tourists and their travel companions.
Get in
Airplane
There are four international airports in Bulgaria that enable excellent connections with other EU countries: Sofia, Varna, Burgas and Plovdiv. The national airline is Bulgaria Air. There are a lot of direct flights between Sofia and London, Rome, Milan, Barcelona, Valencia, Brussels and Dortmund.
Overland transport
International trains provide a large number of routes to Bulgaria, notably Sofia and Varna, arriving from such places as Kiev, Istanbul, Vienna and other cities. However, there is no railway connection to Macedonia.
It is also possible to reach the country from Western Europe by car or by bus. Buses to and from Sofia go to most major European cities.
Ship transport
Seasonal car ferries serve Burgas and Varna ports from Ukraine, Russia and Georgia.
Danube river cruise ships call into Vidin and Lom ports from Budapest and Vienna on their way to the Black Sea. One can enter and leave Bulgaria this way. A car only ferry runs from Vidin port to Passau in Germany.
Cuisine
Bulgarian cuisine was shaped for the most part by Greek and Turkish influences, which makes it attractive to culinary tourists. Bulgarians' cooking traditions involve a prominence of vegetables, fruits and herbs used in most dishes.
Tourists and their travel companions should try meat dishes: Гювеч (baked meat with potatoes and other vegetables), Яхния (a stew of meat and vegetables) and Пържола (marinated pork or beef, grilled).
Poultry meat is used in such dishes as Печено пиле с картофи (oven-baked chicken with potatoes), Пиле със зеле (stewed or roasted chicken with cabbage) and Пиле с ориз (chicken with rice).
The Ottoman Empire left to Bulgarians Чорба soup. Foreigners should taste Таратор (a cold soup of sour milk with cucumbers) and Пилешка супа (chicken soup with eggs and noodles).
Because of the sea cost and Danube river, Bulgarians varied their menu with fish dishes. During the trip, vacationers should try Рибна чорба (a spicy fish soup), Шаран с кисело зеле (carp with sour cabbage) and Гювеч от сом (catfish kebab with vegetables).
From the Greeks, Bulgarians adopted a love for fruits and vegetables, which makes Bulgarian cuisine healthy and wholesome. When on Bulgarian holidays, one shouldn't miss local salads, of which the best known is Шопска салата (tomatoes, cucumbers, sweet peppers, cheese and herbs). Between vegetable dishes, Печени картофи (oven-baked potatoes in sour cream) and Имамбаялдъ (stuffed eggplants) are also worth tasting.
Bulgarians have no desserts originated as such by themselves, aside from sweet pastries and fresh fruits.
Bulgaria is homeland to a world famous yogurt. Tourists travelling to this country for holidays should pay attention to Айрян, a fermented milk beverage.
In Bulgaria, there is an old tradition of winemaking which products are represented by such wines as Mavrud, Gamza, Misket and Muscat. As to strong drinks, we recommend to taste Mastika and Rakia.
Details of interest
Places of interest in Bulgaria
Bulgaria is home to 9 UNESCO World Heritage sites that tourists can visit during their travel to the country:
Boyana church on the outskirts of Sofia, a medieval Orthodox church which wall paintings represent one of the largest collections of Bulgarian medieval fresco painting.
Madara Rider near the town of Shumen, a medieval rock relief depicting a majestic horseman and dated in the very early 8th century.
Rock-hewn Churches of Ivanovo to the south of Ruse on the Danube, a group of monolithic churches, chapels and monasteries hewn out of solid rock.
Thracian Tomb of Kazanlak, an ancient tomb, part of a large Thracian necropolis near the town of Kazanlak.
Old Nessebar, an ancient town and one of the major seaside resorts on the Bulgarian Black Sea Coast.
Pirin National Park, a large nature reserve in the southwest of Bulgaria.
Rila monastery in the southwestern Rila Mountains, the largest and most famous Eastern Orthodox monastery in Bulgaria.
Srebarna Nature Reserve near the village of the same name, to the west of Silistra. It comprises Lake Srebarna and its surroundings.
Thracian Tomb of Sveshtari, a Thracian tomb dating back to 3rd century BC.
There are also 14 sites inscribed on the Tentative list, among which the most interesting are:
Stara Zagora;
Ancient town of Nicopolis ad Istrum;
The town of Melnik and the Rozhen Monastery;
Plovdiv Old Town;
Szabolcs-Szatmar-Bereg County;
Pobiti Kamani Natural Monument.
In addition, you shouldn't miss other properties that are not included in the World Heritage list:
Baba Vida Fortress in the town of Vidin;
Bacho Kiro Cave on the outskirts of Dryanovo;
Baba Vanga museum in Petrich;
House-museum of Todor Zhivkov in Pravets;
Sozopol old town.
Bulgaria is one of the hottest shopping destinations in southeastern Europe. Almost every major city has at least one shopping center where world famous brand names are presented. Sofia of course, is one of the best places to shop.
If you are going to Bulgaria for the nightlife, Varna is the place with the classiest clubs and bars gathering; and certainly, Sofia is really alive and amazing at night.
Bulgarian souvenirs
Tourists and their travel companions can bring back home nice Bulgarian gifts for their friends and family. Despite the regular gifts like magnets, cups and T-shirts, we recommend some Bulgarian rose products, Orthodox icon paintings or handmade carvings. You can also pick up spices or wines at local food markets.