China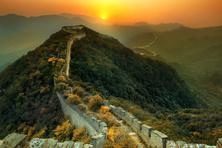 China is the world's third largest state by area located in East Asia. It borders 14 states, including Russia, Kazakhstan, Kyrgyzstan and Tajikistan. The entire eastern part of China is bordered by the Pacific Ocean. The capital is Beijing.
China lies within three climatic zones: to the west and north, the climate is temperate continental; the central regions are dominated by a subtropical climate; and the southern coast and islands have a tropical monsoon climate. Late spring and early autumn are optimal for spending holidays in China. The southern regions are preferable to go to from November to December.
The official language is Chinese with several dialects. In religious matters Confucianism, Taoism and Buddhism prevail.
Due to its significant landscape and climate diversity combined with plenty of historical sites, China is attractive to every single tourist. This country is well placed for beach tourism (Beihai, Beidaihe, Dalian), diving (the coast of Guangdong), rafting, mountaineering, hiking and mountain biking (Guilin, Guizhou, Liuzhou, Nanning), ecotourism (Heilongjiang, Qiqihar, the province of Zhejiang), caving and other ways of spending vacation.
It's hard to find a town in China that wouldn't have one or two historical monuments. Also, China's present-day architecture is very attractive to tourists as well, which is as often as not the reason for visiting China. Not only Shanghai or Hong Kong, but also Daqing, Kunming, Tianjin, Wuhan, Changzhou, Zhongshan, Zhuhai, Shantou, Shenzhen and Suzhou are visited for excursions.
China is famous for its centers of wellness tourism: the hot springs in Inner Mongolia and mineral springs of Wudalianchi.
Macau with its incredible casinos is a cherished dream of many tourists and their travel companions.
Get in
By plane
The most convenient way to take a trip to China is to fly. Many major airlines now fly to Beijing, Hong Kong, Shanghai and Guangzhou, which are the main international gateways to China. Russian carriers operate direct flights from Saint Petersburg to Harbin; from Yekaterinburg to Harbin; from Novosibirsk to Xi'an.
Those travelers for whom no regular direct flights to China are available can take a transit one through major European airports.
Overland
Vacationers can reach China by train from many of its neighbouring countries. One can travel from Russia or Mongolia to Beijing by the Trans-Siberian Railway; from Kazakhstan to Urumqi; from Vietnam to Guangxi; and from North Korea to Beijing.
For a coach trip, regular bus services are available from Russia, Kazakhstan, Kyrgyzstan, Mongolia, North Korea, Myanmar, Vietnam, Laos or Nepal.
By boat
There are regular ferry services from Shanghai and Tianjin to Osaka (Japan) and South Korea.
Visa
Travelers from EU and CIS countries will need a visa to visit China. This can be obtained from a Chinese embassy before departure, in person or by representatives. Getting a tourist visa is easy and takes 5 to 7 working days.
The special economic zone province of Hainan allows getting a visa upon arrival at the airport.
However, visitors from Russia and most western countries don't need visas to visit Hong Kong and Macau. The period of stay will depend on which country you are from.
In addition, nationals of Russia can visit the city of Suifenhe visa-free for up to 15 days.
Customs
Foreign currencies can be imported to China without any limitations, but in all cases these must be declared. Cash exceeding CNY 20,000 or any other foreign currencies equivalent to USD 5,000 are prohibited from exportation.
The following items can be imported duty-free:
Small quantities of tobacco and alcohol
Perfumery products for personal use
50 g of gold or silver jewelry
Consumer electronics with a total value up to CNY 2,000
Camera, video camera, laptop or other trip necessities intended to be brought back at the end of the trip.
Prohibited from importation are:
Animals, plants and products thereof
Arms, ammunition and explosives of all kinds
Radio transmitters and/or receivers
Bringing out the following items is prohibited:
Manuscripts, cultural relicts, works of art (unless licensed for exportation), any souvenirs without a sales receipt.
Macau customs regulations do not impose limitations on bringing in/or out currencies, works of art and other valuables.
Cuisine
Chinese cuisine is famous for its originality and a great variety of dishes. Chinese cooking traditions vary from region to region, but rice and noodles are the two staple foods which are common to all cooking styles in China.
The country is highly attractive in the context of culinary tourism, as it's ready to offer travelers the most unusual and curious dishes that you won't find in any other culture.
Visitors to China are recommended trying the "Dragon and Tiger Fight" or Longgudou (braised wild cat and snake served in a specific way).
The most famous dish of Chinese cuisine is the "Peking Duck". Pretty known is Kung Pao chicken (chicken breast fillet fried with groundnut and chili peppers).
Not to be missed are local soups and all kinds of broths. Among these, bird's nest soup is probably the most exotic. Geng (Fujian chick soup) and turtle soup are also worth mentioning.
Seafood lovers will never forget the trip to China, once they taste such culinary masterpieces by local chefs as stewed trepang, squirrel-shaped carp and Longjing prawns.
Rice and noodles are the Celestial Empire's major staple foods. Chinese people eat virtually all vegetables that are known in Europe as well as many local fruits and herbs cooked in different ways.
Seasonal fresh fruits are traditionally considered to be the main Chinese desserts. Among the desserts that are eaten throughout the year, pay attention to sweet soups, grass jellies, sweet rice cakes Ang Ku Kueh and rice pastries.
Tea is China's number-one drink, often drunk with nuts, dried fruits, small sweets and berries. Besides green tea, Chinese people love white, yellow, oolong and black or red teas. There is a museum in Hangzhou dedicated to this drink.
China has its own liquor-making tradition. Chinese vodka is much different from the Russian one, so not many tourists and their travel companions will like it. Also, Chinese people produce yellow and white rice wines. Rice is also used for brewing originally flavored beers.
Money
The official currency of the country is the Chinese Yuan (CNY) divided into 10 jiao; one jiao is divided into 10 fen.
The Hong Kong dollar, US dollar and Euro can all be easily changed in China at banks, airports, hotels and stores. When changing money, you will need to fill a form and show your passport. If you plan to leave the country with a large sum of money, keep the exchange receipt.
ATMs are widely spread all over the country; most of them will take Visa, MasterCard and Maestro.
Star-rated hotels, major supermarkets and high-class restaurants accept credit cards. Exchanging traveler's cheques are usually more favorable than changing cash, but exchangers can be found only in big cities. Outside large cities you may face problems with it.
From after 2015, larger Chinese cities have adopted a VAT refund policy among overseas tourists. Currently, there are many designated tax free stores in Beijing, Shanghai, Tianjin, Fujian and other cities. To receive a refund, a minimum of CNY 500 shall be spent in one store during any one day; the refund rate will be 11% of the invoice value.
Details of interest
Places of interest in China
China is home to 47 sites inscribed on the UNESCO World Heritage list, among which the following are the most popular:
Imperial Palaces of the Ming and Qing Dynasties, including the Forbidden City and Mukden Palace in Beijing and Shenyang, the largest palace group in the world.
Mogao Caves (or Thousand Buddha Grottoes) in Gansu province, one of the ancient Buddhist sculptural sites of China.
Mount Tai in Shandong province, which was a place of an imperial cult.
Mount Huangshan in Anhui province.
Huanglong Scenic and Historic Interest Area in Sichuan province, famous for its colorful lakes, snow-topped mountains, beautiful valleys and virgin forests.
Wulingyuan Scenic and Historic Interest Area in Hunan province, covering more than 26,000 ha and consisting of many smaller national parks.
Ancient Building Complex in the Wudang Mountains in Hubei province exemplifying the architectural and artistic achievements of China's Yuan, Ming and Qing dynasties.
Historic Ensemble of the Potala Palace in Tibet, one of the wonders of the world for its physical structure and its importance in Tibetan history;.
Mountain Resort and its Outlying Temples in Hebei province where emperors from China's ancient Qing dynasty spent their summers.
Ancient City of Ping Yao in Shanxi province, an outstanding example of a Chinese city that has retained all its ancient features.
Old Town of Lijiang in Yunnan province, which has retained a historic townscape of high quality and authenticity.
Dazu Rock Carvings in Chongqing province, a piece of great work of Chinese grotto art, with a number of stone statues amounting to 60,000.
Fujian Tulou in south-west of Fujian province comprising 46 earth buildings construed between the 15th and 20th centuries.
Also, special tourist attractions are Dandong, Baishan, Jilin, Yinchuan, Kuandian, Luoyang, Mudanjiang, Nanjing, Nanchang and Ningbo. Travelers will have an unforgettable experience in Ordos, Putian, Xinyang, Wuxi, Hailar, Hohhot and Huzhou. In addition, Henan province, Jinhua, Jinzhou, Changchun, Zhenjiang and Shaoxing are also worth visiting.
Chinese souvenirs
 A wide range of gifts are available to bring home from China:
Handmade items (Porcelain, carpets, pearls and pearl jewelry, etc.);
Clothing;
Chopsticks;
Original Chinese tea.