Cuba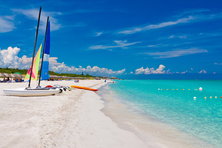 The Republic of Cuba is a small country comprising the same-name island in the Caribbean Sea. It has no land borders; the nearest neighboring states are the USA, Haiti and Jamaica. The capital is Havana.
The climate is tropical with trade winds. There are two seasons: a drier (October to May) and a rainier one (June to September). From June to November, tropical storms and hurricanes are frequent. Although Cuba is perfect for spending holidays throughout the year, the best beach time are drier winter months, and the summer is better for visiting festivals.
Locals speak Spanish which is the official language. Catholic faith prevails.
Most of tourists come to Cuba for spending beach holidays on white sand by the turquoise of a clear sea. The country offers many options to excursion tourism lovers. The best resort areas are: Varadero (Matanzas Province); Cayo Coco, Cayo Guillermo and Cayo Largo (Ciego de Avila Province); Playa Santa Lucia (Camaguey Province); the beaches of the province of Las Tunas. Many beaches are well suited for boat tours and yachting. The waters of Isla de la Juventud are Cuba's best diving area.
Those tourists who take a trip to Cuba to get the chance to visit, above all else, historical and architectural monuments, should spend at least a day or two in Havana; take a walk around Old Havana and the central quay, visit the Museum of the Revolution. In the evening, it's impossible to miss the famous Tropicana cabaret.
Outside the country, other than white-snow beaches, noteworthy are Soroa Orchid Botanical Garden; Pinar del Rio, cigar manufacturing center; and the Indian's village of Guama.
Extreme enthusiasts and their travel companions will enjoy the valley of Yumuri where horse riding, helicopter and semi-submarine tours and amazing SUV safaris are offered.
Get in
Airplane
Cuba and Russia are connected by direct flights. Jose Marti International Airport, the main gateway into Cuba, is served by major airlines from Europe, Canada and Mexico. In addition, there are also holiday charter flights to resort destinations such as Varadero, and these are sometimes less expensive than those going to Havana.
By boat
There are no regular ferries to Cuba from foreign ports. However, some cruise liners crossing the Caribbean do visit the island. Several private boats may enter at Ernest Hemingway Marina in Havana or Marina Acua in Varadero.
Visa
Russian and Belarusian citizens may visit Cuba visa-free for up to 30 days for a tourist stay. A tourist visa card is required for travelers from other CIS countries and the EU.
Tourist visa cards can be obtained at a Cuban embassy or consulate. In addition, travelers can get visas from their travel agents arranging tours to this country.
Cuban embassies issue such tourist visas within a week, but at additional charge, this term can be reduced to 1 business day.
Customs
No export and import restrictions exist in Cuba as to foreign currency; however, sums equal to or more than $5000 must be declared. Upon departure from Cuba you may bring home CUP 100 (Cuban Peso) and CUC 200 (Convertible Peso) at the most.
Exempt from duties are:
Personal goods and jewelry
Drugs for personal use
Still image and video cameras (5 cassettes for each camera)
Not allowed are any and all:
Sexually suggestive goods
Blood-based medicinal products
National currency exported from other countries without permission of the authorities of Cuba
Almost any household electrical devices
Tourists and their travel companions are not allowed to bring home:
Animals and sea shells
Antiques and items of cultural value
Precious metals
Jewelry and goods made of crocodile skin without export license (to be taken out at shops only)
Cuisine
Cuban cuisine is a seamless fusion of Spanish and African culinary traditions, which makes the country attractive for culinary tourists. The islanders' menu is based on rice, black beans, poultry and pork.
Between meat dishes that tourist should try during their stay in Cuba, noteworthy is Lechon Asado (roasted pork), Santyagera (roasted pork leg), Ajiaco (pot roast or stew with vegetables), Ropa Vieja (shredded beef fillet), Piccadillo (spiced beef with tomatoes).
Many tourists rate high Cuban chicken dishes: Arroz con Pollo (rice with chicken) and Caldosa (potato stew with chicken).
Cuban soups are represented mainly by Spanish culinary influences, but special mention should be made of black bean soup and turtle or crocodile soups.
Cubans are not really in love with seafood, preferring rice, chicken and pork. However, at local restaurants tourists will be offered a variety of seafood dishes; Arroz con Camarones (rice with spiced lobster) is worth your attention.
In Cuba, fruits are served with almost any dish; which makes an ordinary holiday have health benefits. Between a wide range of fruit and vegetable dishes, you should pay attention to Fufu (mashed plantains) and Ensalada de Aguacates (fruit salad with avocado, pineapple and mango).
Cuban desserts are represented by a popular Helado ice-cream and Galletas cookies.
Cuba is the birthplace of the delicious Cuba Libre, Daiquiri and Mojito soft drinks. Originally, these cocktails used to consist of rum, but there are a score of non-alcoholic recipes. Special mention should be made of Cuban coffee which is brewed strong enough and consumed with a lot of sugar in it.
Rum is considered to be Cuba's common alcoholic drink, and the most popular brand is Havana Club which includes the types of Carta Oro, Carta Blanca and Anejo. Rum is the base for a great variety of cocktails which are the only must-try for many people when it comes to go to Cuba.
Money
There are two currencies circulating in Cuba: Cuban Pesos (CUP), also known as local pesos, and Convertible Cuban Pesos (CUC), the currency most tourists use in Cuba when paying for hotels, taxis, museums, meals at restaurants, etc. Note that US dollars are not in circulation.
Foreign currencies can be converted into CUC at exchange houses located in many hotels and in other places throughout the resort areas. The best rates for CUC will be offered at a bank, not resorts.
Traveler's cheques issued by an American bank will not be accepted in Cuba.
Visa and MasterCard credit cards (provided, again, if these are of non-US origin) can generally be accepted.
Details of interest
Places of interest in Cuba
Cuba is home to 9 UNESCO World Heritage sites that tourists can visit during their tour:
Old Havana and its Fortifications, the city center containing the core of the original city of Havana.
The city of Trinidad and the Valley de los Ingenios, the origin of Cuban sugar industry, which emerged in the 18th century.
San Pedro de la Roca Castle, a large fort built in the 17th century to defend the port of Santiago de Cuba.
Desembarco del Granma National Park that features a unique topography in the province of Granma. One of the best places to visit in Cuba.
Vinales Valley, a major tourist destination offering mainly hiking and rock climbing.
Archaeological Landscape of the First Coffee Plantations in the South-East of Cuba.
Alejandro de Humboldt National Park in the provinces of Holguin and Guantanamo. The park exhibits a wide array of geology types, as well as animal species.
Urban Historic Center of Cienfuegos founded in the 19th century as a Spanish colony; it became a center in the sugar cane, tobacco, and coffee trade.
Historic Center of Camagüey, one of the first villages founded by the Spanish in Cuba.
In addition to the sites inscribed on the UNESCO list, tourists shouldn't miss other remarkable landmarks. The following are of special interest:
Artemisa and Sancti Spiritus, the capital cities of the same-name provinces, rich in architectural and cultural monuments.
Baracoa, the oldest Spanish settlement in Cuba and its first capital. Now it's Cuba's main chocolate manufacturing area.
Cayo Santa Maria, an island in Villa Clara Province, is a stunning beach destination in Cuba, well-known for its white sand beaches and luxury resorts.
The first railway in Latin America, and one of the first railways outside Europe.
Cuban souvenirs
Top souvenirs to bring home from Cuba:
Cuban cigars and rum;
Handmade jewelry;
Original paintings by local artists;
Cuban flag and other symbols of the Revolution;
Cuban coffee;
Perfumes;
Clothing.