Curacao Island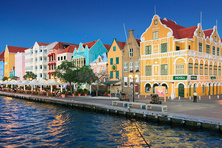 Curacao was an independent island state of the Netherlands Antilles until 2010. Curacao is bordered by the waters of the Caribbean sea and situated in close proximity to Venezuela. In 2010 Curacao became a constituent country of the Netherlands. The capital is Willemstad.
Curacao is well-suited for spending vacation throughout the year. Owing to a subequatorial climate, the weather is warm even in the rainiest season from September to December, with an average temperature of 26 °C to28 °C.
About 80% of the locals are Catholic. The rest of believers are Protestants. Indigenous people speak Papiamentu, an exotic mixture of Dutch, English, Spanish and Portuguese.
A vacation in Curacao is a discovery for ecotourism enthusiasts. The northwest of the island is occupied by Sint Christoffel mountpark, the national park extending over 18.6 km². In Chateau Boca, north of Curacao, you can visit caves, admire the exotic white-tailed deer; see living turtles and places where they lay eggs.
When in Willemstad, the capital of Curacao, city tourism enthusiasts can visit the Curacao Dolphin Academy where you can not only see the dolphins but also to swim with them. The Curacao Sea Aquarium located nearby offers an alternative to diving and snorkeling out at sea. There tourists and their travel companions will see most of the habitants of the Caribbean Sea including rays.
Those who love hiking and romance can take a walk around the Hato rock massif where they will enjoy picturesque mountain scenes and the beauty of retired bays, and visit the Hato caves. The Hato rock massif includes a waterfall of exceptional beauty and a small underground lake.
As to historical and architectural sites, noteworthy are the Statue of Carlos Manuel Piar and Plantation villa Keru-Grandis. When being on a tour to Willemstad, tourists should visit the Historic Area of Willemstad. A journey to the three major city bridges (Queen Juliana Bridge, Queen Emma Pontoon Bridge and Sharlou Bridge) would be exciting as well.
Get in
Airplane
Those who travel by air can enter the island at Hato International Airport located not far from Willemstad. For Russian tourists, no direct flights are available; the only way to get to Curacao is via European international hubs such as Dusseldorf or Amsterdam.
By boat
Travelers can also reach Curacao by cruise ships that arrive at the Mega Pier or the Curacao Cruise Terminal; from these ports, it will not take long to get to the island's popular destinations.
Visa
Tourists from Russia and CIS countries must obtain a tourist visa to enter Curacao. A visa can be applied at any representation of the Netherlands in the concerning country.
Travelers holding a tourist visa are entitled to visit other Caribbean islands as well as the island of Curacao. However, this visa gives no right to enter or stay in the European Netherlands.
Those travelers holding a valid Schengen visa may enter Curacao without an additional permit.
Customs
No restrictions apply to the import or export of local and foreign currency, regardless of the amount.
Visitors generally will not face any problem bringing items for personal use and gifts; however, the following goods are not advisable:
Any natural leather products originating from Haiti
Silver products and coins produced in Suriname or Holland
Besides items for personal use, travelers are allowed some quantities of alcoholic and tobacco products. Perfumery products can be imported without restrictions.
A departure fee must be paid when leaving Curacao:
USD 7 for connections with other islands of the Netherlands Antilles
USD 22 for international flights
Cuisine
Local cuisine is rich in all types of seafood: fish, shrimps, crabs and mussels.
Culinary tourism lovers will try Cabrito Stoba (goat stew), barracuda and snapper meat, and enjoy well-cooked traditional European dishes.
When going on vacation to Curacao, you shouldn't miss an exotic soup made with green leaves and meat broth. Vacationers will be offered Soapy Kami Piska, an original local soup made with mixed fish and bananas. Another creation by local chefs, Soapy di Piska is made with fish boiled in coconut milk.
Keshi Yena is a national dish comprising a cheese casserole filled with chicken and tomatoes. It's usually served with the original sauce of Kapi Payna. Sauces are the main feature of the island's cuisine and are served with practically every dish.
When on vacation in Curacao, we recommend trying Caribbean seashells stuffed with cactus fruits.
Common desserts of the island of Curacao are tasty puddings and cakes made of coconuts and sweet potatoes; Kesio (caramel flan) and Shugar Cake (coconut and sugar mix).
The island won worldwide fame for its national alcoholic drink, Curacao liqueur. Some excellent beers by Heineken and Amstel are also locally brewed.
Money
The Netherlands Antillean Guilder (ANG), also called Florin, is the official currency in Curacao. Besides the national currency, the US Dollar and Euro are readily accepted by the locals.
Foreign currencies can be generally exchanged at local hotels and markets, but banks are preferable. We recommend that you change local money back into USD or Euro prior to departure as it will be virtually impossible to do it outside Curacao.
At hotels and stores, visitors can pay with plastic cards. American Express, Visa иMasterCard are accepted. Automatic teller machines are widely available throughout the island, and you can cash out your money day and night at most businesses.
Details of interest
Places of interest in Curacao
The Historic Area of Willemstad, Inner City and Harbour was designated a UNESCO World Heritage site in 1997. The center of Willemstad has an array of unique colonial architecture. Those going on a tour of this wonderful city should visit the city port and the Urban lighthouse.
Tourists will enjoy visiting the Fort Amsterdam and its Museum of Church of Fort Amsterdam. We also recommend going give a look at Mikve Israel-Emanuel Synagogue, the oldest continuously operating synagogue in the western hemisphere. Mikvah Snoge Synagogue is worth your attention as well.
Special attention should be paid to such museums as Kura Hulanda, Curacao Museum, Jewish Cultural Historical Museum and Maritime Museum.
Souvenirs from Curacao
Shopaholics will find lots and lots of shops and markets throughout the island. Tourists can take home some delightful souvenirs and original pieces of art: a bottle of Blue Curacao; handcrafted artworks and sculptures; Chichi dolls, etc.