Cyprus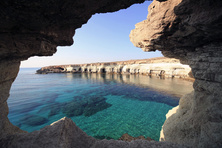 Cyprus is an island state located in the Eastern Mediterranean Sea. The country covers 98% of the island of Cyprus and also includes the neighboring Geronisos, Agios Georgios, Glyukiotissa, Kila, Kordiliya, Kiedes and Mazaca. The country's capital is Nicosia.
The climate of the country is subtropical Mediterranean with hot and dry summers and mild winters. Late spring and early autumn are the most comfortable season for vacations in Cyprus, although the tourist season lasts all year round.
The official languages are Greek and Turkish, but most of the population speak English as well. Christianity is the most practiced religion, but some of the people are adherents of Islam.
For the majority of tourists, Cyprus is a "resortsland", but each town in Cyprus has unique features. Young people choose rather Ayia Napa, the country's center for nightlife and club culture. To have a calm rest, it's worth to go to Larnaca. Paphos and Protaras are suited to vacationers with kids of all ages. Ecotourism lovers will enjoy a journey to Pissouri, a small picturesque village. The resorts of Limassol and the outskirts of Paralimni are thought to be quite universal and thus are well in demand.
At each seaside resort tourists will have an opportunity to go diving, snorkeling, do different forms of surfing, go on a coastal cruise or make a bike journey to local sights or fly a paraglider. In winter, you can ski and ride a snowboard at the resorts of Troodos.
Because of numerous monuments of civilization that are spread on the country's territory, any of the resorts offers exciting opportunities for excursion tourism enthusiasts and their travel companions.
Get in
Airplane
Cyprus is serviced by a variety of different airlines. The Republic's main airport is Larnaca International Airport located on the outskirts of Larnaca.
The island has flight connections with most major European cities (Athens, London, Birmingham, Manchester, Frankfurt, Paris, Amsterdam, Rome, Milan, etc.) and many Eastern European countries.
There is also an international airport near the city of Paphos. RyanAir, its main carrier, serves low-cost flights to European destinations.
Russia-based carriers servicing Cyprus are Aeroflot, S7 Airlines and Ural airlines.
Water transport
Cyprus is connected to Greece by occasional ferries. Additionally, there are mini cruises running in the summer months and taking passengers one way between Israel and Cyprus. Tourists can also catch a cruise from Italy, Portugal and other European ports.
A regular ferry service connects Cyprus to Turkey.
Cuisine
During the stay in Cyprus, those who prefer a culinary tourism will have a chance to feast on the country's traditional cuisine. Cypriot cuisine incorporates nuances of Greek, Armenian, Arab, English and Turkish culinary art. Using plenty of seafood is the specific feature of this cuisine.
Cypriots cook meat dishes using beef, lamb and pork which are grilled on coals or baked in stoneware. Tourists should try such meat delicacies as Souvlaki stin pitta (small pieces of grilled meat in a pita sandwich), Moussaka (ground meat baked in white sauce) and Kleftiko (lamb and potatoes baked in foil).
Tourists coming to spend winter holidays in Cyprus will be offered Tavuk suyu soup (chicken soup), Merdzhimek chorbasy soup with lentils and Ishkembe chorbasy soup based on thyme.
We recommend tasting Fish meze, a specific dish made of assorted fish and seafood.
In Cyprus, popular are side dishes based on feta cheese and halloumi cheese.
Wellness tourism lovers will enjoy a great variety of fresh organic products grown at local farms.
Those who have a sweet tooth should taste Rizogalo (sweetened rice with cinnamon), Baklava and Kataifi, fruit desserts with honey and sugar.
As to non-alcoholic beverages, tourists will be offered fresh juices, coffee and tea.
Cyprus is famous for its delicious wines. Between white wines we recommend tasting Aphrodite and Palomino. The red Keo Claret and Olympus Claret, the rose Rosela and Rose Lady are worth a taste as well. Exclusive wine enthusiasts and their travel companions should take up a famous Commandaria at the Kykkos monastery in Troodos.
Details of interest
Places of interest in Cyprus
Take a tour of 3 Cypriot sites inscribed on the UNESCO World Heritage list:
Paphos, a site of exceptional architectural and historic value, which was a center of the cult of Aphrodite, the Greek goddess of love. The remains of the Temple of Aphrodite and of the Kato Paphos necropolis ("Tombs of the Kings") are among the most visited;
Painted churches in the Troodos region comprising 10 churches and monasteries of the former Byzantine Empire, all richly decorated with murals: Saint Nicholas of the Roof, Saint John Lampadistis, Panagia (Church of Our Lady) Phorbiotissa, Church of the Archangel Michael, Church of the Holy Cross…;
The Neolithic settlement of Choirokoitia, one of the most important archeological sites in the eastern Mediterranean. The settlement was mainly built with mud-brick and various artifacts have been found here.
Not without interest are 10 cultural and historical properties submitted on the Tentative list: the Rural settlement of Fikardou, Mathiatis South, Church of Panagia Chrysokourdaliotissa, Kionia, Khandria, Mount Olympus (Troodos), Malounta Bridge, Klirou Bridge, Agioi Varnavas and Ilarion at Peristerona (Five-domed churches), Church of Panagia Aggeloktisti.
The island is a real mecca for shopaholics. Wherever you choose to stay in Cyprus, you will find a whole array of designer boutiques, accessory shops and modern malls to visit. Nicosia, Limassol, Larnaca and Paphos are the main shopping destinations.
Souvenirs from Cyprus
You can bring back home some unique souvenirs reminding you of the experience you enjoyed:
Foods and drinks, including traditional Cypriot wines and sweets;
Leather products (handbags, wallets, credit card holders and belts);
Various handicrafts;
Jewellery and silverware;
Figurines of Aphrodite.