Estonia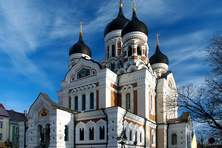 Estonia is a country in the Northern Europe on the coast of the Baltic Sea. The capital of the country is Tallinn. It borders Russia and Latvia. On the west, Estonia is washed by the waters of the Gulf of Riga and on the north by the Gulf of Finland. Estonia consists of many islands and islets in the Baltic Sea. 
Estonia has a temperate climate with a gradual transition from maritime to continental. The average temperature in January is -7°C and in July is +17°C. The best time to visit Estonia is from May to September. Beach season starts in June and lasts until the end of August.
The majority of the Estonians are Lutherans and Christians. The official language is Estonian.
To have a good beach holiday, visit balneotherapeutic health and spa resorts Haapsalu, Parnu and Ust-Narva. Ust-Narva resort is located in a pine wood to the north of Narva and there is a mineral water spring Auga. In Tallinn go to Pirita Beach and a yachting center. Saarema Island, Tallinn surrounding areas and numerous lakes in Estonia are perfect for diving and snorkeling. High shores of the Ahja River are considered to be the best places for rafting, canoeing and kayaking. 
Do you like alpine skiing? Then go to Otepyaa in the south of the country. Tehvandi and Apteek Rimi mountains are equipped with ski jumping boards.  
For city entertainments and shopping, go to Tallinn, Tartu or Narva.
If you like to spend time in nature and don't mind hiking, you can visit Estonian nature reserves and Lahemaa Rahvuspark. If you are a fan of ecotourism, we highly recommend visiting Abruka Nature Reserve, Viydumyaesky Reserve on the Saarema Island, Matsalu National Park, Kaali crater lake and Hiiumaa Island. 
Get in
By Plane
Tourists from Moscow and St. Petersburg can book Estonian Air flights to Tallinn. AirBaltic and Aeroflot also have flights to Tallinn from Moscow.  AirBaltic offers flights from St. Petersburg with a transfer in the Riga airport.
Finnair, Norwegian, Lufthansa, LOT, KLM, Ryanair и AirBaltic offer flights to Estonia from European countries.
By Train
There is a direct rail connection between Russia and Estonia. Moscow — Tallinn and St. Petersburg — Tallinn routes are available. There is also a rail connection between Estonia and European countries. 
By Bus
International bus companies such as  Luxexpress, Simple Express, Ecolines Estonia run every day between St. Petersburg and Tallinn and between Estonia, Latvia and Lithuania.
By Ferry
Cruise by ferry from St. Petersburg to Tallinn is available with a stop in Stockholm and Helsinki. 
Cuisine
Authentic Estonian cuisine includes simple but substantial farm-style dishes made with vegetables,  pork, cereals, potato and fish. It is typical for Estonian cuisine to use organ meats (liver and blood) as well as milk and fermented-milk products. There are over 20 types of milk soups in Estonia!
We highly recommend you to try such meat dishes as Verivorst (blood sausage served with fat and pearl barley), Mulgi Puder (potato and barley porridge) and Vere Pannkoogid (pancakes with blood), Mulgikapsad (sauerkraut with pork and barley) and Kartulipors (meat baked in mashed potatoes). Food lover will surely enjoy Sült (a jellied meat dish from heads and tails) and Palteny (beef jellied meat).
Fish dishes have an unusual taste: Suitsukala (smoked salmon) and spicy sprats known as Tallinn sprats. Estonians usually use dried fish for cooking soups and smoked fish for preparing second-course dishes. Potato is a typical side dish for fish. 
Estonian soups are really worth trying. You will be amazed by a great variety of soups in Estonia: soups with dumplings, barley, pea, Baltic herring, blueberry soup, bread and beer soups. 
If you are a sweet-tooth, enjoy a chocolate with nuts, local candies with nut or liqueur stuffings, semolina mousse with fruit juice. The most favorite dessert among the Estonians is berry soups with nuts and honey and sweet bread soup.
Don't miss a chance to try Estonian light beer Saku and dark beer Saare. Beer lovers will surely enjoy  honey and juniper berry beer. In Estonian restaurants order famous liqueur Vana Tallinn with rum flavor, Kannu Kukk with thyme or gluhwein Heegwein. 
Details of interest
Sightseeing in Estonia
Being in Tallinn, visit the Old Town which is inscribed on the UNESCO World Heritage List. The Old Town consists of Toompea which is on Toompea Hill and of cathedrals, medieval towers and fort walls of the Lower Town. During their trip to Tallinn, tourists can have a walk along the Toompea Castle Square and see Cathedral of Saint Mary the Virgin, Alexander Nevsky Cathedral, and Toompea Castle. There are excursion trips to the ruins of the St. Birgitta's Convent and Tallinn Botanic Garden.
Kadriorg park and palace ensemble is considered to be one of the best architectural examples of Barocco style in Northern Europe. If you like and appreciate historical and architectural monuments, you will be amazed by this beautiful sight. Tourists in Estonia can also visit the main art gallery Kumu Art Museum.
In Narva, you can see splendid medieval Hermann Castle, Narva's Old Town Hall, fortifications, the building of the Krenholm Manufacturing Company and  the Lords Resurrection Cathedral.
In Tartu, you can see the ruins of Tartu Cathedral and visit one of the oldest European universities the University of Tartu and a powder room near the Toomemagi Hill. Among the most popular sights here are St. John's Church, Tartu Town Hall, and Tartu Observatory.
Otepaa Maarja Lutheran Church where a national flag was created.
A unique Nightingale Valley in Voru.
In Kuressaare, the center of Saarema island, there is a legendary Kuressaare Bishop Castle. This is the largest medieval castle in Baltic countries which remained intact.  
Estonian Souvenirs
Amber souvenirs and things with national ornaments can be bought in Tallinn.
Ceramic tableware, statuettes, animal figures and vase can be found in Narva.
Look for a tablecloth, napkins and pillow-cases made of linen as well as furniture and kitchen utensils made of juniper on Saarema Island.