Finland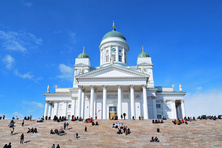 The republic of Finland is a country in the northern Continental Europe. Finland borders Norway, Sweden and Russia. It is washed by the waters of the Baltic Sea in the southwestern part. The capital of Finland is Helsinki.
Northern and central regions of the country has a temperate and continental climate. The average temperate in January is -9 °C and in July +21 °C. In the southwestern region of Finland climate varies from continental to maritime: the winter here is not very cold and summer is warm and rainy. The ideal time for visiting Finland is late spring. Lovers of fishing can come to Finland from May to September.
The official languages of Finland are Finnish and Swedish. The majority of people in Finland speak Finnish. The Finnish are mainly proponents of the Evangelical Lutheran Church.   
Finland is the country with amazing nature and very good ecology. That is why this country is so popular among people who love country holidays. Despite its small territory, in Finland there are thirty national parks with touristic routes for ecotourism. Finland can offer a great variety of entertainments in the open air: hiking, cycling along the rivers with the cleanest waters and canoeing.
If you like fishing, visit the Åland Islands which is called The Pearl of Scandinavia. International competitions in sailing, tennis and, of course, fishing are regularly held there.   
Skiing is the most popular type of tourism in Finland. There are a lot of ski resorts and the most popular of them are Levi and Ruka. Not far from the ski rails you will find big entertainment parks. The best aquaparks are in the ski resorts Kuopio, Kuusamo and Jyväskylä.
Fantastic Lapland is waiting for you on Christmas. In Rovaniemi you will visit the village of Santa Claus. This is the place for the whole family.
Wellness tourism is becoming more widespread in Finland. The most popular resort is located not far from the city of Turku. You will be offered to try thalassotherapy to treat respiratory and cardiovascular diseases.  
Get in
You can get from Russia to neighboring Finland by any means of transport. You can even walk there because there are land borders between Russia and Finland.
By Plane
Several air lines offer flights from different Russian cities to Finland every day. Aeroflot and Finnair offer regular flights from Moscow to Helsinki.
Finnair and Ukraine International Airlines offer flights from Kiev to Helsinki.
By Train
Five trains run every day from Russia to Finland. It will take you about 14 hours to get from Moscow to Helsinki by train and you will get from St. Petersburg to the capital of Finland for 3.5 hours by the high-speed train Allegro. 
By Ferry
If you are in St. Petersburg, you can get to Helsinki by ferry. 
Cuisine
Fish is a staple food in Finland. Fish is the main ingredient of the majority of Finnish dishes. You will be offered Lohiketto – this is a milk soup with salmon. The famous Finnish fish soup is served in every restaurant.  
Finnish chefs are masters of cooking fish with natural juices: Graavi kirjolohi (trout baked in its own juices) or Graavi lohi (salmon baked in its own juices). The Finns do not eat herring and potato separately but they combine these ingredients and make herring casserole. 
We recommend trying the salads Rosolli and Salamat. The Finns often use minced fish as a pie filling. Fish and bacon is a traditional filling for famous Finnish pies Kalakukko.
As for meat, the Finns prefer moose meat, venison and partridge. Roast venison and partridge stewed in sour cream are cooked on the base of classical recipes and food lovers will surely be impressed by these foods.
Those who have a sweet tooth should try jam from northern berries, Finnish crepes with various fillings and traditional pastry Pulla.
Coffee is the most favorite hot drink among the Finns.
The most popular alcoholic drink which is known far beyond Finland is vodka Finlandia. Also, do not miss a chance to try liqueur-like drinks with herbs and berries and local Finnish beer Kotikalja. 
Details of interest
Planning your trip to Finland, be prepared that most of the legends about the country you probably heard are just a myth.
When people first meet, they shake hands and it is truth for both men and women. Women do not tolerate any compromises just because they are the «weaker sex».
Sightseeing in Finland
The cultural sites of the country were not ignored by UNESCO and seven Finnish sites are under UNESCO protection. All the sites are open for the tourists.
Finland is the country of lakes. The territory of the country is not very large but there are 60.000 lakes there. The largest lakes popular among the tourists are Lake Päijänne, Saimaa, Lake Inari and  Lake Pielinen. 
The old part Rauma has survived until nowadays as well as Fortress of Suomenlinna built on seven islands. You can also see the Petäjävesi Old Church and in summer they conduct services there.
Woodworking plant in Verla, on the territory of which there is a modern industrial museum.
If you like archeological remains, do not miss a chance to visit a Bronze Age burial site Sammallahdenmäk which includes 36 granite burial cairns.  
The UNESCO World Heritage List also includes the Struve Geodetic Arc, the High Coast and the Kvarken Archipelago.
Of course, the capital of the country Helsinki offers a lot of interesting things fro the tourists. In the older part of the city, there is one of the most beautiful squares – Senate Square. In the center of the square, you can see the monument to the Russian Emperor Alexander II.
Finnish Souvenirs
A souvenir which will make happy both adults and children is a figure of Moomin. Products with the image of this personage are sold everywhere. In Helsinki, there is a Moomin shop where you will find various things with Moomin.
Get an unusual gift for your friends and family and buy a souvenir with Angry Birds. They are becoming as popular as Moomin.
The best gift for a man is a Finnish knife or fishing accessories.
Tourists often buy wool sweaters and vests with the northern deer and felt slippers.  
Bright Lapland cap with four ribbons symbolizing the four parts of the world will always remind you of the trip to Finland.