France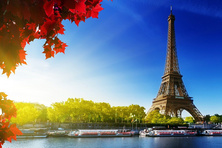 France is the largest Western European state. The capital of France is Paris. France is bordered by the European countries: Germany, Luxembourg, Belgium, Switzerland, Monaco, Spain, Italy and Andorra. Most borders lay on mountain ranges. France includes 22 regions and the non-continental territories: the island of Corsica, overseas territories in the Pacific Ocean and in Antarctica.
Mild winters and warm summers are typical for the western territories of France. Hot summers and colder winters prevail in the east of the country. The climate in the southern Mediterranean territories is marked by humid winters and hot and dry summers. The average temperature doesn't exceed +7 °C in winter and +25 °C in summer. Late spring and early summer are considered the best season for making a tour of the country. The period from June to September is ideal for beach vacations. Mid-February is an opportune time for ski tourism.
The official language in the country is French. Most people describe themselves as Catholic, but few of them go to church. France leads Europe in the number of firm atheists.
For lounging, we recommend to choose the Cote d'Azur in the Mediterranean Sea. The most popular cities of the Cote d'Azur are Nice and Cannes.
French health resorts won worldwide fame for a combination of healing factors and highly professional personnel. The spa resorts of Brittany and Aquitania host tourist with any and all diseases. The most in-demand resorts for wellness tourism are: Divonne-les-Bains, Vichy, Evian-les-Bains and Juan-les-Pins.
France attracts the fans of ski resorts. Holidays in the ski resort of Courchevel became widely known.
Paris is one of the most beautiful cities of Europe where travelers will meet palaces, museums and Medieval castles. Paris is visited for excursion tours and an unforgettable shopping. The visitors will have a fascinating shopping experience in Grenoble. In popular city markets (Sainte-Claire Les Halles, L'Estacade, Place aux Herbes) and at boutiques near Place Grenette tourists will buy all kinds of goods ranging from souvenir gifts to cloths by well-known brands.
In the historical region of Ile-de-France, tourists and their travel companions will touch the monuments of history and culture: the Palace of Fontainebleau and the Palace of Malmezo.
We recommend those who take their way to France for culinary tourism to visit Burgundy, the Loire Valley and Bordeaux where you can taste real French red and white wines. A trip to Languedoc-Roussillon will let tourists get into a thousand-year history of the region, to taste the unique fine cuisine and the best local wines.
Get in
Travelers wishing to visit France can use a plane, train, bus or car to get there.
Airplane
However, the most usual way from outside Europe is by plane. A number of airlines fly to France, including Lufthansa, KLM, British Airways and Russian Aeroflot. If you fly into France from a CIS country, the main international airport, Roissy-Charles-de-Gaulle (CDG) is likely to be your port of entry. CDG is the home of Air France, the national company, for most intercontinental flights.
Rail transport
The French rail company, SNCF, provides direct service from most European countries using regular trains. If you travel to France from Russia or another CIS country, direct trains to Paris or Nice are also available.
Bus and car
For tourists from CIS countries, it will take two days to get to France by bus. It is also possible to reach France by car in transit across Belarus, Poland, Germany and Belgium. However, several weekends each year in France are "Black Saturdays" because of the start or end of school holidays and the coinciding traffic jams on the French roads. When possible, it is wise to avoid these days.
Cuisine
French chefs are renowned geniuses at cooking soups. During their travel, the visitors will be offered potato and onion cream soup or fish soup that is popular in the region of Provence. Bouillabaisse with fresh fish is considered a masterpiece of French cookery.
Main courses are traditionally made from meat, seafood and fish. Both sea and fresh-water fish is used. It is notable that the French distinguish six stages of doneness of meat. Pot-au-feu (beef stew with vegetables) is a traditional French meat dish. Codfish braised with mixed peppers is served with vegetable marrow stewed with the special sauce Cru. This dish is a perfection of culinary art and recognized as masterpiece of local cookery. Remarkably, the French love sauces. These are used with fish, meat, vegetables and served with escargots. There is a culinary joke in France, "The dog refused to eat the fillet steak without a sauce!"
We recommend those who love exotic dishes to taste French specialties when on holidays: spicy escargots with herbs and coriander, or the famous frog legs cooked with white wine.
Before serving a dessert, tourists and their travel companions will be offered cheese dishes. Cheese soufflé, fondue and cheese omelet are the most authentic French dishes. It is impossible to imagine French cuisine without cheeses. Over 500 types thereof are produced across the country.
A fluffy apple pie and a light vanilla ice cream are some of the simplest and most popular desserts among the French.
The nation's favorite non-alcoholic beverage is coffee. In France, coffee is brewed with rose water, cardamom and even with vodka.
Any self-respecting traveler should taste the unique wines from French regions.
Details of interest
French traditions
In France, the handshake is a common form of greeting. Friends may greet each other by lightly kissing on the cheeks, once on the left cheek and once on the right cheek.
You are expected to say "bonjour" (good morning) or "bonsoir" (good evening) with the honorific title "Monsieur" or "Madame" when entering a shop and "au revoir" (goodbye) when leaving.
If you live in an apartment building, it is polite to greet your neighbors with the same appellation.
Places of interest in France
Famous for its wines and cheeses, France is one of the world's most popular tourist destinations. Visitors are attracted by historic cities, a beautiful countryside, the castles of the Loire Valley, and Brittany and Normandy. In addition, France offers an agreeable climate, some excellent beaches on the French Riviera, the Atlantic coast and the island of Corsica, wide possibilities for winter sports, most notably in the Alps and the Pyrenees, and a rich culture with food and wines that are among the most celebrated in the world.
Each region looks and feels different, has its own style of architecture, its own characteristic food and often its own dialect.
Paris offers something for everyone through shopping, rich dining experiences, art, and breathtaking monuments. While in Paris, many tourists feel part of the beautiful city. The most popular tourist attractions of Paris are the beautiful monuments. Some of these architectural masterpieces are the Eiffel Tower, the Arc de Triomphe, Place de la Concorde, and the Notre Dame Cathedral. Another famous site is the Louvre, home of the Mona Lisa. The city is also home to the Paris Opera, and many sipping cups of coffee on the Champs Elysees. Visit the extravagant Royal Palace of Versailles, which is steeped in history and rich in legend.
French souvenirs
If you are one of those generous travelers, you delight in picking out something special of France: roger and gallet soaps, bottles of wine, something from a French flea market, cookies, etc…