Germany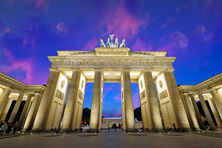 Germany or the Federal Republic of Germany is a state in the western part of Europe. The north of the country is bounded by the Baltic Sea and the North Sea. It borders on 9 states including France, the Netherlands and Switzerland. The capital is Berlin.
An oceanic climate prevails in the coastal regions of the country, and the rest of the territory is dominated by continental weather conditions. The summer is the best season for beach holidays; the shoulder period is more suitable for excursions; and the winter is better for mountain skiing.
The official language is German. Most of the people profess Christianity.
Germany offers multiple opportunities for adventure tourism. At visitors' disposal are Feldberg, Bad Hindelang, Winterberg and Lenggries ski resorts. The vacationers may exercise hiking, hang gliding and mountaineering in the mountains of Lower Saxony and Saxony. Surf riding, yachting and sport fishing are available on the lakes of Bavaria and Schleswig-Holstein.
The fans of culinary tourism should visit the breweries of Cologne and go to the Oktoberfest beer festival in Munchen.
Those preferring wellness tourism choose rather spa resorts in Lower Saxony, health complexes in Mecklenburg-Western Pomerania, thermal and mineral springs of Brandenburg and Hessen.
Vacationers are offered excursion tours to historical and cultural monuments of Bremen, Dresden, Dusseldorf, Saxony-Anhalt and Frankfurt am Main. Main nature reserves and national parks are located in Thuringia, Nordrhein-Westfalen and the Saar Territory.
Those who like event tourism are recommended to visit festivals, street parties and carnivals in Hamburg, Baden-Wurttemberg and Rheinland-Pfalz.
Beach resorts are located in the coastal areas of the country.
Get in
Air Transport
With its central position in Europe, Germany is a transport hub for the European continent. The biggest German airport is Frankfurt Airport with the largest number of international destinations served worldwide. Germany's second major international airport is Munich Airport followed by Dusseldorf Airport.
Rail transport
Germany has established a polycentric network of high-speed trains. The fastest high-speed train, the InterCityExpress or ICE, connects major German and neighboring international centers such as Zurich, Vienna, Copenhagen, Paris, Amsterdam and Brussels.
Road transport
If you travel to Germany by bus or by car, one of the densest road systems of the world will be at your disposal, called Autobahn. It is known for its lack of a general speed limit.
Ship transport
Hamburg is a major cruise destination and one of Europe's largest ports of call for cruise passengers travelling the Atlantic, or the Norwegian and Baltic Seas.
Visa
Once you have decided to travel to Germany, your first step will be to check your entry requirements. If you are a national of an EU member state, of Iceland, Liechtenstein, Norway, or Switzerland, you normally are not required to get a visa; nationals of non-EU countries are required to procure a visa for their visit or stay. A so-called Schengen visa usually allows you to stay in Germany and other states within the Schengen area for up to 90 days.
You can apply at the German Embassy or Visa Center in your country. First-time applicants have to submit the application form along with the required documents in person. Frequent travelers may submit their application and documents via an agent or a travel agency.
The Embassy will decide on your application during 15 days from receipt of your documents.
Customs
When you are entering Germany from a non-EU country, the goods you are carrying and which do not exceed certain quantity and value limits can be brought into Germany tax/duty-free if they are for your personal use. This means that the goods may not be imported for commercial purposes.
However, there are some restrictions on quantities and value as to:
tobacco products;
alcohol and beverages containing alcohol;
medicinal products;
motor fuels;
other goods: up to a value of EUR 300 (430 for air/sea travelers)
If the goods you are bringing with you exceed the travelers' allowance, you must pay import duties.
You may also bring with you cash money in the amount of up to EUR 10,000.00.
If you enter Germany from another EU country no restrictions on currency will apply.
Cuisine
A diverse German cuisine with its variations from region to region has always attracted the fans of culinary tourism. The national gastronomy uses top quality products, which certainly will delight the tourists coming to the country for health benefits.
Meat dishes are very popular in Germany. During their travel, tourists will be offered traditional pork sausages Wiener and Wurstchen fried sausages, Eisbein ham hock, Schmorbraten larded fillet, Gaisburger marsch beef stew and Weckewerk made with stewed pork kidneys. Just as good is Ochsenmaulsalat, a German salad with meat, and Snuten un Poten, a ragout with salt pork and cabbage.
Herring is the most common in fish dishes; trout, carp, salmon and perch are also popular. When you come to Germany for holidays, you are recommended to taste Labskaus made with herring and corned beef, Garnelenbroetchen brown shrimp sandwiches and roasted trout with lemon oil.
A huge selection of various soups is available to those who love the first course. We suggest paying attention to Beetenbartsch soup with beef, Grumbeersupp un Quetschekuche with potatoes and Hochzeitssuppe, a spicy meat broth with dumplings.
The German cuisine is famous for its wide variety of breads which types amount to about 600 in total. A rye bread Pumpernickel is hugely loved by Germans.
Vegetarians should order Zwiebelkuchen onion cake and sweet stuffed pepper Paprika mit Gemuesefuellung or rolled pancakes with carrot and potato.
While travelling, you are recommended to taste as appetizers Berliner doughnuts, Blachindla pumpkin pie, Buchteln sweet dumplings and Silesian doughnuts Kreple.
The republic's most popular drink is beer which countless types are brewed in Germany. All of them are worth a taste. German wines Auslese and Spatlese are worth attention too.
Money
The Euro (€) is the single European currency of Germany and other countries of so-called Euro Zone. When travelling to Germany, you can find currency exchange desks at any airport you arrive into, most train stations in larger towns and cities and all banks or you can use your ATM card at most ATMs in Germany. An ATM is the fastest way to get money away from home. ATMs are multilingual so your Visa or debit card should be used without problems.
Be aware that credit cards are not widely accepted in Germany. Most Germans still prefer to pay cash, and some shops and cafes don't accept credit cards, especially in smaller German cities. Before you enter shops or restaurants, check the doors. They often display stickers showing which cards are accepted.
Traveler's cheques are universally accepted throughout Germany, but here, as elsewhere in Europe, you will be charged a fee for their use which sometimes can be quite large.
If you are not EU-resident, you may shop tax-free in Germany. If buy goods in Germany for personal export, ask in shops for a Tax Free form (you should spend minimum 25 Euro on the same day and in the same shop). When leaving the European Union, present your Tax Free form and the original receipts to Customs.
Details of interest
Places of interest in Germany
Germany is one of the most visited countries in the world and is well known for its diverse tourist routes:
The Romantic Road which describes the 350 kilometers of highway between Wurzburg and Fussen in southern Germany, specifically in Bavaria and Baden-Wurttemberg, linking a number of picturesque towns and castles.
The Wine Road marked by numerous open-air wine festivals, held annually from March to October, which make it a major tourist attraction.
The Castle Road having a length of over 1000 km, from west to east, and passing along numerous castles and landmarks in southern Germany.
The Avenue Road that runs the length of Germany from the Baltic Sea to Lake Constance at the northern foot of the Alps. It is Germany's longest scenic route.
There are 40 UNESCO World Heritage Sites in Germany, including the old town cores of Regensburg, Bamberg, Lubeck, Quedlinburg, Weimar, Stralsund and Wismar.
Among Germany's most visited landmarks, the following should be mentioned: Cologne Cathedral in Cologne, Berlin Bundestag in Berlin, Hofbrauhaus Munich (Royal Brewery in Munich), Europa-Park near Freiburg, the largest in Germany and the second most popular theme park resort in Europe, following.
For those who go to Germany for shopping, there are some places they shouldn't miss:
Zweibrucken Designer outlet near the cities of Kaiserslautern and Saarbruecken. It is considered the largest discount center in Germany and includes 77 renowned brands.
Ingolstadt Village outlet in the center of Bavaria, near Munich and Nurnberg.
Metzingen Designer outlet which includes 70 shops, both top brands and casual. It is located 25 km from Stuttgart Airport.
German Souvenirs
During their travel to Germany, tourists can pick up unique reminders about what makes the country special:
Porcelain Hummel figures;
Christmas ornaments;
Nice sets of beer mugs;
Cuckoo clock;
Wine.