Gibraltar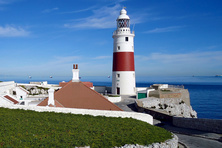 Gibraltar is a British Overseas Territory, which is the subject of a disputed claim by Spain. It is part of the European Union and located on the southern end of the Iberian Peninsula. A sand neck of land that connects the Rock of Gibraltar to the Iberian Peninsula is the territory of Gibraltar. Gibraltar is bordered on the north by the Spanish city of La Linea de la Concepcion; on the east by the Mediterranean Sea; and in the southern and western part of the Strait of Gibraltar. The administration centre of the overseas territory is the city of Gibraltar.
The Mediterranean climate of the territory is marked by hot summers and mild winters with moderate precipitation. The most popular season for spending vacation is late April to late October.
The official language of the state is English. Gibraltarians also speak Llanito which is based on Andalusian Spanish. Most locals are Catholics.
Gibraltar is a popular vacation spot for beach recreation and water sports (diving and snorkelling). The high waves of the eastern Iberian Peninsula attract surfers. Today the city of Gibraltar enjoys popularity among yachting and sailing enthusiasts.
The British Overseas Territory serves as a tax haven, so shopaholics will enjoy a trip to Gibraltar.
Get in
By plane
Gibraltar has regular flight connections to London, Birmingham and Manchester. British Airways, Monarch Airlines and EasyJet operate a daily scheduled service between Gibraltar and the British cities.
No direct flights are available between Gibraltar and CIS countries. The most convenient alternative gateway for Gibraltar is Malaga Airport in Spain. Aeroflot, S7 Airlines (both Russian) and Air Europe (Spain) operate regular flights from Moscow airports to Malaga. The time en-route is about 5 hours.
By car/by boat
Visitors can get to Gibraltar by car which is the main form of transport within the country. Note that traffic drives on the right (unlike the UK and other British territories).
In addition, the Cruise Terminal at Gibraltar Harbour receives a large number of cruise ships.
Visa
Gibraltar is part of the European Union, so EU nationals having a valid national ID card is not required to get visas.
All other visitors are required to have either a separate Gibraltar visa that should be applied for at a British embassy, a UK visa valid for at least 6 months, or a UK residence permit.
Those nationals of Morocco, the PRC, Mongolia, India or Russia holding multiple entry Schengen visas valid for at least 7 days on the date of departure are allowed to enter Gibraltar for a maximum period of 21 days.
Customs
No restrictions are provided for by customs regulations as to importation or exportation of foreign currencies. Nationals of non-EU countries must declare any sums exceeding EUR 10,000.
Nationals of non-EU countries are allowed to bring in duty-free:
small quantities of alcoholic beverages and tobacco products;
limited quantity of perfumery products (60 g of perfume and 250 g of eau de toilette);
goods for personal use to a total value of GBP 145 per one person.
Prohibited from importation and exportation are:
relics and works of art;
firearms, ammunition and explosives;
articles derived from rare species.
Pets may be imported only directly from the United Kingdom, Isle of Man or Ireland, provided at least 4 months of age and accompanied by a certificate from a veterinarian.
Cuisine
It would be rather difficult to provide an outline of an original Gibraltarian cuisine. Local dishes are an amazing mix of Mediterranean culinary traditions. In everyday life, Gibraltarians eat fast-food; at restaurants, tourists and their travel companions will be offered Spanish, British, French, Italian and Lebanese dishes. There are several food spots offering Indian and Chinese foods.
Between English dishes, bacon and shepherd's pie are served the most frequently. German culinary traditions are presented by a range of sausages. Spanish and Portuguese recipes are largely used for fish dishes. Culinary tourism enthusiasts will enjoy savoury and spicy Sichuan dishes.
European travellers adore Yuxiang zhousy, a meat dish made of spiced pork roast with a salmon flavour.
Cheeses and salads came from French cuisine. Exotic fruits and spices offered at local restaurants originate from African countries. By a stretch of imagination the national cuisine could include Panissa (a meat pancake made with chickpea flour) and tortilla filled with spinach.
Between non-alcoholic beverages, Gibraltarians prefer tea and coffee.
As to alcoholic products, vacationers will be offered a wide range of Spanish, German and French wines as well as the traditional English ale. Rum, gin and whiskey are worth attention as strong liquors.
Money
The official legal tender is the Gibraltar pound (GIP) which is pegged to the British pound sterling at par value. Coins come in denominations of 1 to 50 pence and 1 and 2 pound. Banknotes come in denominations of 5 to 50 pound.
While the local currency is pegged to the British pound sterling, the Gibraltar pound is not legal tender in the UK. In contrast, the GBP is accepted by all banks, government offices and businesses in Gibraltar.
Most local shops will also accept Euros. However, when paying in Euros, you will be given a more expensive exchange rate than at exchange offices, so paying in pounds is more preferable.
Numerous banks and exchange offices are spread within Gibraltar; exchanging foreign currencies will be no big deal.
Credit and debit cards are easily accepted by most businesses.
Traveller's cheques can be accepted at virtually all banks, exchange offices, restaurants, hotels and stores. The best exchange rates are offered for GBP cheques.
Details of interest
Sightseeing in Gibraltar
The Rock of Gibraltar is a must for any visitor to this country. The Rock is home to a landmark that has been proposed as a UNESCO World Heritage site:
Gorham's Cave, a unique natural sea cave which formed some 250,000 years ago during the Ice Age. Archaeologists consider the cave to be one of the last known habitations of the Neanderthals in Europe. Excavations of this site resulted in the discovery of human and animal remains as well as of stone tools that refer to the Stone Age.
The Rock's upper area is covered by the Gibraltar Nature Reserve where the famous Barbary macaques live. Moreover, this is an important resting point for migrating birds. A number of walking, taxi or bus tours are available in the nature reserve.
Saint Michael's Cave is an impressive natural grotto considered to be the Rock's largest cave.
Other Gibraltar's important historical sites include the Moorish Castle, a medieval fortification comprising various buildings, gates and fortified walls, which construction began in the 8th century;
The dominant feature of the castle, the Tower of Homage is the highest tower of the period of Islamic rule in the Iberian Peninsula;
The Trafalgar Cemetery, which was used for burials between 1798 and 1814; today it is with the Gibraltar Heritage Trust;
The Ibrahim al Ibrahim Mosque, one of the largest mosques in a non-Muslim country and the only place of worship to serve the Muslims in Gibraltar. The complex also includes a school, library and lecture hall.
Souvenirs from Gibraltar
The best reminders of a trip to Gibraltar are:
buffed Barbary macaques;
souvenirs bearing the images of the region's landmarks;
jewellery and perfumes;
wine.