Hungary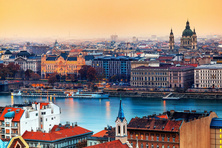 Hungary is a state in Central Europe. It is bordered by Ukraine, Romania, Slovakia, Serbia, Croatia, Slovenia and Austria. Landlocked. The capital is Budapest.
Hungary is situated in a temperate continental climate zone. Summer months are opportune for vacations on Balaton lake, and May or September are more suitable for sightseeing and hiking.
The official language is Hungarian. More than half the population professes the Catholic faith; Calvinists are in about quarter thereof.
Despite no access to the sea, this didn't prevent Hungary from making Balaton the best beach resort for spending vacations for thousands of kilometers around. The country has a number of thermal and mineral springs, especially in Southern Transdanubia. The well-known health resorts are Bukfurdo, Lake Velence, Thermal Lake of Heviz, Kehidakustany, Nogradgardony, Tapolca, Hajduszoboszlo and Sarvar.
A travel to Hungary is often planned for hiking, cycling or horse riding. The region of the Southern Great Plain is particularly rich in country routes: Bacs-Kiskun County, Bekes County and Csongrad County. Not without interest are also the routes in Vas County, Zala County, Komarom-Esztergom County, Heves County, Pest County, Fejer County and Jasz-Nagykun-Szolnok County.
There are popular hunting areas on the outskirts of the villages of Besenyotelek, Kutas and Rojtokmuzsaj. Excellent golf courses can be found in the towns of Buk and Tata.
Hungary is home to a good number of extant historical monuments that are attractive to tourists and their travel companions. They can be found in almost every location.
Get in
Airplane
It's very easy to get to Hungary by plane; several international airlines operate flights to and from most EU and CIS countries. There are five international airports in Hungary, the largest of which are Budapest Ferenc Liszt (in Budapest) and Debrecen Airport (in Debrecen).
Overland and water transport
Alternatively, Hungary has a highly developed road, railway and water transport system. Being an important railway hub for the whole country and large part of Eastern Europe, Budapest has direct railway connections with many European capital cities.
It' possible to enter Hungary by international shipping lines. Most cruise ships travelling along the Danube to the Black Sea call in at Budapest.
Several international bus lines offer connections with Austria, Croatia, the Czech Republic, Germany, Poland, Romania and Slovakia.
Cuisine
Hungarian cuisine is as original and out of the ordinary as the whole Hungarian culture which is quite different from its neighbors. This makes Hungary attractive to culinary tourists. Main ingredients are meat, vegetables, fish and spices (especially, red peppers).
To tourists travelling to Hungary, we recommend to taste meat dishes Gulasch (stewed beef with potatoes and spices), Porkolt (meat stew with potatoes) and Paprikas (stewed beef with sour cream).
Poultry meat is used for cooking Paprikascsirke (chicken Paprikas), Fakhagymas csirke (chicken with garlic) and chicken with pepper.
The best known Hungarian soup is Halaszle fish soup. Foreigners are suggested Husleves (clear chicken soup with vegetables) and Palocleves (sour meat soup).
Even though Hungary has no access to the sea, Hungarians' menu is quite rich in fish dishes because of Balaton lake and the Danube river. Vacationers should try Fogas (Balaton pike-perch), catfish with cabbage and carp by Buda recipe.
For their dishes, Hungarians use a lot of onions, tomatoes and sweet peppers. Potatoes and cabbage are often served as a side dish. And the main vegetable dish that is worth tasting during Hungarian holidays is Lecso (stew of tomato, sweet pepper and yellow onion). Travelers should also pay attention to Rakott Krumpli (potato casserole) and Rakott Kaposzta (cabbage casserole).
Hideg meggyleves, a cold berry soup with sour cream and sugar may be considered the most exotic traditional dessert. Further, we recommend to visitors of Hungary to taste Palacsinta (pancakes filled with jam), Bejgli (traditional bread roll with poppy seed) and a widely known cake Dobostorta.
Between non-alcoholic beverages that are worth travelers' attention during their stay in Hungary, notable are local mineral waters Apenta, Kekkuti and Mira.
Vacationers will be impressed by the assortment of traditional Hungarian spirits. Besides traditional wines of high quality and good local beers, tourists can taste Palinka fruit brandy and Unicum herbal bitter.
Details of interest
Places of interest in Hungary
Hungary is home to 8 UNESCO World Heritage sites that you can visit during your vacations:
Budapest, including the banks of the Danube, the Buda Castle Quarter and Andrassy Avenue.
Old village of Holloko and its surroundings, a living example of life before the industrial revolution of the 20th century.
Aggtelek National Park (Borsod-Abauj-Zemplen County) forming part of a large karst area consisting of hundreds of caves spread out along the border of Hungary and Slovakia.
Benedictine Abbey and Museum (Gyor-Moson-Sopron County), one of the oldest historical monuments in Hungary.
Hortobagyi Nemzeti Park on the outskirts of Debrecen, Hungary's largest protected area and the largest semi-natural grassland in Europe. Also a center for the breeding of Taurus cattle.
Early Christian Mausoleum of Pecs, Roman tombs dated to the 4th century.
Ferto / Neusiedlersee Cultural Landscape near the town of Fertod.
Tokaj Wine Region.
During your Hungarian trip, you should visit at least one of 11 properties recorded on the tentative list. The most interesting are:
Castle Museum in Esztergom;
Tihany peninsula on Balaton Lake, relating to Veszprem County;
Citadel in Visegrad;
State Stud-Farm Estate of Mezokovesd;
Old Wooden Churches in the counties of Szabolcs-Szatmar-Bereg and Hajdu-Bihar.
Tourists and their travel companions shouldn't miss other remarkable landmarks which are not inscribed on the UNESCO list:
Gyor Old Town Area;
Batthyany Castle on the outskirts of the village of Zalacsany;
Castle of Diosgyor in Miskolc;
Savoy Castle in Rackeve;
Simontornyai Varmuzeum, Tolna County;
MNM Rakoczi Muzeuma in Sarospatak.
Zalaegerszeg, Lillafured, Paradsasvar, Szekesfehervar, Szeleste, Szerencs, Szecseny, Szirak, Tarcal, Hogyesz, Salgotarjan, Sopron, Eger and Erd are centers of excursion tourism, too.
For shoppers, the best place to do shopping is Budapest with its great number of shopping malls, gourmet and designer shops. In addition, Budapest hosts a couple of charming Christmas fairs and winter festivals beginning from the last weekend of November till the end of December.
Hungary's capital is also a nice place for those who cannot imagine their trip without bar hopping. After a whole day of shopping or sightseeing, if you're still up for clubbing until dawn, Budapest will offer a wide variety of nightclubs and bars.
Hungarian souvenirs
Tourists travelling to Hungary can bring back several memorable gifts:
Tokaj wines;
Paprika and other national spices;
Cured meats;
Embroidery.