Iceland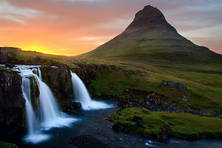 Iceland is a Nordic island country located in the Atlantic ocean near the Arctic Circle between Greenland and Norway. The capital of Iceland is Reykjavik.
The climate in the country is predominantly maritime with a high level of humidity and strong winds. The tourist season in Iceland is short and the most comfortable time for visiting the country is summer. Tourists also come to Iceland in winter for New Year and Christmas holidays to see the Aurora Borealis.   
The official language is Icelandic. The main religion in the country is the Lutheran Church and the Catholics are in the minority here.
Iceland is a holiday destination for people who love nature and prefer ecotourism. You can go trekking here, try jeep-safari, horse riding in the Highlands, explore mountain trails in the East Iceland and get acquainted with the legends about elves. You will enjoy the beauty of the Western Fjords and lava fields in North Iceland.
If you like fishing, go to Blönduós and catch some salmons from the Blanda river. Tourists who like active holidays can climb the mountains or do the rafting.
Geysers, hot springs and natural water basins make South Iceland a good wellness resort. In the Highlands, there are also hot ground waters.
The majority of museums, cultural and historical monuments and sights are located in the capital of the country, in Reykjavik.  
Get in
By Plane
There is bo direct flight from CIS countries and Iceland, except for seasonal flights between St. Petersburg and Reykjavik. In summer, the air carrier Icelandair offers these flights. You can get to Iceland from Moscow with a stop in Copenhagen by Aeroflot or SAS and then by Icelandair.
The citizens of Ukraine and Belarus can fly by Lufthansa from Kiev and Minks with a stop in Frankfurt.
Icelandair offers direct flights from several European capitals including London and Stockholm.
By Ferry
Smyril Line offers ferry routes from Norway city Bergen, Danish city Hanstholm, Shetland islands in the United Kingdom to Seyðisfjörður in Iceland.
Visa
The citizens of the European Union countries can cross the Icelandic border without a visa. The country is a contracting state of the Schengen Agreement.
The tourists from CIS countries need to apply for a visa to come to Iceland. You can apply the documents for a visa in the embassy with the assistance of a travel agency. The visa will be ready in 14 days. If you apply for a visa independently, your application may be under consideration for up to 8 weeks. You need to come to the embassy personally and complete an interview. A short-stay visa is issued for the tourists and it is valid for the period of hotel booking with a 15 days corridor.
According to the visa requirements, your previous visits to the Schengen area are taken into account. The total number of days during half a year should not exceed 90 days. 
Customs
Tourists can import into Iceland any amount of foreign currency but the maximum amount of imported Icelandic national currency is 8.000 kronas.
Tourists can import into the country the following goods free of customs duty:
alcohol and tobacco;
personal belongings;
meat (not more than 3 kg and the total cost should not exceed 13.000 kronas) brought from the EU territory;
cameras.
It is strictly prohibited to import into Iceland:
dairy products, eggs and fresh vegetables;
psychotropic drugs (without due permission or doctor's prescription);
radio receivers and transmitters, remote control devices (without permission of the authorities);
chewing and snuff tobacco.
It is prohibited to export:
objects with high historic value;
stones and unprocessed lava;
birds, nests and birds' eggs. 
Cuisine
The national Icelandic cuisine is based on the products which are available in the country. Iceland cannot boast of rich vegetation or the great variety of fauna. Fish is a staple food in Iceland as well as other seafood. In Iceland, they typically cook scallops, salmon, halibut and shrimps, shark, and greenhouse vegetables.  
In Iceland, you will be offered such exotic dishes as Hakarl, putrescent shark meat; and Hritspungur, sheep ovaries preserved in serum.
Among the traditional meat dishes are smoked lamb Hangikot and Slatur, a dish made out of sheep's innards, blood and fat. You should like Blejkja, meat roasted until charring. Any dish is served with Laufabraus bread.
Being in Iceland, do not miss a chance to try such fish delicacies as pickled salmon Gravlax, pickled herring with spices Syld and dried fish Harðfiskur.  
The most popular dish among the locals is Skyr which is like either yogurt or cottage cheese.
Try unusual Icelandic soups such as lamb soup Kjötsúpa, fish soup with prunes and raisins and bread soup Braudsupa.   Fjallagrasamjolk is something that you can try only in Iceland. This is a soup with moss.
For a dessert, you will be offered stewed dried fruits Avaxtagrautur and a rice pudding Hrisgrjonagrautur. 
The most popular drink among the locals is coffee. They also like to drink tea, water and milk.
You should also try traditional alcoholic drink Brennivin made of fermented grain or potato mash and  flavored with caraway. 
Money
The official currency is Icelandic krona (ISK) which is equal to 100 aurars. There are bank notes from 100 to 5.000 kronas in circulation and coins from 10 to 50 aurars or from 1 to 50 kronas.
You can exchange currency at banks, in exchange offices Change Group and in hotels. The commission is 2.5%. In all the banks, malls, international hotels and central streets of large cities, tourists will find ATMs. 
International credit cards and traveler's checks are accepted almost everywhere. You will be charged 1-2% commission for cashing the traveler's checks. You may face problems with cashing services outside the cities.
If you make purchases in Iceland and buy souvenirs, you can refund their cost if you do the shopping in the Global Refund Tax-free stores. The total cost of the purchase should be, at least, 4.000 kronas. You can receive the refund at a bank office in the airport or by money transfer. In this case, keep the item you bought and the slip.   
Details of interest
Sightseeing in Iceland
Iceland has two UNESCO sites and they are located in the Suðurland region.
A volcanic island Surtsey is one of the most mysterious parts on our planet. It appeared 32 km from the Icelandic coastline as a result of submarine eruption in 1963. Unfortunately, the island is closed for tourists but you can see it from the coast through binoculars. The island was inscribed on the World Heritage List due to actively developing life there. This site is still under the observance of scientists.
Among the cultural sights, under UNESCO protection is Thingvellir National Park. This is a symbol of people's authority in Iceland. In the valley with the same name, since 930 to 1798 the Althing (Icelandic parliament) was held. At the moment, it is expected that the park will be expanded.  So if you are interested in history, go to Thingvellir. 
There are also six sites-candidates to be inscribed on UNESCO World Heritage List including Torfajökull Volcano and Fjallabak natural reserve, Vatnajökull National Park,  Icelandic turf houses,  Breiðafjörður (which is the part of the Atlantic ocean) and Myvatn lake and Lahsau river. 
In the country, you can enjoy the Godafoss waterfall near the city of Akureyri, the Great geyser, and Ice Lagoon. Visit the  Kerid volcanic crater lake in the Highlands.  You can also swim in the geothermal basin in the Blue Lagoon on the Reykjanes peninsula. Whale fjord near Akranes is a must-see.
If you like museums, visit the Petra's stones and minerals collection, Vikin Maritime Museum, Whale Museum and Icelandic Phallological Museum. Go to an excursion to the National Museum of Iceland and  Reykjavik Museum of Photography.
Icelandic Souvenirs
To remember your trip to Iceland, buy these gifts and souvenirs:
figurines of gnomes and trolls;
scarves, mittens and sweaters with traditional ornaments;
penknives and hunting knives in a vintage style;
volcano ash and lava rock jewelry;
national drink Brennivin.