India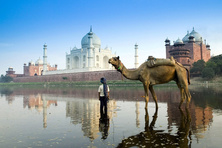 India or officially  the Republic of India is a state in South Asia. It is washed by the waters of the Arabian Sea and the Bay of Bengal. India shares its borders with 10 countries. The capital city is New Delhi.
The climate in India is monsoon tropical. The best time for beach holidays in India is from October to March and for excursions is from November to December.  
The official languages are Hindi and English. The majority of the population are the Hindus.
The tourists come to India to see the holy places and monuments of Agra, Andhra Pradesh, Bangalore, Aurangabad, Bihar and Bhopal. Such holy places as Ahmedabad and Bhubaneshwar, Himalayas, Hyderabad, Uttar Pradesh and Jodhpur, Orchha and Udaipur, Madurai and Khajuraho will also make an impression.
A trip to the holy city Varanasi and the excursion to the temples of Orissa, Gangtok, Guwahati, Delhi, Jaipur, Calcutta, Madhya Pradesh and Sikkim are very popular among the pilgrims.
Popular beach resorts are in the Andaman and Nicobar Islands, Goa, Gujarat, Karnataka, Kerala, Maharashtra, Mumbai, Pondicherry, Tamil Nadu and Chennai. In the cities by the sea, there are diving and surfing clubs, sets for water-skiing and yacht rental. 
Those who love nature should visit the national reserves Asam, Meghalaya, Jharkhand, Kanha National Park, Tripura, Masinagudi and Sariska as well as Uttarakhand and Chhattisgarh.
Event tourism is also quite popular in India. The tourists can participate in such celebrations as Punjab, Rajasthan and Chhattisgarh. The capital city and Chandigarh are the centers of shopping. The tourists can go climbing and trekking in Jammu and Kashmir or in Himachal-Pradesh. Exciting safari is arranged in Dadra and Nagar Haveli. Business tourism is well-developed in Faridabad and Haryana.   
Get in
By Plane
There are direct flights from Moscow to Delhi by Aeroflot, Transaero and Air India; from Almaty to Delhi by Air Astana and from Tashkent to Delhi by Uzbekistan Airways. The citizens of other CIS countries have to take transit flights.
Lufthansa, Austrian, Air France and KML offer direct flights to India from major European cities.
By Train
A train runs between India and neighboring countries such as Bangladesh and Pakistan. The routes are from Dhaka to Kolkata, from Lahore to Delhi and from Karachi to Delhi.
By Land 
There are regular buses from Bangladesh, Pakistan and Nepal to India. 
Visa
EU and CIS citizens must obtain a visa to travel to India. If the tourists from Europe, Russia and Ukraine are going to stay in India within 30 days, they can get a visa on arrival at the airports. Visas are issued at Chennai International Airport, Goa International Airport, Cochin Airport, Calcutta Airport, HAL Bangalore Airport, Hyderabad Airport, Delhi Airport, Mumbai Airport and Trivandrum International Airport. The tourists will need to fill in a visa form on the website Indian Visa Online. 
If the tourists from these countries intend to stay in India for a longer time, they will need to submit the documents to the Embassy or a visa center. 
Customs
The Customs legislation does not restrict the import of foreign currency. Cash exceeding 5.000 US dollars and non-cash over 10.000 US dollars must be declared. It is strictly prohibited to import and export the national currency.
The tourists can bring in India the following goods duty-free:
a limited amount of tobacco and alcohol;
a limited amount of perfume;
photo and video gadgets and household appliances;
sports equipment;
medications for personal use;
musical instruments;
clothes, shoes and personal belongings.
It is not allowed to bring in India:
pork and pork products;
livestock;
precious metals in ingots and coins;
pets (without an international vet certificate);
psychopharmaceuticals.
The tourists are not allowed to export:
skins of wild animals and reptiles, birds' feathers and goods made of them;
live plants;
antiquities, which are over 100 years old;
jewelry the total cost of which exceeds 2.000 rupees and silver and gold ingots. 
Cuisine
The Indian cuisine is one of the most popular cuisines in the world. It was developed under the influence of the Muslim and Hindu cooking traditions. The staple food in India is rice, vegetables, pastry, fish, and dairy products.
On the north of the country, anyone has a chance to try dishes from poultry, goat and mutton which are rarely eaten by the locals. In Goa, the tourists can treat themselves to pork dishes such as Vindaloo with chili pepper and pasta.
If you like seafood, you should try fish Biryani with vegetables, Masor tenga (fish stewed in sour fruits), Bilahi Maas with tomatoes and curry and omelet with crab meat Nandu. In India, they also often cook various dishes from mackerel, sardines, and shrimps. 
Discover a new taste of soups with Kuzhambu (coconut and vegetable soup), Sambar (lentils and rice soup), and a very exotic hot soup with dumplings Rasya Muthia.
The vegetarians and the followers of clean eating will be delighted by the Indian vegetable dishes. They should try a potato dish Masala Dosa, cabbage and lentils dish Kos Kootu, traditional rice with curry Currivepillai Sadam and onion fritters Bajji.  
Those who have a sweet tooth should try such desserts as Balushahi, Rasgulla, Gulab Jamun and Imarti. At the end of the meal, fruits are usually served. 
The most popular drinks in India are fresh juices, lemonades, a yogurt-based drink Lassie and tea. In the restaurants, the tourists will not be able to drink alcoholic drinks as in India, they do not serve alcohol with meals. 
Money
The official currency is the Indian Rupee (INR) which is equal to 100 paisa, but paisa is virtually not used.  In circulation are the banknotes from 50 to 1.000 rupees and 1 and 5 rupee coins.
The tourists can exchange the currency at banks and in exchange offices in hotels and shops. To avoid additional costs and fraud, we recommend exchanging the money at banks. Keep the transaction, check you will be given as it will allow you perform a reverse conversion. The best exchange rate in India is for US dollars.
Be aware that it is not always easy to exchange money beyond the territory of the resorts.
The tourists can cash, traveler's checks only at international banks. American Express and Thomas Cook are more preferable. Credit cards are accepted only in the capital city, but due to frequent frauds with the cards we do not recommend using them.
Robberies in India occur very frequently so do not leave your belongings on the beaches unattended and in hotels keep valuable things in a safe.  
Details of interest
Sightseeing in India
India is a real treasure trove of reserves, temples and cultural and historic monuments. There are 32 UNESCO sites in India.
If you want to see the natural sights, you should visit the Great Himalayan National Park Conservation Area, Kaziranga National Park, Keoladeo National park and Sundarbans National Park. The Nanda Devi and Valley of Flowers national Parks, the Manas Wildlife Sanctuary and the Western Ghats will make a great impression on you. 
Take an excursion to the famous Taj Mahal and the Group of Monuments at Mahabalipuram, the Sun Temple at Konarak, and to the Churches and Convents of Goa. Do not miss a chance to see the Khajuraho Group of Monuments and the Great Living Chola Temples, Elephanta Caves, Group of Monuments at Pattadakal, and Group of Monuments at Hampi. The tourists should visit the Mahabodhi Temple Complex. Buddhist Monuments at Sanchi, Qutb Minar and its Monuments, Ajanta Caves, and Ellora Caves are a must-see for all the religious tourists.
Learn about the history of the country by visiting the Agra Fort, an ancient city Fatehpur Sikri and the Humayun's Tomb. Take a picture of the unique Mountain railways of India, the Red Fort Complex and the Hill Forts of Rajasthan. In India, there is an architectural miracle and this is Rani-ki-Vav at Patan.
There are many places to visit for the archeology lovers. For example, The Rock Shelters of Bhimbetka and the Champaner-Pavagadh Archaeological Park. Chhatrapati Shivaji Terminus and the observatory Jantar Mantar are also of a great touristic interest. 
Except the sites which are inscribed on the World Heritage List, in India, there are 46 UNESCO candidate sites. Mattanchery Palace, Mughal Gardens, Sacred Ensembles of the Hoysala, and the Narcondam Island are a must to visit.
Indian Souvenirs
In India, the tourists usually buy:
Indian frankincense and cosmetics;
textile, Indian clothes, scarves and shawls;
Kashmiri silk rugs;
bronze and wood religious figurines;
jewelry;
tea, fruits, and spices;
Ayurvedic products.