Italy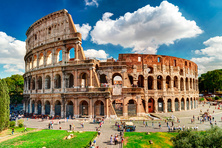 The Italian Republic, or Italy, is a state in the south of Europe. It is bordered by France, Switzerland, Austria, Slovenia, Vatican and San Marino. The Republic is surrounded almost on all sides by the Mediterranean Sea. The capital is Rome.
On the north, the climate is mild temperate; and in the rest of the country, it is Mediterranean. The main tourist flow goes on vacation to Italy in summer.
The official language is Italian; in some provinces, French, German and Slovenian have a provincial status. Almost all the people in the Republic are Catholics.
Italy can offer to tourists all kinds of leisure activities: beach tourism, diving, ancient monuments of civilizations, trekking, country tours, mountaineering and downhill skiing, city entertainment and shopping.
The best places for seaside vacations are Ancona, Bibione and Cagliari; the island of Capri, Lignano Sabbiadoro and Marche. Riviera di Ulisse, Rimini, Riccione, Cattolica, Cervia Milano Marittima, Sardinia, Sicily and Sorrento are ideal for beach leisure activities.
Tourists going to the ski resorts will visit Abruzzo, South Tyrol, Alta Badia and Val Gardena. Those fascinated with snowboarding will have a splendid time in Lombardy, Alta Valtellina, in the province of Trento, in the Sole Valley, the Fassa Valley, the Fiemme Valley and in San Martino di Castrozza. Those who appreciate downhill skiing should go to the province of Turin, to the Susa Valley, to Piedmont, Monte Rosa and Breuil-Cervinia.
Vacationers and their travel companions will discover the main historical monuments of Italy and then visit the centers of excursion tourism: Amalfi, Catania, Olbia, Trieste and Friuli Venezia Giulia.
Ischia, Montecatini Terme, Elba Island and Emilia-Romagna are considered to be centers of wellness tourism.
Get in
Air Transport
If you travel to Italy independently, probably the easiest (and certainly the quickest) way is to fly. Italy is one of the main battle grounds for European low cost airlines. Intercontinental airlines mainly arrive in Rome and Milan, with Rome being the main international gateway into the country. Most of mid-range international flights also arrive to Naples, Venice, Bologna and Palermo, and to some other Italian cities.
Overland transport
Train is a great way to enter Italy from within Europe, unless you are pushed for time. Direct connection by train with Slovenia no longer exists; the only way to reach Italy by train from this country is via Vienna.
Alternatively, Eurolines has regular buses between major European cities. As all borders are open, it is also possible to enter Italy by car.
Sea Transport
Ferries are another option with ferry routes connecting Italy with Greece, Turkey, Tunisia, Malta, Croatia, Albania, Egypt and Spain.
Cuisine
Italian cuisine is popular among culinary tourists since it is one of the most ancient in the world. The Italians' diet includes vegetables, meat, pastries, cheese, fish and fruits.
While on holidays, tourists should definitely taste Abbacchio (lamb with white wine), Carpaccio (raw meat, vinegar-pickled), Brasato alla milanese (pot roast with red wine) and Carbonade (beef and onion stew with wine).
As to poultry meat, we recommend to order Pollo alla lucana (stuffed chicken), Fusi di pollo alle erbe (spicy roasted chicken legs) and Anatra arrosto ripiena (roast duck).
Italy's soup menu is represented by Minestrone with vegetables, Ribollita (hearty potage with bread and vegetables) and Veneto Risi e Bisi (split pea and rice soup).
During your holidays in Italy, you shouldn't ignore fish and seafood dishes: Trancio di pesce spada (grilled swordfish), Baccala con patate (salt cod with potatoes), Fritto misto di mare (mixed deep fried seafood), Calamari alla Griglia (octopus grilled over an open fire), and prawns and mussels with multiple variations.
Cheese is served with almost every dish as appetizers or used as an ingredient thereof. The excellent Mozzarella, Parmigiano-Reggiano and Gorgonzola became extremely popular all over the world.
Such dishes as Pizza, Pasta, Risotto and Lasagne that are cooked following dozens of various recipes are well-known far outside Italy. Italian cuisine is rich in salads, among which the tourists should pay special attention to Panzanella and Caprese.
While travelling to Italy, vacationers should taste Gelato and Semifreddo ice cream, desserts Panna cotta and Tiramisu.
The most common non-alcoholic beverage in the Republic is coffee, on which base Italians created the world-famous Cappuccino, Espresso, Bicerin, Caffe latte and Macchiato.
Italian wines and liquors, along with Spanish and French ones, belong to the world's elite of wine industry. Tourist and their travel companions should taste Chianti, Martini vermouth, Campari, Asti and the Italian vodka Grappa.
Details of interest
Places of interest in Italy
Italy is home to 51 sites inscribed on the UNESCO World Heritage list. Among them, the following are of special interest:
Historic Centre of Rome which is home to a large number of major monuments of antiquity, including Colosseum.
Historic Centre of Florence, symbol of the Renaissance.
Venice and its Lagoon.
Sassi di Matera, an outstanding example of cave dwellings in the Mediterranean.
Palladian Villas of the Veneto.
Early Christian Monuments of Ravenna.
Archaeological Areas of Pompei, Herculaneum and Torre Annunziata, remains of two towns that had been buried by an eruption of Vesuvius.
Residences of the Royal House of Savoy in Torino.
Aeolian Islands, nature laboratory for the science and education of volcanology.
Sacri Monti of Piedmont and Lombardy, sacred mountains with chapels and other architectural features built in the 16th and 17th centuries.
Rhaetian Railway in the Albula, a unique railway line in the Swiss Alps connecting Italy to Switzerland.
The Dolomites, one of the world's most beautiful mountain scenery.
Church of Santa Maria delle Grazie in Milano
Historic Centre of Naples.
There are also 40 tentative sites considered for nomination for the World Heritage list, among which the most attractive are Via Appia Antica (the Appian Way), one of the earliest and most important roads of the ancient Rome; Lower Palaeolithic Palaeosurfaces in Basilicata, the oldest archaeological traces of the first inhabitants of the Italian peninsula; the Mont Blanc massif, a mountain range in Valle d'Aosta, and many other remarkable landmarks…
Italy is a great place for all forms of shopping. Milan is Italy's fashion and design capital. Virtually every fashion house in the world has a location in this Italian city. There are even guided shopping tours arranged for tourists. However, Rome and Florence, are too, serious fashion centers.
At night each major city is host to a unique nightlife experience that can't be duplicated anywhere else in the world. Tons of nightclubs are available for visitors in Rome, Milan, Venice, Florence and Sicily.
Italian souvenirs
As Italy is famous for its local specialties and artisanal secrets, tourists can take home great souvenirs from this country: brand name clothes and accessories, antiquities in miniature, Murano glass, Italian wines, pastry and sweets…