Kuwait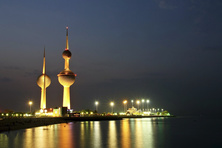 The state of Kuwait covers a small area in south-western Asia. The country's northern and western regions share borders with Iraq, and the southern border links Kuwait to Saudi Arabia. To the east, the country is bordered by the waters of the Persian Gulf. The country's capital is Kuwait City.
Kuwait has a huge difference between winter and summer. June to September is a better period for spending vacation: the weather during this season is hot, sunny and dry; the temperature ranges from 27 °C to 37 °C. November to March is colder and rainy (12 °C to 20 °C). Inner regions may experience the temperature of up to 55 °C in the shade with frequent dust storms.
The great majority of Kuwait's people are Muslim; some 15% of the population is adherents of other religions. The country's main language is Arabic, but most of the Kuwaitis who are involved in tourism industry speak English.
Kuwait is an excellent destination for beach holidays. It offers white sand beaches, a tender and warm sea with beautiful seascapes. At seaside, vacationers will be offered a huge selection of watersports: surfing, diving and snorkelling. Tourists can also have an unforgettable sailing tour on a yacht or an Arabic "dhow".
The country's capital, Kuwait City is a city tourism centre. Spa enthusiasts should go to Elysium Spa Center which is very popular not only with visitors to Kuwait but also with the local beau monde.
The city abounds with historical and architectural sites. You may wish to explore the Kuwait National Museum, the Sea Museum and the Museum of Islamic Art. Those who want to see the bones of various animal species with their own eyes and visit a planetarium can look in the Museum of Science and Natural History.
Tourists travelling with children may want to come over to the Kuwait City Zoo where they can see more than 1800 wildlife species. One of the world's largest dancing fountains, the Kuwait Musical Fountain is another must-see of the country which has always been admired by visitors because of its beauty and size.
Get in
By plane
Kuwait's only airport is Kuwait International Airport which is served by Kuwait Airways (the national airline) and several international airlines, including British Airways (the UK), Lufthansa (Germany), KLM (the Netherlands), Singapore Airlines (Singapore) and Turkish Airlines (Turkey). Also accessible are connections through other Gulf hubs, such as Dubai and Doha, through Emirates Airlines and Qatar Airways.
By boat
Kuwait is served by scheduled ferries handled by Kuwait and Iran Shipping company. The ferries go three times a week to and from Iran.
By bus
There are long-distance bus services to Dammam in Saudi Arabia. In addition, there are bus connections between Kuwait and the United Arab Emirates, Jordan and Syria.
Visa
Citizens of Russia and CIS countries are required to have a visa to enter Kuwait. A short-stay visa valid for up to 30 days can be obtained on arrival to Kuwait at the airport. The visa fee is USD 20, and the return ticket is also required. A 90 days visa can be obtained at a Kuwait embassy just in one day.
Note that women may be denied a visa at the airport if travelling without their husbands, brothers or children. Additionally, those who show stamps from Israeli customs control will be denied.
Customs
Visitors may bring in any amount of money in any currencies. Those visitors who bring amounts exceeding KWD 3,000 of USD 10,500 will be required to fill in the declaration.
Prohibited from importation are:
pig leather products;
vehicles older than 5 years;
sparkling water;
fruits and vegetables.
Prohibited from exportation are:
items of historical and artistic value;
nonferrous metals;
gold in bars;
perishable foods and drugs.
Cuisine
Tourists going on vacation to Kuwait will try Arabian dishes. Pork is not served in this Islamic country for religious reasons. The foods are based on lamb, beef, goat meat, chicken and fish. Between plant-based foods the locals eat beans, fresh vegetables and fruits, along with groats.
As to meat dishes, visitors to Kuwait should try Ghuzi (roasted lamb with rice and nuts), Al Mandi (chicken meat served with honey) and Kustileta (a spicy meat).
Fish is frequently served in local homes. Machboos Samak (rice pilaf with fish), Hammour (baked grouper) and Sultan Ibrahim (roasted red mullet) are a must for travellers.
As a rule, meat dishes are served with rice or vegetables. Between garden sauces, we recommend trying Mutabal (aubergine dip) and Dakhna made of peas.
Kuwaitis eat Aish and Pita flatbreads as traditional bread. Instead of flatbreads, visitors to this Islamic country can try Kubbeh (fried croquettes stuffed with minced meat and spices), Khudar (doughnuts filled with vegetables), Jabna (cheese-filled muffins) or Sabenekh (spinach stuffed pastries).
You may wish to sample some local delicacies: Ash Asahaya (cheese pastries with custards), Umm Ali (milk pudding served with raisins and nuts), Lugaimat (Arabic honey dumplings) and fruit sorbets.
The Kuwaitis don't drink alcohol. Between non-alcoholic drinks, worth tasting is the natural Arabic black and light roast coffee which is brewed immediately before serve and offered in small pialas.
Money
The national currency is the Kuwaiti dinar (KWD).
Foreign currency can be changed at many shopping malls and hotels, but the rate will be much less favourable than at a bank or money changer.
The Kuwaiti dinar is the only legal tender in Kuwait, and other currencies are practically not accepted within the country.
International plastic cards are accepted at all banks and businesses in the cities. ATMs can be found at every bank.
Many tourists coming for vacation use travellers' cheques, although some shops and restaurants don't accept travellers' cheques. As the dinar is pegged to the US dollar, we recommend using USD cheques in order to avoid possible exchange fluctuations.
Details of interest
Sightseeing in Kuwait
The Grand Mosque located in the heart of the Kuwait City is the largest and the official mosque in the country. With total area of 46,000 square meters it can house nearly 10,000 men in the main prayer hall. The Mosque is worldwide renowned for its Islamic architecture and is one of Kuwait's most treasured landmarks.
Al Jahra, the governorate city in central Kuwait, west of Kuwait City. Al Jahra was the site of the Battle of Jahra in the early 20th century, a conflict between Kuwaiti and Saudi forces. Amongst the Kuwait cities, Al Jahra is very popular among the overseas tourists, as it's a shoppers' paradise that can boast of excellent shopping destinations.
Al Ahmadi, a small town in the south of Kuwait, famous for its oil refineries and greed surroundings. The town is home to the headquarters for the Kuwait Oil Company.
The Kuwait Towers, a group of three slender towers in downtown Kuwait City, one of the famous landmarks in Kuwait.
Messilah Beach covering an area of 73,000 m² is considered one of the biggest and most beautiful shores in Kuwait.
The Zoological Garden of Kuwait is a tourist hotspot in Kuwait that cannot be missed, especially when travelling with children. Not only home to numerous species of birds and animals, but also an entertainment ground.
Al-Hashemi-II in Kuwait City, listed in the Guinness Book of World Records as the largest wooden dhow ever built.
The Failaka Island located 20 km away from Kuwait City is one of the most visited tourist destinations in the country. The island easily blends the ancient history of Kuwait with gleaming modernity. A magnificent tourist spot that offers fishing, boating, sailing, swimming and water sports.
The Cultural centre of Bayt-Lothan, a non-commercial establishment in Kuwait that promotes the work of Kuwaiti and Gulf artists and craftspeople through regular exhibitions.
The Seif Palace, home of the royal family. The palace is also a wonderful example of Islamic architecture.
Villa Moda, a 2,000-square-meters see-through playground with glass-cube emporium. This luxury shopping mall is a real shoppers' paradise as it features fashion and clothing items from top designers.
Souvenirs in Kuwait
You may wish to bring back home from Kuwait:
traditional Bedouin artefacts', woven items, clothes, jewellery, wall hangings, furniture and pottery;
falcon figurines;
models of Al-Hashemi-II, one of the largest wooden ships in the world.