Lithuania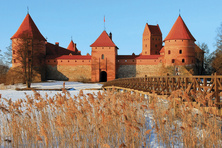 Lithuania is a country in Northern Europe which lies on the coast of the Baltic Sea. It borders Poland, Belarus, Latvia and Russia. The capital of the country is Vilnius.
The climate is continental and due to the closeness of the sea, the climate is rather soft. The best time for a beach holiday in Lithuania is the middle of summer. Any season is good for city entertainments.
The population of the country are the Lithuanians and the main religion is Catholicism. The official language is the Lithuanian.
The main type of tourism in Lithuania is a city tourism and trips to the old towns and cities. Vilnius is the most popular destination for the tourists. This city is famous for its ancient architecture and unique streets, for example, Užupis – the place of the musicians, painters and poets. Vilnius is also a good place for shopping. 
Gothic buildings in Kaunas and Trakai will impress those who like the historical and architectural monuments.
The tourists can also visit national Lithuanian parks such as Aukštaitija National Park, Samogitia and Dzūkija  National Park. In these parks, there are ethnic villages showing traditional national culture of the country and the life of people in the past. If you don't mind hiking and like nature, visit the Curonian Spit. 
Wellness tourism is also popular in Lithuania. The tourists usually go to mineral springs and balneological resorts in Birštono, Palanga and Druskininkai.
Unfortunately, you will not enjoy your beach time on the Baltic Sea for a long time because the weather in July is often quite cold and there is not much time for the sea to warm enough. However, the tourists still come to the beaches of Palanga, Curonian Spit, Juodkrantė and Nida. These are the best places for sailing and yachting.  
Get in
You shouldn't face any problems with your trip to Lithuania, just choose what suits you best.
By Plane
UTair and Aeroflot fly to Vilnius every day from Moscow and St. Petersburg. AirBaltic and EsthonianAirlines offer flights with a stop in Riga and Tallinn. Ukraine, Belarus and Kazakhstan have a direct communication with Lithuania.  
There are regular flights to Vilnius from Paris and Berlin.
By Train
Trains run several times a week from Moscow, Kaliningrad, Minsk and Kiev to Lithuania.
By Bus
The tourists can get to Lithuania by bus from St. Petersburg and Minsk (Ecolines and BalticShuttle). Lithuania is connected with Poland, Kaliningrad and Latvia by the international bus communication. 
You and your car will be carried from Stockholm to Klaipėda  by ferry. 
Cuisine
Lithuanian cuisine uses such products as meat, fish, potato, mushrooms, apples and sauerkraut. The Lithuanians drink a lot of beer and local alcoholic herbal drinks.
Among the most spread meat dishes in Lithuania are Kjaulesausis (smoked pork ears with peas and sauerkraut) and Indariti Agurkai (cucumbers stuffed with meat and mushrooms). Pork stomach stuffed with baked potatoes is a bit strange but amazingly delicious dish. 
In the Baltic Sea, there is a lot of fish and the Lithuanians often cook it. They like to serve potatoes with pickled herring and onion. We also recommend trying a fish pie Virtiniai. Those who love fish and seafood will be pleased by a great variety of fish dishes in Lithuanian restaurants. You will try pike, eel, and herring. Fish is the main ingredients for many dishes: soups, casseroles and fish in aspic.
Potato and dishes from potatoes hold a special place in the Lithuanian cuisine. Do not miss a chance to try traditional Lithuanian dumplings filled with potatoes and mushrooms, potato and carrot casserole, sweet potato puddings and sausages made of vegetable with sauces. 
In Lithuania, they produce many kinds of liqueurs and balsams with herbs. You can try honey alcoholic drink Žalgiris. The Lithuanians have been brewing beer since old times and the Lithuanian beer  is of as high quality and good taste as famous German beer. If you know what a good beer is like, you will enjoy Švyturys, Tauras, Utenos. In Alytus, they produce wine with the same name.
The Lithuanians usually finish their meals with a cup of coffee. Treat yourself to a dessert šakotis (a traditional spit cake). Do not forget about the famous Lithuanian puffy cookies. The Lithuanians pack their sweets so beautifully that many tourists buy them as souvenirs.   
Details of interest
Triplook is going to tell you about national characteristics and culture of Lithuania and recommends what souvenirs you should bring from this country and where to buy them.
Lithuanian customs and traditions
The Lithuanians are calm and self-restricted people who do not like to show their emotions. However, we do not recommend arguing with these people. The locals are the masters of disputes and they will argue with you till final victory. The Lithuanians do not like it when people compare them with other Baltic peoples even jokingly. Comparing them with the Latvians and Estonians is a hot-button issue and it is better not to touch it.
Sightseeing in Lithuania
The Historical Center of Vilnius. The buildings of this old city appeared in the Medieval times and it is carefully guarded these days.
Kernavė Archaeological Site is a state cultural reserve showing the culture of old people occupying the territory of Lithuania.
Struve Geodetic Arc is a unique natural phenomenon which is a chain of survey triangulations stretching through several countries.
Trakai Island Castle was built in the 18th century and not this is a historical and architectural monument.
Lithuanian Souvenirs
On the coast of the Baltic Sea there are a lot of amber. This stone became a hallmark of the Baltic countries. In souvenir shops, you can buy amber jewelry, crafts, pictures and musical instruments decorated with amber.
If you want to buy something typically Lithuanian, think about linen clothes.
We recommend going shopping in the center of Vilnius, Trakai and other touristic cities.