Malta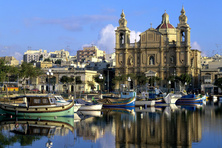 The Republic of Malta or the Maltese Archipelago is located in the Mediterranean Sea to the south of Italy. The Archipelago consists of five islands: Gozo, Malta, Comino and uninhabited islands Filfla and St. Paul's Island. The capital of Malta is Valetta.
Malta has a Mediterranean climate. The average yearly temperature is about +23°C. In summer the temperature is + 25 - +30°C and in winter it is about +7 - +12°C. The best time to visit Malta is from May to September.
The official languages of the Republic are English and Maltese, but people can also speak French and Italian. Almost all Maltese claim to be Catholics.  
Sunny Malta is a paradise for those who like beach holidays. You can sunbathe and enjoy the beauty of such beaches as Mellieha Bay near the city of Mellieha or Paradise Bay in Cirkewwa. The islands Comino and Gozo are considered to be the best places in the Archipelago for diving. Fans of surfing and windsurfing should go to the Golden bay and a favorite beach of many people Mellieha Bay near the city of Mellieha.   
If you want to enjoy the city and have a good shopping, stay a bit longer in Valetta or visit Sliema.
Malta is a country with a rich ancient history. You will be amazed by ancient temple complexes made of huge stones Ggantija and Mnajdra. Malta is proud of its luxurious palace complexes which were owned by the nobles of the country. The tourists who are interested in architectural and historical monuments should see Rocca Piccola House or Parisio Palace.    
Get in
By Plane
The plane is the most convenient and comfortable way to get to Malta from the EU and CIS countries. European airlines and carriers offering flights from the CIS countries have direct flights and connecting flights through the Eurozone cities.
Air Malta is a national carrier which offers the flights from the large airports of Europe, CIS, North Africa and the Middle East.
By Ferry
Maltese Islands are a popular destination for many of the large cruise destinations including Valletta Grand Harbour.
From the Sicily ports, the tourists can get to Malta by a ferry. The ferries run every day.  
Cuisine
Maltese cuisine reflects its long-term relations with the European colonists who occupied the Maltese islands for many centuries. Gourmets and other tourists will greatly appreciate traditional Maltese cuisine which is close to the authentic island cuisine. We highly recommend trying a fish pie Lampuki, baked beef with olives Bragioli and Maltese version of Ratatouille Kapunata.  
Tourists can find some of the Maltese dishes rather exotic, for example, Hobz-biz-zejt (sourdough bread rubbed with tomato and garlic paste, drizzled with oil) and Pastizzi (pastry with a pea mash).    
Fish and seafood hold a special place in the diet of the islanders. Spending your time in Malta, it is impossible to imagine without amazing fish soup Aljotta with tomatoes and spices. Tourists can enjoy mullet and black bass, bream and stone fish. The local chefs use octopus and squid, mussels and shrimps to cook broths for ragouts and sauces. You will remember for a long time a very delicious Quarnit mimli – a boiled octopus stuffed with goat cheese and garlic. Being in Malta, enjoy Timpana (pasta with minced beef), Brajioli (beef roll braised in red wine) and Fenek (rabbit stew with white wine and boiled sweet potato as a side dish).
Maltese desserts will be a true revelation for tourists. Try traditional flavors of Kannoli (filled with quince paste), delicate pastry Sinizza with Ricotta and candied fruits, a cake Torta tal-Marmurat with coconut milk frosting and Helwa tat-Tork (mint or pistachio ice-cream).  
Maltese brand wines have received awards in many International Wine Competitions held in France and Italy. On the islands they grow Cabernet Sauvignon, Syra, Grenache, Merlot, Sauvignon Blanc, Chardonnay, Chenin Blanc, Carignan and Moscato. Local wineries arrange wine tours with excursions to the vineyards and wine tasting. World famous brand Maltese wines are Gozo Country White and Citadella.
Details of interest
Maltese Customs and Traditions
Malta regularly holds festivals and other events. The most spectacular events are Carnivals on Christmas Eve and Easter. On these days marching bands and parades are held not only in the capital but in other large cities of the Archipelago.
Visit Malta at the end of June to take part in the harvest festival of Mnarja and witness the Feast of Santa Maria in August.
Your visit to Malta will be unforgettable if you take part in such cultural events in Malta as Malta Arts festival, Jazz Festival, International Fireworks Festival, Notte Bianca in Valetta and Mediterranean Fest in Gozo. 
Malta Sightseeing
In Malta, there are 3 sites inscribed on the UNESCO World Heritage List.
The capital of Malta is the city of Valetta. Tourists can see St. John's Co-Cathedral, Manoel Theater and have a walk along the major street Republic Street. Malta War Museum and National Museum of Archeology is a must-see for those who like historical and architectural monuments.  
Being in Maltese municipality Paola, visit a prehistoric underground burial site Hal Saflieni Hypogeum. This is a megalithic site which has 34 chambers carved out of solid limestone. 
In Mgarr, Ix-Xaghra, Candy and Tarxien, one can see unique Megalithic Temples of Malta. In Gozo, tourists can have an excursion to the complex Ggantija Temples and in Malta to Hagar Qim Temples, Mnajdra Temples and Tarxien Temples. Not far from the village Mgarr there are the Ta' Hagrat Temple and 1.5 km further – a complex Skorba Temples. 

Seven more famous sights of Malta are candidates to be included into the UNESCO World Heritage List.
All the 5 islands of the Maltese Archipelago are ideal places to take wonderful pictures of the stunning Coastal Cliffs.
In municipality Victoria, visit the Citadella, a small fortified city and a citadel.
Saint Lawrence is famous for its yellow limestone natural arch which was called the Azure window.
Mdina served as the island's capital in the earlier times and today tourists can learn more about a complicated colonial history of the island there.
In Malta, tourists can see Knights Fortifications around the Harbours, Victoria Lines Fortifications and Maltese Catacomb Complexes.
Maltese Souvenirs
If you want to bring back unique Maltese souvenirs, choose textile and Maltese lace, chess, glass souvenirs and a small souvenir dolphin (the symbol of the islands). These and many other things are sold in numerous souvenir shops in Valetta.
Crafts Village is a place in Mdina where they sell silver and stone crafts.
Salima is a must-visit for those who love stylish and trendy things as there are a lot of boutiques selling famous brands. You won't leave the town without a souvenir because there are many souvenir shops.
Bring yummy gifts from Malta such as wonderful Maltese wines and liquors.