Montenegro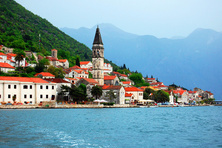 Montenegro is a country on the Balkan Peninsula. Its closest neighbors are Serbia, Albania, and Bosnia and Herzegovina. The southern part of Montenegro is washed by the waters of the Adriatic Sea. The capital of the country is Podgorica.
The climate of Montenegro varies from temperate continental to subtropical. A hot and long summer gives place to a warm winter but in the mountains the temperature in winter may reach -10°C. The touristic season is from May to October and for winter activities, come to Montenegro from December to March.
The official language is Montenegrin. The majority of the population are the Christians but there is quite a large community of the Muslims in the country. 
In Montenegro, the tourists will find entertainments to any taste. Those who loves to spend time on a beach, should visit  Barskaya Riviera, Budva Riviera and Ultsinska Riviera. The best ski resorts are Durmitor and Kolasin. In Tivat and Podgorica, the tourists will enjoy city entertainments and see local historical and architectural monuments. Montenegro is a good place for a country holiday. In Zabljak, Durmitor and Podgorica, you can go climbing.
Active types of sports are becoming more popular in Montenegro and more and more tourists come to the country to do rafting, surfing, windsurfing and kitesurfing, sailing and yachting.
Choose Montenegro for ecological tourism and unspoiled natural environment. Being in Montenegro, visit the Lake Skadar and its surroundings. This is the largest lake in the Balkans and a nature reserve which has become a home for a large colony of pelicans. Around the lake, there are many historically interesting places. 
Get in
Montenegro and CIS and EU countries are connected by air, railway, bus and sea transport.
By Plane
International airports in Podgorica and Tivat accept direct flights from such cities as Belgrade, Frankfurt am Main, Moscow, Paris, Rome and Vienna, Minsk, Almaty and Kiev every day.
In summer, there are additional flights from Gatwick airport in London to Tivat.
By Train
There is a direct train between Montenegro and Serbia and Albania. The companies InterRail and Global Pass offer rail tours to European countries. 
By Ferry
The company Montenegro Lines offers ferry routes between Montenegro and Italy.
By Land
The tourists can reach Montenegro by bus. International buses run regularly between the cities of Western Europe. 
You can travel to Montenegro by car. You should have documents confirming your right to drive the car and a European Green Card. The tourists should also pay an environmental tax and they will get a special sticker which is valid for 1 year.  
Visa
Russian tourists can spend their holidays in Montenegro without a visa if they are going to stay in the country less than 30 days.
The same rule applies to the tourists from Belarus and Ukraine. The citizens of Kazakhstan have to obtain a visa at a Montenegrin embassy.
The citizens of the European countries can travel to Montenegro without a visa if they stay in the country for 90 days and less.
If the tourists want to stay in Montenegro for a longer period, they should apply to regulatory authorities and obtain a temporary residence permit. 
Customs
Currency import and export are not restricted for the tourists crossing the border of Montenegro. In case, the sum of the money is over 2.000 Euros, the tourists have to fill in the declaration form.
The tourists can import without paying the duty the following goods:
alcohol, tobacco and perfume within the limits specified in the customs rules;
personal belongings including cameras, music equipment and computer devices, sports and travel equipment. 
It is prohibited to import unprocessed gold and gold coins and counterfeit goods. It is not allowed to export antiquities without documents confirming their legal purchase. 
Cuisine
Montenegro can boast by the diversity of meat, fish and vegetable dishes. Substantial Montenegrin cuisine may seem familiar to the tourists but local chefs try to prepare every dish with a twist. Do not leave Montenegro without trying traditional Kačamak (kind of maize porridge made of crushed wheat, buckwheat and barley with cottage cheese, cheese or sour milk) and Cicvara (mashed potatoes with sour cream and cheese). This soup is traditionally served with maize bread.
The lovers of seafood will definitely enjoy their holidays in Montenegro. The most popular fish dish is casserole with various fishes. Try salads with fresh seafood, rich Montenegrin fish soup and grilled steaks with garlic cream  sauce.  
Montenegrin chefs are always ready to prepare very delicious meat dishes. The food lovers will enjoy Japraci, stewed veal with rice, red pepper, tomatoes and cabbage. The Montenegrins love pork and their hallmark dishes are Njeguši prust, ćevapčići (sausages from chopped meat), and pečené (baked meat).
If the main aim of your trip to Montenegro is gastro-tourism, visit a restaurant Yaprike and order there cabbage leaves stuffed with minced meat with garlic and spices. This is a Montenegrin version of cabbage rolls and they cook it in pottery over a slow fire for around 3 hours.  
The holiday in Montenegro is going to bring many impressions for those who have a sweet tooth. You will be served open pies Gibanize with sweet cottage cheese filling, cobblers with berries and jams, fluffy pastry and famous Montenegrin cheese candies.
You will be surprised at the great variety of alcoholic drinks. Traditional vodka Raki and dark wine Vranac are perfect for smoked meat, grilled fish and spicy cheese. 
Money
The official currency of Montenegro is Euro (EUR). There are:
bank notes from 5 to 500 Euros;
coins from 1 cent to 2 Euros.
The tourists will not be able to pay with some other currency. Post offices and the majority of banks offer exchange services without additional commissions.
You can exchange currency in Montenegro at banks, in post offices, hotels and large travel agencies.
In large cities, the tourists can pay with traveler's checks and international credit cards (EuroCard, MasterCard, Visa, Viisitor, American Express). Planning your trip to small towns and villages, make sure you have enough cash.
In Montenegro, you can shop tax free. The sum of a one-time purchase should be, at least, 100 Euros.  You can receive the refund not when you leave the country but when you come back again and visit the same shop you made your purchases last time. 
Details of interest
Montenegro is a country of beaches and cultural events. If you come to Montenegro in late autumn, you can participate in one of the main events  in the country. Maslinijada is a celebration of autumn harvest. This festival takes place at the end of November or the beginning of December in the city of Bar. This holiday attracts both the locals and the tourists. There is a fair where everyone can buy olive oil, homemade pickles and wine. People sell small but cute gifts which will remind you of your time spent in this country. 
Sightseeing in Montenegro
On the territory of this Balkan state, there are two UNESCO sites:
The Natural and Culturo-Historical Region of Kotor. At the Medieval times, this was an important trading and cultural center near the Adriatic Sea. The mastership of iconographers  and bricklayers was known to people far beyond the country.
The Durmitor National Park is a unique mountain region with ice lakes, springs with the purest water, amazing nature and rich fauna. 
In addition to the sites under UNESCO protection, Montenegro has many other sights, historical and architectural monuments of great interest to the tourists.
A famous Ostrog Monastery in the Bjelopavlic plain was founded in the 17th century by a metropolitan Basil. The Monastery carved high up in the cliffs. The most splendid part of the Monastery is the Upper Monastery with two churches. The first church was erected in honor of the Holy Cross and the second church was built in honor of the Virgin Mary. The Ostrog is one of the most visited Christian Holy Sites.
The tourists will be amazed by the beauty of the Bay of Kotor with its seven islands: Saint Marco, Mamula, Our Lady of the Rock, Saint George, Milosrdja, Island of Flowers, and Mother of God.
Ada Bojana is an island of triangular shape which was made by humans in the 19th century. The island is washed by the waters of the Adriatic sea and the Bojana River. Ada Bojana is a paradise for those who love fishing.
In the city of Kotor, there is a Lovcen National Park with the Mausoleum of Petar II Petrovic-Njegos. If you happen to stay in Kotor, do not leave the city without visiting the village Njeguši.
Have a trip to the Tara river and see its Canyon which is the second largest river canyon after the Grand Canyon's Colorado River. This is an ideal place for rafting.
One of the nature miracles in Montenegro is St. Stefan's peninsula. This is a historical and cultural monument of the indigenous people Pastrovici. A narrow neck of land links the peninsula with the continent and both sides of the neck there are wonderful beaches.
Montenegrin Souvenirs
Montenegro cannot be called a center of shopping but the tourists will find cute gifts and souvenirs which will remind them of their time spent in this country. 
If you stay in Budva Riviera, go to the shops in the Old Town. There are jewelry and souvenir shops and boutiques with clothes of good quality. We do not recommend buying linen and clothes sold right in the streets.
In all large cities, there are stores with good shoes and leather goods.
Mommies will particularly like shopping in Montenegro because there are a lot of things for babies and children.