Niger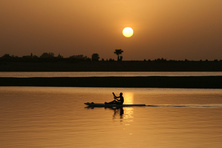 The Republic of Niger is a country located in West Africa. It share borders with Algeria, Chad, Libya, Mali, Benin, Nigeria and Burkina Faso. Niger is the largest state in West Africa. The capital is Niamey.
To the north Niger's climate is desert tropical and to the south there is a tropical monsoon climate. The average monthly temperature ranges from 20 °C to 34 °C. The climate is marked by great temperature variations. The rainy period lasts from June through October. We recommend travelling between November and February.
The religious people are Sunni Muslims. The official language is French.
A journey to Zinder (former capital city) will be the best choice for outdoor enthusiasts and countryside lovers. Zinder is the second largest city of the country which is abundant in ancient buildings and cobworks from the past. Travellers will see the Sultan's Palace and Zinder Great Mosque built in the 19th century.
A tour of the ancient city of Agadez will be exciting. Visitors to the country can enjoy checking out the city's historic quarters and the Ancient Fort. Those who are interested in historical and architectural monuments will be blown away with the Agadez Great Mosque designed in the style of classic Sudanese architecture.
City entertainment lovers and shopaholics may wish to choose Niamey, Niger's capital. The Niamey Grand Market with its old-time fountains and picturesque architecture is considered to be the best market throughout West Africa. Visitors to the capital can make a tour of the National Museum of Niger and the new Niamey Grand Mosque, which is open both for men and for women.
Get in
There are no direct air connections between Russia and Niger.
By plane
Air France is the only European airline operating flights to this exotic country. Tourists from a CIS country can get to Niger through Paris.
Overland
There are no railways in Niger actually. However, construction of the railway line connecting Niamey to Parakou (Benin) began in 2014 and is expected to be completed soon.
Here and now visitors can get to the country overland from Mali, Benin and Burkina Faso through an international bus service.
Visa
A visa is required for CIS and EU nationals who travel to Niger. Russian travellers can obtain visas from a Nigerien Embassy in Europe or Africa.
Instead of obtaining individual visas for Niger, tourists can get a Visa Touristique d'Entente (Entente visa), which is a multi-country visa covering five West African states: Benin, Burkina Faso, Niger, Togo and Cote d'Ivoire. The visa is valid for two months, and only for one entry to each country. It usually takes a couple of days for the visa to be issued. But note that it's only obtainable within the said five countries, i.e. inside the union, once you are there.
When applying for the visa, you will need to show proof of a round-trip airfare purchase and a bank statement certifying that you have enough funds in your account.
A Nigerien Embassy in Europe requires that a full set of documents be submitted for a visa. In this case tourists can get the entry permit within one or two weeks.
Customs
There are no restrictions on importation or exportation of foreign currencies in Niger. The local currency exceeding XOF 25,000 cannot be exported.
Visitors to the country are allowed to bring in personal items duty-free.
The following is not allowed in Niger:
illegal drugs;
pornography and any materials contrary to Islam;
chemicals;
firearms and ammunition (unless permitted by local authorities).
Tourists travelling with their pets will need a veterinarian's health certificate issued less than six months prior to arrival.
Also, visitors are required to show a Yellow Fever vaccination certificate.
Restricted for export are:
food products in large quantities;
plants and plant material;
exotic animals;
ivory;
crocodile leather products (unless specially permitted).
Cuisine
Frequent droughts make the country face severe food shortages. These troubles have affected Niger's local cuisine that offers a lesser variety when compared with other West African countries.
Dishes are made with beans, vegetables, poultry and spiced millet. Popular spices include saffron, nutmeg and cinnamon.
Visitors to Niamey can taste European, African and Asian dishes made of local vegetables, meat and fish.
When on vacation, you may wish to try a dense millet porridge with an okra sauce. Sometimes it is made with chunks of meat, vegetables, and using other sauces: a squash, tomato or pepper one. Try local corn couscous mixed with moringa leaves and topped with Dumbou sauce.
A couscous with mutton and charbroil-cooked meat are worth your attention. Either dish is served with the Baba ghanoush (baked eggplants mixed with seasonings and olive oil) as a side dish. Original are Niger's traditional dishes: Koudagou (fried sweet potato chunks with sauce) and Masa (sourdough pancakes with a peanut/hot pepper/ginger sauce).
Those travellers who have a sweet tooth can enjoy local desserts: Fari Masa (fried dough balls with sugar) and a pomegranate sorbet.
Drinking alcohol is frowned-upon in Niger.
Money
The national currency is the West African CFA franc (XOF) pegged to the Euro at 655.957 to 1.
Foreign currencies are not accepted as legal tender; the only way out is to exchange into local money via a bank or black market. We recommend changing money at banks and exchange offices. Note that Nigerien banks are closed on Saturdays and Sundays.
MasterCard and Visa are readily accepted at banks and hotels in Niamey; cash withdrawals from an ATM are also available. Traveller's cheques are almost never accepted anywhere except for Niamey, the same goes for credit cards.
Details of interest
You have found a good company for your travel and now you're ready to launch out on the voyage? So, what to see? And what to buy as souvenirs?
Triplook is glad to help you.
Nigerien customs and traditions
Be advised that Niger is a Muslim country. Visitors should respect the rules of social behaviour in Muslim countries:
Drinking alcohol is forbidden in Muslim culture.
Dressing revealingly can be seen as offensive, especially for women.
Always ask people before taking a photograph.
Risks to know about: Avoid walking late at night; the lawlessness is widespread outside urban areas. Also, Al-Qaeda is present in Niger, so terrorism and violence can happen.
Sightseeing in Niger
Niamey, the capital and the largest city of Niger, divided into two parts by the Niger River. As the country's cultural and economic centre, Niamey offers a vast variety of things to do and places to visit. The Niamey Grand Market is considered to be the main market and shopping centre of the city. The largest mosque in the city, the Grand Mosque is open to the public. The National Museum holds exhibitions on Nigerien culture and history. There is also an artisan area where you can buy traditional handicrafts.
The W National Park in the Tillaberi region, a major national park in West Africa which is listed in the UNESCO World Heritage List. The park offers a wide variety of fauna and flora.
The ancient city of Agadez, the largest city in central Niger where you can see the prominent Agadez Mosque.
The city of Zinder, formerly Niger's capital city. Here you can see the Sultan's Palace and the Great Mosque.
The Aïr and Tenere Natural Reserves, the largest protected area in Africa, classified as a UNESCO World Heritage.
The city of Dosso is the seat of the Dosso Kingdom which retained a ceremonial role to the present day. The traditional ruler is called Djermakoy of Dosso, meaning literally 'King of Djerma people'.
The Aïr Mountains, one of West Africa's most spectacular sights in central Niger rising from the Sahara Desert to more than 1,800 m. There you can discover. numerous examples of Neolithic rock art, visit thermal hot springs at Tafadek or take a tour of breathtaking oasis towns of Timia and Iferouâne.
Tahoua, a market town and meeting place for the Tuareg people.
Maradi, the third largest city and the major point of cross-border trade with Nigeria.
The Tenere Desert, a fascinating sand plain occupying an area of over 400,000 sq km.
Niger's Dinosaur Graveyard is full of fossils scattered for 150 kilometres. One of the most exciting experiences a traveller can have in Niger.
The Djado plateau with its abandoned villages, cave art and magnificent scenery, and the Kauar plateau that locals call the 'Edge of the Earth'.
The Niger River, the third longest river in Africa.
Lake Chad, an enclosed lake.
Souvenirs in Niger
The numerous Nigerien markets, especially the Grand Market of Niamey, offer a great range of silverware, jewellery, clothing, handicrafts and capes that will remind of this mysterious country.
There is also a possibility to purchase handcrafted goods made by local artists at the National Museum of Niger.