Poland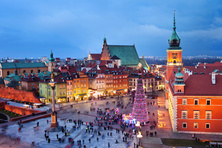 The Polish Republic is a country in Eastern Europe. The capital is Warsaw. It borders Lithuania, Russia, Slovakia, Czech Republic, Ukraine, Germany and Belarus. Poland is washed by the waters of the Baltic Sea in its northern part.
Poland has a temperate climate and it can vary from the maritime to the continental. The average temperate in July is +16°C - +19°C and in January is from -1°C to -5°C. If you like to go on excursions, go to Poland any time from May to September and the period from December to March is the best time for visiting ski resorts. 
The majority of people in Poland are Roman Catholics. The official language is Polish.
For a good city break, visit Białystok. Over 250 buildings of this resort are included in the list of World Heritage Sites. Visit  Branicki Palace,  Citron's Palace, Hasbi Palace and famous Białowieża Forest.
Beautiful Warsaw is a place of destination for many tourists. You can see there the Historical Center of Warsaw, Ostrogski Palace and Presidential Palace. Warsaw museums are also worth attention. Make a picture of the highest tower clock in the world on the Palace of Culture and go shopping to the largest European market which is located in the 10-th Anniversary Stadium.
If you love history, you should visit such Polish cities as Krakow, Lublin, Bydgoszcz, Wieliczka, and Wroclaw. In the city of Katowice, you will see a notorious camp Auschwitz.   
The best beach resorts are Loeb, Lesna and Lodz, Gdynia, Swinoujscie, Gdansk, Klodzko and Kolobrzeg.
The lovers of skiing will enjoy their time in the skiing resorts Beskid, Besschady, Szczyrk, High Tatras, Vistula and Krynica Zdrój. The tourists can go skiing or snowboarding. The main resorts of the High Tatras are Zakopane and  Szczawnica. In the Karkonosze mountains, there are popular resorts Szklarska Poręba and Karpacz. 
Get in
Flight is the most convenient and quick way to get to Poland from Russia.
By Plane
For the tourists from Moscow, we recommend flying to Warsaw by LOT Polish Airlines. Aeroflot offers flights to Krakow. The flight lasts about 2 hours.
Belavia offers a transit flight between Sochi, Yekaterinburg, St. Petersburg, Moscow and Warsaw with a stop in Minsk You can get to Warsaw from Kiev by the Ukraine International Airlines, AirBaltic offers a flight with a stop in Riga and Lufthansa flies through Germany.
By Train
The direct train runs between Moscow and Warsaw every day. Poland has a regular communication with Ukraine and Belarus.
By Car
All the buses to Germany have a stop in Poland. We recommend Eurolines buses.
There are direct routes to Warsaw and Poznan from Moscow.  
Cuisine
Traditional Polish cuisine is unique and versatile. It combined many traditions of other Slavic peoples.
Meat lovers will surely enjoy delicious and substantial Polish delicacies. Try ham with horseradish, homemade black pudding Kaszanka, veal brains with the greens, roasted beef tripe Flaczki with boiled vegetables and Zraz (meat with a sour cream sauce). Pork dishes are also very popular: Kotlet schabowy (a pork cutlet coated with breadcrumbs), roasted wild boar, Golonka (stewed pork knuckle) and famous Bigos (pork with sauerkraut). Do not miss a chance to try cabbage with smoked  bacon, Ges (goose with apples) and Kačka (roasted duck). You will be impressed by an amazing taste of stuffed duck neck and rabbit terrine.
The Polish like soups and there are around one hundred soups in Poland. We recommend trying Kapuśniak (cabbage soup), Botwinka (beetroot soup),Rosół (meat soup with dumplings), Zacherka (noodle soup) and żurek, a soup made of sour rye flour. You will surely like the taste of traditional soup with goose blood Czernina and Żur (kvas soup).    
Among fish dishes the most popular are roasted pike, Polish carp, herring in sour cream, fish balls with a sauce made of pickles and famous Polish fish soup. 
Those who have a sweet tooth will enjoy the variety of sweet pastry: Polish dumplings Pulpety, Patties from cottage cheese, pies with different fillings. They all will be perfect for a cup of coffee. Among the classical Polish desserts are poppy seed roll Makowiec, a cake Mazurek, gingerbread and roll with nuts. Vienna cheesecake deserves special attention.  
Traditional Polish drink is vodka. The most famous brands are Starka, Zubrowka and Goldwasser. You will surely like the local beer Kasztelan, Okocim и Wojak.
Details of interest
Sightseeing in Poland
In Warsaw, the tourists can visit the Historical Center of the city which is included in the UNESCO. Visit the Royal Castle, Palace Square, Stare Miasto, Wilanow Palace and numerous museums. Market Square is the heart of the city and there are a lot of old buildings around it.
Białowieża Forest in the province Podlasie is a UNESCO site. The tourists can also visit the Biosphere Reserve "Kampinos Forest", Slowinski Biosphere Reserves and Tatra Biosphere Reserves.
Castle of the Teutonic Order in Malbork, Architectural and Park Landscape complex in Kalwaria Zebrzydowska, wooden churches in the province Województwo małopolskie are the UNESCO sites and we highly recommend visiting them.
Concentration Camp Auschwitz-Birkenau.
In Krakow, you can go on excursion around the Wawel Royal Castle, Market Square and Bishop's Palace. In  Kazimierz, you can see the Corpus Christi Church and the  Church of St Catherine's. Not far from the city, there are Peskov Rock Castle and Ojcow Castle.
Wieliczka Salt Mine are famous all over Europe.
In the  Castle in Golub-Dobrzyn, you can witness a spectacular knights tournaments.
The Kórnik Castle which was built by the rich Polish magnate Górka family.
You will remember Poznan by its Old Town with a Market Square, the City Hall, Castle of the Gorka Family and the Royal Palace. In Poznan, you can go to a concert of organ music in the Church of St. Stanislaus or St. Mary's Church.
One of the most beautiful churches is the Church of  the Blessed Virgin Mary in Gdańsk.
The Land of a Thousand Lakes is located in the north-eastern part of Poland. It mesmerizes the tourists with its amazing beauty. The place also offers ideal conditions for country excursions and fishing.
Polish Souvenirs
Bamberki is a miniature figurine of a girl with buckets are sold in Poznan. There you will also find old traditional toys.
In Wielizcka, tourists buy salt lamps.
Syrenka and unique Polish honey can be bought in Warsaw.
In Toruń, buy authentic gingerbread.
 Zubrowka and Goldwasser and amber souvenirs are sold in Gdansk.
Smoked sheep milk cheese Oscypek and traditional Polish slippers tourists usually buy in Zakopane.
In Bolesławiec buy wonderful pottery.