Zagora
Resort type:

Country resort

Landscape:

Town, Mountains, Valley, Riverside, Tropical Forest

What to do:

Aquaparks, Culinary Tourism, Mountain Trails, Carting & ATVs, Wellness Tourism, Amusement Parks, Hiking, Festivals & Carnivals, Shopping, SPA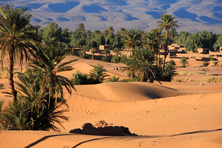 Zagora is a town located in the Draa River valley in the south-east of Morocco, at a height of 709 m above the sea. In terms of location, it is part of the Souss-Massa-Draa Region. The town is a street totaling 5 km in length. It is located 356 km from Marrakesh and 464 km from Agadir.
A picturesque nature of the river valley sets Zagora apart from other Moroccan resorts and makes it one of the most popular ecotourist destinations of the country. Hiking enthusiasts can go rambling through the Zagora mountains. Visitors to Zagora are offered exotic tours of date palm plantations located in the Draa River valley.
Extreme tourism lovers will be offered to have a fascinating tour of the Sahara Desert by 4x4, quad-bike or camel. Holiday makers will have an opportunity to make an overnight stay en route shelterless.
Excursion enthusiasts and their travel companions can see the ruins of the Almoravid fortress and visit the oasis of Amezrou.
Culinary tourists will have a chance to explore Morocco's culinary traditions and try its national dishes offered at such restaurants as Dromadaire Gourmand and Kasban Ennakhile.
When on holidays in Zagora, event tourism lovers can visit one of the numerous festivals and events that are held in the nearby Marrakesh. The most popular events include: folk festival, Festival of sacred music and Wedding festival.
The resort region offers a lot of comfortable hotels. Massage therapy service and spa procedures offered at La Maison des Oliviers hotel, La Maison Arabe hotel and La Mamounia Marrakech hotel are available for wellness enthusiasts.
One can take a Turkish bath in Heritage Spa and Les Bains d'Orient.
KiFKiF, the capital's most visited shopping centre, is a good place to go shopping. Tourists can go to the markets Rue du Mouassine and Marrakech flea to pick up unique carpets made from camel hair.
Visitors to the region who travel with children can enjoy some leisure time in Oasiria Water Park and Aqua Fun Club, or visit Eden Aquapark.
The city has not been developed for nightlife.