Zandvoort
Resort type:

Beach resort

Landscape:

Town, Seacoast

What to do:

Aquaparks, Golf, Mountain Trails, Diving & Snorkelling, Natural Parks & Reserves, Casinos, Nudist Beaches, Historical & Architectural Monuments, Yachting & Sailing, Fishing & Spearfishing, Surfing, Windsurfing & Kitesurfing, Formula 1, Shopping, Nightlife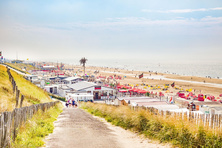 Zandvoort is a city in North Holland. It is a half an hour drive from Amsterdam on the coast of the North Sea.
Zandvoort is a famous sea resort in the Netherlands. The popular beach of the city Zandvoort aan Zee is known to the tourists as Amsterdam Beach. The active tourists can go surfing, windsurfing and kitesurfing, sailing, diving, yachting, kayaking, fishing, snorkelling. They can also go on a sea cruise. In the southern part of Amsterdam Beach, there is a nude beach which extends for 2.5 kilometres. The tourists can rent a scooter or a motor boat in Pepsports. In Zeestock Kitesurf School, they will teach you to balance the surfboard. Discover Scuba Diving offers diving equipment for rent.
The city attracts the lovers of car races. There is Bleekemolens Race Planet Zandvoort not far from the Beach. Circuit park Zandvoort is a popular race track where Formula One Championship took place. In Zandvoorts Museum you will learn about the development of the city.
On the territory of the city, there is a part of Nationaal Park Zuid-Kennemerland. Its main function is protection of sandy dunes along the North Sea. The dunes present a great interest for the ornithologists because there are more than 200 species of birds.
The tourists with kids will have a great time in Aqua Mundo Park Zandvoort and in Circus Zandvoort. In Juttersmuseum, the tourists will learn interesting facts about the famous people of the city. You can try your luck in gambling in Holland Casino Zandvoort. In Open Golf Zandvoort, anyone can play golf. In winter, you will have a chance to swim in a pool in Center Parcs Park Zandvoort. Have a relaxing massage in Lumpinee Massage.
You can buy Dutch cheeses in Kaashuis Tromp store. In Beachim Fashion, you will buy clothes by famous international brands.
At night, Yanks nightclub opens its doors.
You will enjoy the Dutch cuisine in De Meerpaal restaurant. The Asian cuisine is served in Bandai Thau Zandvoort. Chef Thomas restaurant offers the Caribbean cuisine.