West Virginia
Resort type:

Country resort

Landscape:

Mountains, Riverside, Mixed Forest

What to do:

Mountaineering, Culinary Tourism, Natural Parks & Reserves, Wellness Tourism, Historical & Architectural Monuments, Gliding & Paragliding, Rafting & Kayaking, Festivals & Carnivals, Nightlife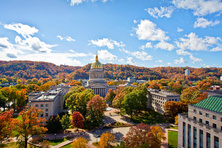 West Virginia is an American state, one of the Southern United States with the total area of 62.800 square kilometres. In is situated on the territory of the Appalachian Mountains in the east of the country. West Virginia neighbours Virginia State, Maryland State, Pennsylvania State, Ohio State and Kentucky State. The capital city is Charleston.
The extreme tourists come to West Virginia to get a rush of adrenaline and great impressions. They can go climbing or canyoning. They can also try and conquer the Spruce Knob Mountain, the highest peak of the state. The Monongahela River, the Potomac River and the Kanawha River are ideal for kayaking, rafting or canoeing. If you are adventurous enough, you can go paragliding, rope jumping or parachuting.
West Virginia is 80% covered with woods. This is the reason why the state is so attractive for the ecological tourists. They can go to Babcock State Park, Kumbrabow State Forest and Monongahela National Forest. Do not miss a chance to visit Canaan Valley National Wildlife Refuge.
The wellness tourists will want to go to Berkley Springs to improve their wellbeing and health.
Such annual festivals as Lewisburg Chocolate Festival and Spring Mountain Festival maintain the event tourism in West Virginia.
For those who prefer city entertainments, there are Nitro Antique, Dudley Plaza and Capitol market malls, Comedy Zone or Atmosphere nightclubs. You will enjoy your meals in such restaurants as First Watch and Laury's.
Go on an excursion tour, so you will see such historical and architectural monuments as State Capitol or Wheeling Suspension Bridge.