Zlatibor
Resort type:

Country resort

Landscape:

Mountains, Broadleaf Forest, Coniferous Forest, Hills

What to do:

Golf, Downhill Skiing, Wellness Tourism, Hunting, Hiking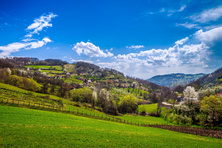 Zlatibor is a mountainous tourist area situated in south-western Serbia. The Zlatibor Mountain lies 30 km south of Belgrade.
The confluence of maritime and mountain air masses allows for a unique, healthful microclimate of the region. Through this, Zlatibor is a popular resort destination for wellness tourism. Holidays in Zlatibor are a good choice for those who look for treatment and prevention of thyroid disorders, respiratory diseases and anaemia. A trip to Zlatibor is recommended for those who have undergone surgery, or have had infectious diseases, as well as for those who suffer from physical or emotional depletion. The region is home to Cigota Zlatibor, the most popular hospital in Serbia.
Zlatibor includes several resort villages, among which noteworthy are Kraljeva Voda and Cajetina, the administrative centre of the region.
Ecotourism and outdoor enthusiasts will enjoy the scenic nature of Zlatibor. In summer this tourist destination is popular with hiking and backpacking enthusiasts, as well as with hunters coming to hunt boars, deer, wolves, rabbits and martens. In winter tourists and their travel companions can go downhill sledding or skiing.
Tourists often choose Zlatibor as an ecotourism destination. The region offers special routes to enjoy its beauty of nature. Recreation facilities include sports grounds, tennis courts, golf courses and swimming pools.
Local cafes and restaurants offer a number of traditional Serbian dishes.