Zutphen
Resort type:

City resort

Landscape:

Town, Lakes, Riverside

What to do:

Aquaparks, Diving & Snorkelling, Boat Trips, Wellness Tourism, Historical & Architectural Monuments, Yachting & Sailing, Sport Tourism, Fishing & Spearfishing, Shopping, Nightlife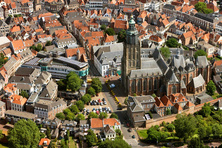 Zutphen is a city in Gelderland Dutch province. It is situated on the eastern shore of the Ijssel River 30 kilometers away from Arnhem.
Zutphen is the main destination for the lovers of the excursion tourism and those who prefer outdoor activities. The hallmark of the city is Saint Walpurga Church. It was inscribed on the UNESCO World Heritage List. The oldest architectural elements date back to the 11th century. The church itself was built in the 13th century. Other interesting buildings are Brothers Church or Broederenkerk in a Gothic style built in the 14th century. Among city's historical monuments are Drogenapstoren, Winehouse Tower and Burgundy tower.
If you want to learn more about the history and the culture of the city, then go to the museums of Zutphen. For example, in the Museum Henriette Polak you will see personal belongings of this famous patron of arts.
If you visit the city in summer, do not miss a chance to go on a cruise along the Ijssel River. Whisperboat Zutphen organizes river cruises. You can go sunbathing on the Central Beach of Zutphen. The tourists can go fishing, surfing, kiteboarding, snorkeling, sailing; play beach volleyball, ride catamarans and water bikes.
The wellness tourists should go to Wellness Center de Bronsbergen. Those who appreciate theater will want to see a performance in Hanzehof Theater. You will have a great time in Aquapark in Zutphen. In Kings & Queens Zutphen bar, you will play billiards.
The shoppers will find man interesting products in HEMA mall. In Heerlyck Goed, antiquities and old items are sold. Sultani restaurant offers the Mediterranean cuisine. Treat yourself to the Japanese delicacies in Hai Grill & Sushi. Dance all night through on Le Boulevard disco.