Alaska
Resort type:

Country resort

Landscape:

Mountains, Lakes, Oceanfront, Riverside, Mixed Forest, Coniferous Forest, Bay Coast, Volcanoes, Tundra

What to do:

Mountaineering, Culinary Tourism, Mountain Trails, Diving & Snorkelling, Natural Parks & Reserves, Wellness Tourism, Yachting & Sailing, Hiking, Rafting & Kayaking, Fishing & Spearfishing, Thermal & Mineral Springs, Shopping, Zoos, Oceanariums & Dolphinariums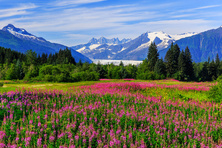 Alaska is the largest state of the United States of America washed by the Pacific and Arctic oceans. Alaska consists of a continent and several islands, including the Aleutian Islands, the Saint Lawrence Island, the Alexander Archipelago, the Kodiak Island, and a group of the Pribilof Islands. The capital city is Juneau. The tourists commonly choose the city of Anchorage to spend their holidays.
Alaska is a destination for nature lovers and active tourists. The Denali National Park is a must-visit place. There are interesting hiking routes, mountain trekking, and a four wheeler riding. The active tourists can try stand up paddle surfing, rafting, boat trips, diving and snorkelling, fishing, and sailing. If you want to get an adrenaline rush, you can go climbing and rappelling, try canyoning, parachuting or hand-gliding.
In the Alaska SeaLife Center in the city of Seward, one can watch sea animals. You can see some wild animals in the Alaska Zoo.
Amphicar sea tours are arranged by the Ketchikan Duck Tour. If you come to Alaska with your family entertain yourself in the Alaska Zipline Adventures. The Ocean Raft Alaska offers kayaking and canoeing. From the foodies a food tour is arranged by the Juneau Food Tours. Alaska Paragliding offers training, tandem flights, and equipment sales.
Original souvenirs can be found on the Downtown Sunday Market in Anchorage. And in the Anchorage 5th Avenue Mall, there is a great variety of European and American goods.
The national dish in Alaska is a venison steak and one can try it in the restaurant Glacier Brewhouse.