Icaria
Resort type:

Beach resort

Landscape:

Mountains, Seacoast, Island, Flora of the Mediterranean

What to do:

Mountain Trails, Diving & Snorkelling, Natural Parks & Reserves, Wellness Tourism, Yachting & Sailing, Caves, Sport Tourism, Surfing, Windsurfing & Kitesurfing, Nightlife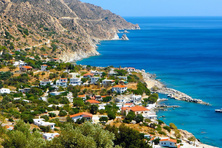 Icaria is an island in the Eastern Sporades. It is situated in the Aegean Sea between the islands Samos and Patmos. The capital city is Agios Kirikos.
Icaria is popular with the lovers of beach holidays, wellness tourism and speleology. Seychelles Beach is believed to be the most beautiful beach of the island. Nas Beach and Yaliskari Beach are also popular. There is a wide choice of water activities such as sea cruises, diving, surfing, kiteboarding, sea fishing, scooter and catamaran riding, yachting and sailing. At Ikaria Surf School, they will teach you the to catch the wave.
Everyone who comes to the island is delighted by its nature. The tourists can go biking across a picturesque landscape, hiking and trekking. The ecological tourists will also like the place. Island Ikaria Activity Tours arranges multi-day hikes. If you love speleology you can go down to Katafigio Cave. In a biosphere reserve Halari Gorge, anyone can watch the birds.
In Archaeological Museum of Agios Kirykos, you will acquaint yourself with the history and antique culture of Icaria. Two kilometres to the north of the city, there are antique ruins of Acropolis and a thermal beach Slilaio. To the south-west of Agios Kirikos, there is another balneological resort Thermo in Lefkada.
The village Evdilos was a capital city of Icaria during a Turkish occupation. The buildings here are all in Neoclassical style and Port Evdilos welcomes touristic liners from other islands in the Aegean Sea.
In the north of the island, in a village Pigi, there is Theoktistis Monastery. This cave monastery was built at the end of the 17th century. The travellers will see beautiful fresco paintings and visit a chapel in a deep cave.
An impressive sight of Icaria is Koskina Castle. The castle is situated on the Koskinas Mount. The hotel Ecoresort Hotel Zefyros has its own aqua park and Turkish baths. The guests of the hotel can play tennis, billiards and squash. On the Central Square of Agios Kirikos, there are a lot of shops selling different goods. The Greek cuisine is served in Naiades. If it is a nightlife you are after, visit a club Aerino Night CLUB.