Amazonas
Resort type:

Country resort

Landscape:

Swamp, Mountains, Plain, Riverside, Tropical Forest, Hills

What to do:

Mountaineering, Cycling, Mountain Trails, Diving & Snorkelling, Natural Parks & Reserves, Gliding & Paragliding, Yachting & Sailing, Hiking, Sport Tourism, Rafting & Kayaking, Fishing & Spearfishing, Surfing, Windsurfing & Kitesurfing, Shopping, Nightlife, Zoos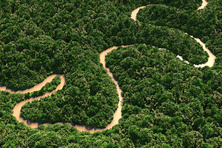 Amazonas is the largest Brazilian state on the northwest of the country. The capital city of the region is Manaus. Other large cities are Parintis, Manacapuru, and Itacoatiara.
This region is popular among the lovers of beach holidays and water activities. The Amazon River, the largest river in South Africa, flows on this territory. There is anything and everything the tourists need for windsurfing and kiteboarding, stand up paddle surfing, kayaking and canoeing, fishing, yachting, and scuba diving. The tourists can watch the dolphins and whales. At the Amazon Stand Up Paddle, they will teach you the basics of windsurfing. And the Amazon Mystery Tours arrange kayaking tours. The Amazon Tours Brazil will offer swimming with dolphins. The most popular beach is the Ponta Negra Beach in Manaus.
For the active tourists, there are difficult hiking trails to the Amazon Jungle. During this tour the tourists can see the Alta de Taruma waterfalls. The tourists can go biking and jeep riding, hiking and horseback riding. Adventurous tourists are welcomed in a skydiving club Skydive Amazonas. Ecoforest Adventure offers climbing, canyoning, and abseiling.
A hallmark of the capital city is the Amazon Theater. Inside it, there is the Teatro Amazonas Museum. Anyone can also visit a magnificent Church of Saint Sebastian. Children will surely have a fun time in the Manaus Zoo.
Make your holidays even more enjoyable and visit a bowling centre the Amazon Bowling or a cinema Cinepolis Ponta Negra. You can play billiards at the Jack'n'Blues Snooker Pub.
Go shopping at the Manauara Shopping, Manaus Plaza Shopping, Millennium Shopping, and Amazonas Shopping Center. A shopping centre Shopping Ponta Negra is ideal for a family time.
They make seafood perfectly in a restaurant Banzeiro. Churrascaria Bufalo offers the Brazilian cuisine. In Move Lounge, they offer an interesting show and karaoke.