Illinois
Resort type:

City resort

Landscape:

Broadleaf Forest, Lakes, Prairie, Plain, Riverside, Coniferous Forest, Hills, Cliffs

What to do:

Aquaparks, Culinary Tourism, Natural Parks & Reserves, Historical & Architectural Monuments, Gliding & Paragliding, Amusement Parks, Yachting & Sailing, Hiking, Surfing, Windsurfing & Kitesurfing, Thermal & Mineral Springs, Festivals & Carnivals, Shopping, Nightlife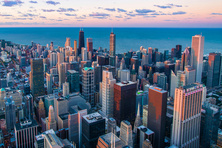 Illinois is an American state with the total area of 150.000 square kilometres. It is situated in the Midwest and neighbours Indiana State, Wisconsin State, Michigan State, Missouri State and Iowa State. In the northeast, it has access to the Michigan Lake. The capital city is Springfield.
If it is city entertainments you are after, then you should stay in Chicago, Aurora, Rockford, Joliet, and Springfield. In the capital city, there are such malls as White Oaks Mall, Capital City and Fairhills Mall, an amusement park Knight's Action with aqua park Caribbean Water Adventure and nightclubs Station House and Dirty South. Fashionable restaurants in Chicago such as Alinea, Bohemian House and Capital Grille attract the foodies.
Those who prefer the event tourism come here to participate in such festivals as Whisky Fest Chicago, Naperville Winter Ale Fest and Back Road Music Festival.
The lovers of the wellness tourism should definitely stay in Okawville village famous for its hot springs.
Resorts on the shores of the Michigan Lake attract the fans of beach holidays. The most popular with the tourists is Skokie and Waukegan. The lake is big enough for windsurfing, sailing, yachting, parasailing, and kiting. The extreme tourists can try their hand at trekking, parasailing, parachuting, hang-gliding and they can also take a ride on a hot-air-balloon.
For the ecological tourists, group excursions to Shawnee National Forest are arranged.
During an excursion program, you will see such historical and architectural monuments as Lincoln Home National Historic Site, Holy Name Cathedral, Old State Capitol State Historic Site and Illinois State Capitol.