Imathia
Resort type:

Country resort

Landscape:

Mountains, Seacoast, Riverside, Flora of the Mediterranean

What to do:

Cycling, Culinary Tourism, Diving & Snorkelling, Natural Parks & Reserves, Horse Riding, Wellness Tourism, Historical & Architectural Monuments, Yachting & Sailing, Hiking, Surfing, Windsurfing & Kitesurfing, Shopping, SPA, Nightlife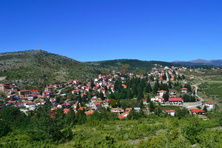 Imathia is one of the Greek regional units and part of Central Macedonia Region. It is situated in the north of the country and has an access to the Aegean Sea. It borders Thessaloniki Regional Unit, Pella Regional Unit, Kozani Regional Unit and Pieria Regional Unit. The total area of Imathia is 1.701 square kilometres. Veroia is an administrative centre.
The coastal areas of Imathia are ideal for the extreme tourists and those who prefers to spend a lazy time on a beach. There is a wide choice of activities for the tourists such as diving, kitesurfing, snorkelling, windsurfing and sailing. Hiking and biking tours, horseback riding and trekking are also popular with the tourists.
Naousa International Film Festival and Lobart Festival attract many people to this region.
Veroia is a centre of city entertainments with its malls Oikokinisi and Avramidis. At night, you will have a fun time in such nightclubs as Voice Live, Zoo Nightclub and Ola Live Stage. The foodies will treat themselves to traditional Greek delicacies in Vergiotiko, Eleas Gi, O Platanos.
A favourable ecological situation and climate of the region make the region a good destination for the wellness tourism. You will surely feel better after spending some time here. The hotels Atrion and Cavo Olympo have wellness centres where one can take spa procedures.
Thanks to its nature diversity and several reserves, Imathia is a recognised centre of the ecological tourism. In Axios Delta National Park, the tourists can explore the local lagoons and moors, enjoy the beauty of the Thermatic Gulf.
The lovers of the excursion tourism can go on an excursion trip to see historical and architectural monuments of the region. They will see School of Aristotle Ruins, visit Panagia Soumela Monastery and Archaeological Site of Vergina which is under UNESCO protection.