Indiana
Resort type:

City resort

Landscape:

Broadleaf Forest, Lakes, Plain, Riverside, Hills

What to do:

Culinary Tourism, Natural Parks & Reserves, Historical & Architectural Monuments, Gliding & Paragliding, Amusement Parks, Yachting & Sailing, Caves, Rafting & Kayaking, Surfing, Windsurfing & Kitesurfing, Thermal & Mineral Springs, Festivals & Carnivals, Shopping, Nightlife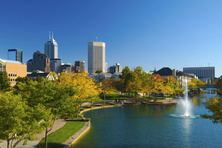 Indiana is a state in the United States of America situated in the northeast of the country, Its total area is over 94.000 square kilometres. It has access to the Michigan Lake. Indiana neighbours Illinois, Michigan, Ohio and Kentucky. A capital city is Indianapolis.
The lovers of beach holidays should stay in Gary or Michigan City as they are situated on the cost of the Michigan Lake. The lake is big enough for extreme activities such as kiting, sailing, water skiing, windsurfing and yachting. If you want to get an adrenaline rush you can try your hand at paragliding, parachuting, and hang-gliding. Rafting tours along the Wabash River are also very popular with the tourists.
If it is city entertainments you are after, then go to Indianapolis, Hammond or Fort Wayne. In the capital city, there are large malls such as Castleton Square Mall, Greenwood Park Mall and Circle Centre Mall, amusement parks Wonderland and Riverside, nightclubs LandSharks, Vogue, Casba, Blu.
If no journey is complete for you without excursions then you can acquaint yourself with historical and architectural monuments of Indiana. The most interesting sights are the University of Notre Dame, Cathedral of the Sacred Heart and Scottish Rite Cathedral.
Indiana holds over 600 festivals annually. Heartland Film Festival, Fountain Square Music Festival, and Crawfordsville Strawberry Festival attract a lot of tourists.
The ecological tourists can visit Hoosier National Forest.
Hot springs French Lick are popular with the wellness tourists. Some people come to Indianapolis to improve their health in the local clinics.
The foodies will enjoy traditional American cuisine in such restaurants as Capital Grille, Saint Elmo Steak House and Seasons 52.