Incheon
Resort type:

City resort

Landscape:

Town, Seacoast

What to do:

Culinary Tourism, Diving & Snorkelling, Natural Parks & Reserves, Wellness Tourism, Historical & Architectural Monuments, Gliding & Paragliding, Yachting & Sailing, Hiking, Fishing & Spearfishing, Surfing, Windsurfing & Kitesurfing, Festivals & Carnivals, Shopping, SPA, Nightlife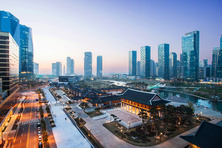 Incheon is a port town on the coast of the Yellow Sea in the north-west of the Republic of Korea. It belongs to Seoul National Capital Area. Incheon neighbours Seongnam and Seoul. The total area of the municipality is 960 square kilometres.
A well-developed infrastructure and a lot of entertaining complexes attract to Incheon all the lovers of city entertainments. You will have a great shopping experience in Eeojoyi, Ulcer Point, and Gimpo Modern Premium Outlets. Such nightclubs as Arabian Nights, Mute, Octagon, and Factory Underground welcome everyone to have a fun time. The foodies will surely enjoy the Korean delicacies in the restaurants Hwanghaekalguksu, Danjizip and Sandong Mandu.
If you prefer the excursion tourism, you can go on an excursion trip to see historical and architectural monuments. For example, Incheon Bridge, Chinatown, Bomunsa Temple, Yonggungsa Temple, and Incheon Landing Operation Memorial Hall. Everyone can go on an excursion trip to Ganghwa Dolmen Sites which are under UNESCO protection.
Every year, Incheon holds a rock music festival Pentaport.
Health centres and clinics attract to Incheon the lovers of the wellness tourism. The hotels Grand Hyatt Incheon and Nest have wellness centres where you can have toning or relaxing spa treatments.
For the ecological tourists, there are picturesque beaches and city parks. We highly recommend you visiting Wolmi Park during the blooming period. The tourists can walk in Songdo Central Park and Sinteuri Park. The tours to Sorae Ecology Park are arranged for the tourists.
The extreme tourists will have a great choice of activities from kitesurfing, diving, water skiing, fishing, parasailing and windsurfing to yachting.