Irakleia
Resort type:

Beach resort

Landscape:

Mountains, Seacoast, Island, Flora of the Mediterranean

What to do:

Cycling, Culinary Tourism, Diving & Snorkelling, Natural Parks & Reserves, Horse Riding, Boat Trips, Wellness Tourism, Historical & Architectural Monuments, Gliding & Paragliding, Yachting & Sailing, Hiking, Surfing, Windsurfing & Kitesurfing, Festivals & Carnivals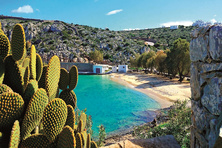 Irakleia is a Greek island in the Lesser Cyclades situated in the Aegean Sea between Naxos Island and Ios Island. The total area is 18 square kilometres.
A quiet atmosphere and untouched nature make Irakleia an ideal place for those who want to escape from the city noise and be alone. The ecological tourists also choose this island. The tourists will see Agios Ioannis Cave and watch the birds. Snorkelling gives you a chance to explore the underwater world of the Aegean Sea.
Irakleia is a paradise for the lovers of beach holidays. You can swim as long as you want in the warm water of the sea and go diving. The active tourists can try their hand at kitesurfing, yachting, windsurfing, parasailing and water skiing. Sea cruises around the island are arranged for the tourists. Anyone can go biking and horseback riding in the local villages.
You can participate in Folk Festival of Irakleia which takes place on the island.
If you love excursions you will get yourself acquainted with the everyday life of the locals, their culture and traditions. There are just a few historical and architectural monuments on the island. For example, Livadi Fortress, Church of the Prophet Elijah and Church of saint George. You can make a trip to a neighbouring island Naxos and see Temple of Demeter, Temple of Dionysus, Temple of Apollo, Bellonia Tower and Macropoliti Tower.
The climate of the island and sea air are favourable for the health. That is why Irakleia is popular among the wellness tourists.
Unfortunately, you will not have a great shopping experience on Irakleia. Some necessary goods are sold in the hotels in Naxos. There is no nightlife here.
In such restaurants as Ipovryhio and Pera Panta, the foodies can treat themselves to the seafood delicacies or traditional Greek dishes.