Amarante
Resort type:

City resort

Landscape:

Town, Riverside

What to do:

Aquaparks, Culinary Tourism, Golf, Diving & Snorkelling, Historical & Architectural Monuments, Yachting & Sailing, Hiking, Sport Tourism, Fishing & Spearfishing, Festivals & Carnivals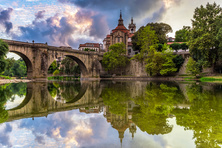 Amarante is an administrative center of the Amarante Municipality in Portugal. It is situated in the Porto District which is the Norte Region 47 kilometres away from Porto.
This resort attracts the lovers of city entertainments. If you like modern art and sculpture visit the Amadeo De Souza Cardoso Museum. The Museum has a collection of Amadeo De Souza Cardoso art and regularly holds the exhibitions of other modern artists and sculptors.
A historic sight of the city, the Saint Gonzalo Bridge is a must-see. The bridge was restored in the 13th century after destruction by Gonzalo Amarante. Now this man is a patron saint of the city. Every year on Jule the 8th a splendid celebration takes place in honour of this man.
Believers can visit the Saint Gonzalo Church which is next to the Bridge.
On the Tamega River, the tourists can go fishing or sailing. There is also everything you need for сayaking, canoeing, yachting, and snorkelling.
The fans of golf are welcomed in the Amarante Golf Club. All the family will spend a fun time in the Aquatico Amarante Park where you can swim in a water-pool, water slide, sunbathe, and drink a cocktail in a cafe. Love karaoke and bowling? Do not miss a chance to visit the Striky Bowling.
Go shopping at the major market in the city the Mercado Municipal de Amarante. There the tourists can buy various souvenirs such as cork post cards, coffee, and a legendary Madeira wine.
The foodies should definitely try a national dish Caldeirada. It is served in a restaurant Restaurante A Eira. Largo do Paco offers the European cuisine. A delicious pastry is sold in Confeitaria da Ponte.