Isesaki
Resort type:

City resort

Landscape:

Town, Riverside

What to do:

Cycling, Natural Parks & Reserves, Wellness Tourism, Historical & Architectural Monuments, Gliding & Paragliding, Amusement Parks, Hiking, Sport Tourism, Rafting & Kayaking, Thermal & Mineral Springs, Festivals & Carnivals, Shopping, Nightlife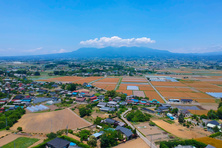 Isesaki is a large Japanese city in Gunma Prefecture, Kanto Region. It is situated in the central part of the country and is 110 kilometres away from Tokyo. The total area of the city is about 140 square kilometres.
The history of the city dates back to the late Middle Ages and it makes Isesaki a popular destination for the excursion tourism. Among the most interesting historical and architectural monuments are Koizumiinary Shrine, Old Bell Clock Tower, Nomanji Temple.
For the tourists who want to learn more about the city, a study tour around the prefecture is arranged. During this trip, the tourists will see Tomioka Silk Mill and Related Sites, which is a UNESCO site, Haruna Shrine, Ikaho Green Farm, Rock heart Castle of Mable Village.
The wellness tourists can go to Yubatake Hot Springs.
The ecological tourists come to Isesaki to enjoy Osen Waterfall, Asama Otaki Fall and Kirifuri Falls. Ashikaga Flower Park, Happoen Garden, Naritasan Park and Nikko National Park are also of a great touristic interest.
If it is city entertainments that you are after, then you can go to an amusement park Kezoji, visit such nightclubs as Crea and D'parranda. The malls Smark and Daiso Merckx Isesaki welcome everyone to make purchases. The foodies will treat themselves to traditional Japanese delicacies in such restaurants as Ichiwara, Keyaki and Chisoku.
Such events as Isesaki Summer Festival and Isesaki Matsuri Festival attract a lot of tourists.
If you need an adrenaline rush you can try paragliding, parachuting or rope jumping. The suburbs of the city are ideal for biking and hiking. Anyone can go on a group rafting tour on the Tone River.