Yongin
Resort type:

City resort

Landscape:

Mountains, Lakes, Riverside

What to do:

Aquaparks, Cycling, Culinary Tourism, Downhill Skiing, Natural Parks & Reserves, Horse Riding, Wellness Tourism, Historical & Architectural Monuments, Gliding & Paragliding, Amusement Parks, Hiking, Fishing & Spearfishing, Festivals & Carnivals, Shopping, SPA, Nightlife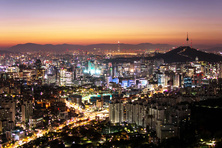 Yongin is a Korean city with the total area of 592 square kilometres. It belongs to Gyeonggi Province. It is situated in the northwest part of the country. The city is 40 kilometres away from Seoul.
Thanks to a well-developed touristic infrastructure and numerous entertaining facilities, Yongin is a popular place for those who prefer city tourism. Premium Outlet and Mart Heungdeok offer excellent shopping experience. The tourists with kids will have a fun time in Caribbean Bay aquapark and Everland amusement park. At night Mihyeoni Poulet and Junko Town nightclubs open their doors. The foodies will enjoy traditional Korean meals in such restaurants as Nami islands, Lotteria Yongin Juangang and Sansarang.
Those who prefer the excursion tourism will get themselves acquainted with interesting historical and architectural monuments. Don't miss a chance to see Wawoojongsa Temple, Fort Choinson and visit Korean Folk Village. Study tours around the province are arranged for the tourists. They will see Hwaseong Fortress, Royal Tombs of Joseon Dynasty and Namhansenseong fortification all of which are UNESCO sites.
Yongin Street Festival and Tulip Festival help to maintain the event tourism in the city.
The city offers a wide range of activities for the extreme tourists. For example, paragliding or hang-gliding, trekking, parachuting, horseback riding and hiking in the suburbs of the city. Biking is also a popular activity. Anyone can go fishing on the local water basins. In winter, the tourists can go to Yangji skiing centre.
Yongin Natural Recreation Forest will find favour with the ecological tourists.
The local clinics and medical centres attract the wellness tourists to the city. Yongin Mokyoktang wellness centre offers toning or relaxing spa treatments.