Kagawa
Resort type:

City resort

Landscape:

Mountains, Seacoast, Lakes

What to do:

Mountaineering, Cycling, Culinary Tourism, Diving & Snorkelling, Natural Parks & Reserves, Wellness Tourism, Historical & Architectural Monuments, Gliding & Paragliding, Amusement Parks, Yachting & Sailing, Hiking, Fishing & Spearfishing, Surfing, Windsurfing & Kitesurfing, Festivals & Carnivals, Shopping, SPA, Nightlife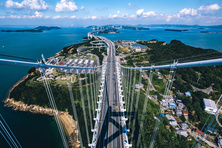 Kagawa Prefecture is a small prefecture in a Japanese Shikoku Region. It is situated in the northeast end of the Shikoku Island. It has access to the Seto Inland Sea. The prefecture neighbours Tokushima Prefecture and Ehime Prefecture. The total area is over 1.875 square kilometres. The capital city is Takamatsu.
The best places for beach holidays are the Cape of Osaki-no-Hana, the Honjima Island, Olive Beach and Nishihama Beach. Warm sea waters are ideal for a long swimming, snorkelling and scuba diving. The extreme tourists can try their hand at parasailing, windsurfing, yachting, kitesurfing, deep underwater hunting and sailing. You can also try and climb the Yashima Mountain. Hiking tours, horseback riding and biking are very popular with the tourists.
If you want to learn more about the place you can go on an excursion tour to see significant historical and architectural monuments. For example, Marugame Castle and Takamatsu Castle, Konpira Shrine, Sayabashi Bridge and old Ritsurin Garden. Those who like ethnography will enjoy a trip to Shikoku Mura Village.
Make your holidays unforgettable and take part in an annual modern art festival Setouch Triennale.
If it is city entertainments that you are after you should stay in the administrative centre of the prefecture. Such nightclubs as Lounge Sanuki, Nuts Music Cafe and Sad open their doors for everyone. Children will have a fun time it an amusement park Sanuki Children's World. A large mall Marugame-machi invites everyone to make purchases. The foodies will enjoy the best Japanese dishes in the restaurant Ikkaku Takamatsu.
The wellness tourists can have spa treatments in wellness centres at such hotels as Kawaroku and Fukuya.
The ecological tourists should not miss a chance to enjoy the beauty of the Manno Lake, mountain landscapes of Yashima and explore the Mikado Gorge.