Amorgos
Resort type:

Beach resort

Landscape:

Mountains, Seacoast, Island, Flora of the Mediterranean

What to do:

Cycling, Culinary Tourism, Diving & Snorkelling, Ancient Monuments of Civilization, Wellness Tourism, Yachting & Sailing, Hiking, Surfing, Windsurfing & Kitesurfing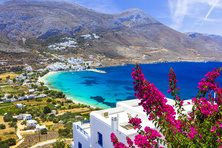 Amorgos is an island of the Greek Cyclades island group. It is situated in the southern part of the Aegean Sea 290 kilometres away from the continent. The total area of the island is over 126 square kilometres. An administrative centre is Chora.
The lovers of beach holidays prefer the coast in the city of Aegiali due to its picturesque landscapes. Other popular beaches are situated in Tholaria and Katapola. To make their holidays even more memorable the tourists can try kiting, diving, sailing, snorkelling, windsurfing or yachting. The tourists can rent equipment for water skiing and scooters. Anyone can go trekking, hiking, climbing, horseback riding, and biking.
People who first came to Amorgos B.C. left many monuments of ancient civilisations. The tourists will see the Monastery of Panagia Hozoviotissa, the Church of Agios Georgios Valsamitis, and the Agia Paraskevi Church. We also recommend visiting the Archaeological Museum and take a walk across Chora.
A lush vegetation and diverse landscapes attract those who prefer ecological tourism. Anyone can go to the Cave of the Sacred Icon of Agios Giannis, walk along the Chalara Beach, the Mikri Vlychada Beach, and the Maltezi Beach. Learn to dive and you will see many sea animals.
There are no large malls on the island so you can go shopping at the market in a village Kolofana.
The restaurants Amorgis, Kallisto, and Frou-Frou offer the Greek cuisine.
The wellness tourism is well-developed on the island due to favourable ecological conditions and a climate which are beneficial for the health.
At night, you can go to some bars.