Caldas Novas
Resort type:

Beach resort

Landscape:

Riverside, Tropical Forest

What to do:

Aquaparks, Natural Parks & Reserves, Amusement Parks, Yachting & Sailing, Hiking, Fishing & Spearfishing, Surfing, Windsurfing & Kitesurfing, Thermal & Mineral Springs, Shopping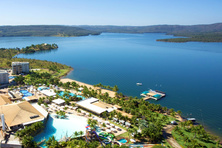 Caldas Novas is a thermal and mineral resort in Brazil, which is a part of the largest hydrothermal complex in the world. Caldas Novas is a Brazilian municipality in the Goias State.
Because of its healing springs hundreds of thousands tourists come here to improve their health and to spend active holidays.
Caldas Novas is well-known for its aqua parks and that is why this is the family-oriented best place in Brazil. The Lagoa Termas Park, the DiRoma Aqua Park, and the Nautico Water Park have their own thermal water pools and various water entertainments for both adults and children.
The active tourists will not have time to get bored in Caldas Novas. They can go windsurfing and kitesurfing, sailing, boating, water skiing, yachting or deep sea fishing.
The ecological tourists will have an unforgettable experience if they visit the Serrade Caldas Novas State Park. This is a natural water reservoir with cliffs and picturesque waterfalls. There are hiking routes to the thermal Piratininga Lake. The temperature of water in the lake is so hot that one can boil an egg in it. An artificial Corumba Lake is surrounded by amazing landscapes and this is a good place for sports activities.
If you cannot imagine your holidays without excursions you should definitely visit the main sight of the city. This is a big house Casarao built at the beginning of the 20th century. The house is an illustrative example of the local architecture and there is a small ethnographic museum in it now. The Soy Museum is also quite interesting. There you will learn everything about how to grow soy and what are its benefits. The major religious sight of Caldas Novas is Matriz Church. It has a laconic appearance, but luxurious interior.
Caldas Novas will not disappoint you if you come here for shopping. At an amazing night Luar Fair, which you can visit at weekends handmade crafts, food delicacies, souvenirs, and gifts are sold.