Kalpitiya
Resort type:

Beach resort

Landscape:

Town, Tropical Forest, Bay Coast

What to do:

Diving & Snorkelling, Natural Parks & Reserves, Boat Trips, Historical & Architectural Monuments, Yachting & Sailing, Surfing, Windsurfing & Kitesurfing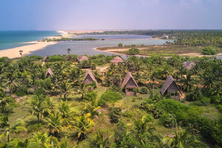 Kalpitiya is a resort in Sri Lanka — ideal place for beach holidays and water activities. Diving and snorkelling are the most popular activities. Kalpitiya Discovery Diving arranges diving tours for the experienced divers. A large natural coral formation Bar Reef is a popular diving site. It is an hour drive from the city. If you are a beginner, you can learn the basics of diving at Epic Encounters Dive.
The active tourists can go yachting, kayaking, deep underwater fishing, go on a sea cruise or watch the dolphins. This tour is arranged by Dolphin Wadiya. The lovers of surfing and kiteboarding should not go past Kitesurfing Lanka. At Wind Love Kite centre Sri Lanka, they will teach you how to catch the wave.
If you prefer the excursion tourism we recommend you visiting Dutch Fort of Kalpitiya. It was built by the Portuguese in the 16th century, but later it belonged to the Dutch. Saint Peter's Kerk is an illustrative example of the colonial architecture.
The active tourists can go on a jeep tour across a fishing village Kandakuliya. The tourists can get acquainted with the everyday life of the aborigines. In Talawila village, you will see a Roman-Catholic church of the 17th century Saint Anne's Church. Visit Wilpattu National Park to enjoy the beauty of nature. You will find trekking and hiking routes in Ruwala nature & Adventure Park.
Unfortunately, you will not have a good shopping experience in Kalpitiya. To make purchases, you should go to Colombo. The capital city is 130 kilometres away from the resort.
A restaurant Area Kalpitiya offers the Asian and European cuisines. The Chinese cuisine is served in Welle Wadiya Beach Restaurant. In Ambalama, you will see an exciting show.