Kanazawa
Resort type:

Country resort

Landscape:

Town, Mountains, Seacoast

What to do:

Culinary Tourism, Diving & Snorkelling, Natural Parks & Reserves, Wellness Tourism, Historical & Architectural Monuments, Gliding & Paragliding, Yachting & Sailing, Hiking, Fishing & Spearfishing, Surfing, Windsurfing & Kitesurfing, Thermal & Mineral Springs, Festivals & Carnivals, Shopping, Nightlife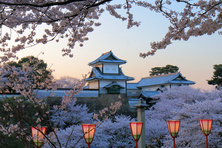 Kanazawa is a large Japanese city in Ishikawa Prefecture and its administrative centre. It is situated between the Asano River and the Sai River in the central part of the country. It has access to the Sea of Japan. Kanazawa is 240 kilometres away from Nagano and 230 kilometres away from Nagoya. The total area of the municipality is over 460 square kilometres.
The beaches outside the city are popular with those who love quiet holidays and extreme tourism. The local diving instructors will help you with your first dive. Anyone can also try their hand at parasailing, kiting, sailing and windsurfing. There is everything you may need for snorkelling, swimming or sea fishing. There are rafting tours on the Asano river and hiking tours across the Prefecture.
The main event for the lovers of the event tourism is an annual festival Hyakumangoku Matsuri.
Such malls as Kanazawa Forus and Apita Town Kanazawa Bay Shop welcome everyone to make purchases. If it is a nightlife you are after, then go to the night bars Manier, Beta Lounge and Def.
APA Hotel Kanazawa Chuo has a wellness centre where one can have toning and relaxing spa treatments. Many people come to the city to visit Manten Hotspring.
The foodies should definitely try the Japanese cuisine in such restaurants as Fuwari, Itaru Honten and Otomezushi.
Although many historical and architectural monuments were destroyed during the Second World War, there are still quite many sights in the municipality. During an excursion tour, you will see Myoryuji Temple, visit Kanazawa Castle, take a walk in Nagamachi Area and Teramachi Area.
The ecological tourists will have a chance to go to Watagadaki Falls, Fukube Falls and Okedaki Falls. Do not go past Hakusan National Park.