Kadavu Island
Resort type:

Beach resort

Landscape:

Mountains, Island, Tropical Forest

What to do:

Cycling, Diving & Snorkelling, Boat Trips, Yachting & Sailing, Hiking, Fishing & Spearfishing, Surfing, Windsurfing & Kitesurfing, Tennis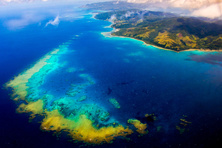 Kadavu Island is an island in Kadavu Province in Fiji. The island was formed due to the eruption of a volcano and is the fourth largest island in the country. Its total area is 450 square kilometres.
Kadavu is the main destination for the lovers of beach holidays and water activities. The best beach is Papageno Beach. To the north, there is the Ono Island, a favourite place of the divers and fans of snorkelling. The coral reef Astrolabe is the most popular diving site in Kadavu province. The tourists can go surfing, windsurfing, kiteboarding, go on a sea cruise, ride a waterbike or catamaran and go fishing. At Bite Me Gamefishing Charters sea cruises are arranged. You can learn the basics of diving at Astrolabe Reef Outrigger Adventures. Mad Fish Dive Center offers fishing tours. A coastal area Ulunikoro Marine Conservation Area is ideal for night walking.
Lush tropical vegetation of Kadavu is rich in exotic plants. A hallmark of the island is red and green parrots. Biking or hiking tours are arranged to explore the tropical jungles and see the animals.
The underwater world of the province is also very diverse. The coastal waters are full of shellfish and turtles. If you are lucky you can see a rare blue marlin. Anyone can go on a tour to watch the whales. But it is only in spring you can freely watch the animals.
In the hotel Albert's Sunrise Resort 4*, there is a gym and the services of the instructor, pool and sauna. For the tourists with children, there is a playing room and the services of a baby-sitter. On the territory of the hotel, you will find football or volleyball fields, a tennis court and billiards. The restaurant serves the international cuisine. Two lobby bars and a lounge zone work 24 hours a day.