Kansas
Resort type:

City resort

Landscape:

Mountains, Lakes, Plain, Riverside, Steppe, Hills

What to do:

Mountaineering, Culinary Tourism, Natural Parks & Reserves, Wellness Tourism, Historical & Architectural Monuments, Gliding & Paragliding, Hiking, Rafting & Kayaking, Surfing, Windsurfing & Kitesurfing, Festivals & Carnivals, Shopping, SPA, Nightlife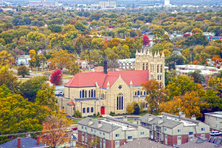 Kansas is an American state with the total area of over 210.000 square kilometres. It is situated in the central part of the USA, neighbours Oklahoma, Nebraska, Colorado and Missouri. Topeka is a capital city of the state.
The lovers of the excursion tourism will have a great chance to see historical and architectural monuments in this state. Among the most interesting sights are Kansas State Capitol Building and Portwin Neighborhood. During a study tour, you will visit John Brown Museum and Seelye Mansion. The tourists can also see National Historic Site of Fort Larned.
The ecological tourists should not go past Tallgrass Prairie National Preserve where they can watch the buffaloes. Castle Rock and the Arkansas River are also very popular places with the tourists.
Kansas offers a wide choice of activities for the extreme tourists. They can try their hand at rafting, kayaking, paragliding, river windsurfing, trekking and parachuting. The active tourists can go on a hiking tour to the Great Plains or go climbing.
In Topeka the foodies will enjoy their meals in such restaurants as Rowhouse, Tuptim Thai and Monsoon Indian Grill. The malls West Ridge, Brookwood and Holiday Square invite everyone to make purchases. If you do not want to spend a night in your hotel room go to the bars baby Dolls, Hot Pockets, and Orleans.
A wellness centre Angel's Touch Day Spa offers a relaxing massage and spa treatments.
Kansas State Fair, Kansas City Film Fest and Tulip Time Festival attract to Kansas the fans of the event tourism.