Anafi Island
Resort type:

Beach resort

Landscape:

Mountains, Seacoast, Island, Hills, Cliffs, Flora of the Mediterranean

What to do:

Boat Trips, Historical & Architectural Monuments, Yachting & Sailing, Hiking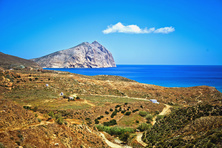 The Anafi island is a Greek island in the Aegean Sea and it is part of the Cyclades archipelago. From far away the island reminds of a large inaccessible rock and seems uninhabited. The only port is located in the Agios Nikolaos Harbor which is a starting point for all the travellers.
The tourists choose the island mainly because of its beaches. The best beaches are the Klisidi Beach, the Roucounas Beach, the Flamur Beach, the Megas Potamos Beach, and the Monasteries Beach.
The only populated place of the island is Anafi. There is the Anafi Archaeological Museum and the Park of Archaeological Sites on the Castelli Hill. In the Park, the tourists can see the remnants of an ancient settlement and see the whole island from the top of the hill.
On the island, the tourists can see the ruins of the Apollo Eglit Temple, visit the Monastery of Our lady, and the Church of Agios Athanasios.
Not far from the main touristic attractions, there are souvenir shops.
The restaurants Anemos, Armenaki, and Pirounaki offer traditional cuisine.
There are bars in such hotels as Apollon Village Hotel and Pension-Hotel Pelagos.