Caracas
Resort type:

City resort

Landscape:

Town, Mountains, Valley, Savanna, Tropical Forest

What to do:

Cycling, Diving & Snorkelling, Natural Parks & Reserves, Horse Riding, Boat Trips, Historical & Architectural Monuments, Yachting & Sailing, Hiking, Safari, Surfing, Windsurfing & Kitesurfing, Shopping, Zoos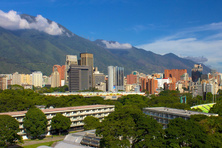 Caracas is a capital city of the Bolivarian Republic of Venezuela. The city is situated in the Caribbean Andes. It is 14 kilometres away from the Caribbean Sea.
The lovers of colonial architecture and city entertainments choose Caracas. The tourists will see Caracas Cathedral and Miraflores Palace, which is the official workplace of the President of Venezuela. Saint Francis's Church of Caracas is a sacred place for all the Venezuelans. This is here a funeral service for Simon Bolivar, the liberator of Venezuela, was performed.
In Henri Pittier National Park, which has a national status, there are routes for hiking and horseback riding. The tourists can ride a four wheeler or a bike. On the territory of the Park, you can find two the most popular beaches in Caracas. They are Playa El Agua and Bahia de Kata. If you prefer water activities, then you can try your hand at scuba diving, kitesurfing or windsurfing, rent a yacht and take a boat trip across the Caribbean Sea. One can also rent a motorcycle to ride on water. In Latitu Scuba you will find all the necessary equipment for diving.
A popular entertaining in Caracas is a funicular ride Warairarepano to the Avila Mount. If it is a wild nature you are after then you can go on a jeep safari in the Los Llanos grassland plain. Both professional players and novices welcomed in Valle Arriba Golf Club. Cannot resist gambling? Visit the Casino dietafit.
The best place for shopping is a mall Sambil Caracas.
The foodies should definitely try a national dish in Venezuela Pabellon Criollo, which is served in Resturante le Gourmet.