Kastellorizo
Resort type:

Beach resort

Landscape:

Mountains, Seacoast, Island, Flora of the Mediterranean

What to do:

Culinary Tourism, Diving & Snorkelling, Historical & Architectural Monuments, Yachting & Sailing, Fishing & Spearfishing, Shopping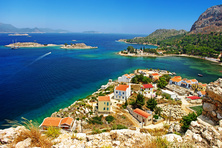 Kastellorizo is an island on the Greek archipelago Dodecanese. It is situated in the east of the Mediterranean Sea 2 kilometres away from the Turkish coast and 110 kilometres away from the Rhodes Island. The capital city of the island is the only populated place, Kastellorizo City on the north-eastern coast.
The island is a good place for beach and family holidays. The most popular is Saint George Beach. The active tourists can go diving, snorkelling, sea underwater hunting and fishing. You can also rent a yacht and go on a trip to the neighbouring islands.
During an excursion tour, the tourists will see Lycian Tomb, Castle of the Knights of Saint John, Agios Konstantinos and Agia Eleni church and Agios Georgos tou Horafiou.
If you want to learn more about the island go to Kastellorizo Archaeological Museum, which has a huge collection of exhibit items related to the history, culture and traditions of the island. The art lovers are welcomed in a Popular Art Museum.
Those who prefer nature should not go past the Blue Grotto.
Duty-free Shops and E.K. MANZARI invite everyone to make purchases. The foodies will enjoy their meals in such restaurants as Old Time, Mikro Parisi and Olive Garden. You will find the bars in the hotels Megisti Hotel, Hotel Kastellorizo and Mediterreneo Kastelorizo.